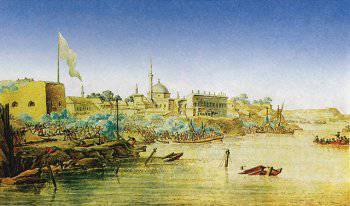 For a couple of weeks before the onset of the New Year holidays, people who are used to traveling try to choose an unforgettable route for themselves. Today the site will help you in choosing a route.
http://tourobzor.com
. It offers cheap tours to various countries in the world.
Military tours have recently become very popular.
historical
subjects. People travel to places where commanders and ordinary rank-and-file soldiers of days past were distinguished.
One of those places that is forever covered in the glory of the Russian soldier and the Russian
weapons
worth a visit if you are planning a military history tour, this is Ishmael. Today this city is located in the Odessa region of Ukraine. Before the entry of Ishmael into the Russian Empire, the city belonged to the Ottomans. The fortress city was taken by Russian troops in 1790 in the Russian-Turkish war (1787-1791). Then commanded the Russian army, the greatest commander of the Russian state, Alexander Suvorov. In honor of the victory of the Russian army in Izmail, December 24 in Russia is celebrated as one of the days of military glory. It is noteworthy that immediately after the capture of Ismail Suvorov, another commander was appointed commandant of the fortress city, who, after 22, was destined for his feat — the defeat of the Napoleonic army.
One of the most visited tourist attractions of Izmail is an ancient fortress. More precisely, these are the remains of an ancient fortress, which in 1790 was taken by troops led into battle by Alexander Suvorov. With this fortress, or rather, with its capture, the name of another remarkable man is connected - Joseph de Ribas, who at that time commanded the Black Sea rowing
flotilla
. It was de Ribas who compiled the plan for the capture of Ishmael, which, under the leadership of Suvorov, was successfully implemented.
Today in Izmail you can see what remains both from the fortress itself and from the impressive defensive moat. The Turks attached great importance to this ditch. To reduce the risk of a successful siege, its depth to the 1790 year was brought to 11 meters. But, as is known, this did not help the Turkish garrison of the Izmail fortress.
Having visited Izmail, it is imperative to visit the Suvorov Museum, which was the foundation of 1946 year and is completely devoted to the capture of Izmail. The museum is located in Izmail on Pushkin Street and is one of the important sights of the city.