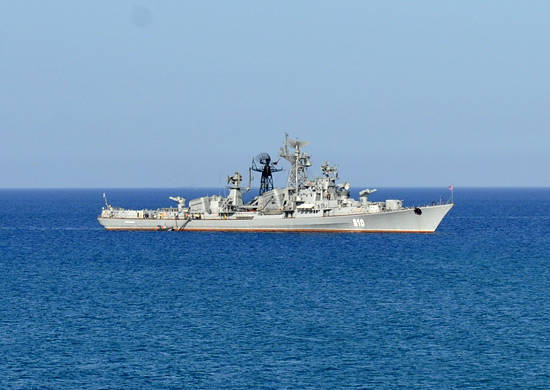 The Naval Administration of the Southern Military District said that in the new school year, the sailors of the Black Sea
fleet
(Black Sea Fleet) and the Caspian Flotilla (CFL) join, having achieved high levels in combat training in its ended period.
"Most of the maritime campaigns were related to the implementation of combat training activities, military diplomatic and research tasks, as well as support tasks," explained the head of the VMU, Capt. 1, rank Anatoly Dolgov. "The overall results on the intensity of combat training of naval formations and the crew's float in the sea exceeded those of previous years by an average of 20%."
In training ranges for crews of ships and vessels, marine
aviation
and units of the coastal forces of the Black Sea Fleet and the Caspian Flotilla conducted more than 100 exercises, while about 1500 combat exercises were carried out, including missile, artillery and torpedo firing, as well as bombing.
There is an increase in the growth of quantitative and qualitative indicators on the combat use of shipboard armament. In particular, the number of missile firing at sea increased by 90%, the success of the application increased by 75%, the number of naval artillery firing increased by 40%, the success - by 25% in comparison with the same indicators of previous years.
During the airborne training, marines made more 2500 parachute jumps.
The number of practical flights of the Black Sea Fleet naval aviation increased by 10% compared to the previous year and amounted to more than 3 thousand hours.
The geography of the activity of ships and vessels of the Black Sea Fleet and the CFF covered about 30% of the World Ocean. In the course of the assigned missions, the naval seamen passed the 10 of the seas and the 3 of the ocean (the Caspian, Black, Mediterranean, Marmara, Aegean, Ionian, Tyrrhenian, Caribbean, Baltic and North Sea, Atlantic, Pacific and Indian oceans).
As part of the strengthening of naval cooperation, naval seafarers of the Black Sea Fleet and CFL visited about 20 countries.
In 2013, the ships and vessels of the Black Sea Fleet and the Caspian Flotilla in total passed about 350 thousands of nautical miles, which is a record figure in comparison with the similar periods of previous years and exceeded the planned figures for the current year by 10%. Experts attribute this to increased activity of the Russian Navy in the oceans.
The naval formations of the South Military District in 2013 received new ships and boats for the 11, including the Makhachkala MAK (small artillery ship), the Makhachkala anti-sabotage boat and the Rook and patrol boats.
By the end of 2013, it is planned to complete state tests and take in the combat structure of the IRC (small rocket ship) "Grad Sviyazhsk" and "Uglich".