After Forbes magazine named President of the Russian Federation Vladimir Putin the most influential person on the planet, I remembered an article in a Finnish newspaper that was published many years ago. It was material on why the Finns do not have the right to vote in the presidential elections of the Russian Federation, although the Russian president affects the life of the Finns more than the president of Finland. I note that this was the position of the leading Finnish newspaper.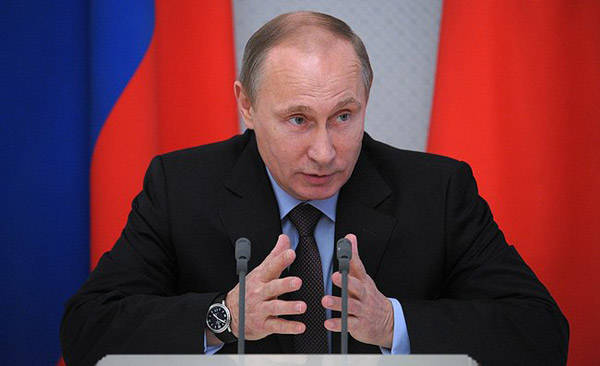 Interesting. The material came out almost 10 years ago, when Putin was already in power. Such a text is proof that Putin's influence at that time was already larger and wider than the borders of Russia. But then the world did not know who he really was.
He knows today. The latest events prove that, together with Putin, Russia's influence and prestige have grown much higher than the authority of an organization like the UN, which could not solve the problem of Syria. And the Russian president could. He practically prevented the attack of the United States and NATO on Syria and thus prevented the start of the third world war. And Putin's moral position in relation to Syria is much higher than that of opponents of Russia, who at the same time support terrorists in the fight against Syrian President Bashar al-Assad and demand immediate military intervention.
Putin's initiative has proven that he not only protects Syria from the aggression of the United States and NATO, but also protects the sovereignty of any nation, as well as the will of the people of any democracy.
Putin is interesting in that, unlike most Western politicians, he does not play the role of president. He is only Putin. Many other presidents behave like actors at best, and like robots at worst. It often seems that the President of France or the Prime Minister of Great Britain, for example, has a life completely separate from that on the stage. Obama is a completely new actor on stage, but he plays his part in a mask. His mask is a way to hide a real, much more rigid policy. At the same time, the viewer can say that Putin behaves at home. He can normally smile, joke or laugh. And all this he does absolutely spontaneously, as does any person in a good mood.
Therefore, it is very difficult to hate Putin. All his political enemies and opponents can easily expose themselves to clowns. For example, recently it became known that the so-called non-systemic opposition of Russia has no political program. It was absurd.
There is a feeling that the Russian president always expresses his opinion. This is also surprising and unprecedented. Putin, for example, organizes press conferences, during which he answers questions from journalists and the people live for hours on end. Other politicians tried to imitate this, but often they simply did not succeed, because they often do not have their own opinions.
Why? Because in the West the president is a politician who repeats the words of his sponsors. He cannot express his opinion.
Putin is an experienced manager, unlike Western leaders, who are mostly professional collectors of campaign sponsorship.
Another problem for Western colleagues is that Putin is defending Russia's national interests. It can be seen everywhere and in everything. Western presidents fear that their people will also begin to demand protection from them for their national interests.
Some experts, long before the start of the elections, began to accuse Russia that all its future elections were falsified in advance. Then in Russia they organized another unprecedented experiment: video surveillance was installed at all polling stations, and any person on the planet could watch the election process online. Already, all Western presidents and politicians are in shock. They fear that their people will also demand online video monitoring of the elections. How will the sponsors respond to this? In the US, for example, no one can check how these "selective" computers operate and what programs they have.
By this Putin, of course, represents a certain threat for the Western states. A lawyer by training, he likes compliance with laws and international conventions. And this, in turn, does not like his Western colleagues, who are used to doing everything in their own way. But even more dangerous is the fact that Putin is really popular not only in Russia, but also abroad.
At the same time, Putin is almost impossible to compare with other rulers of Russia or leaders of other countries. It seems that he does not compare himself with anyone. This is a good example: why should a person constantly compare himself with someone?
Naturally, he looks good against the background of Yeltsin or Gorbachev. But their background was different. Gorbachov was against the background of the USSR, Yeltsin was against the background of the ruins of the USSR. Putin's peculiarity is that his background is Russia. So Putin is a man against the background of Russia.
Putin's main danger is that he is a normal Russian person. This is his main threat to the West. After all, this means that he will normalize Russia. The only role in which Russia feels natural is the role of the Empire.
Russia cannot be a nationalist, mono-ethnic state, otherwise it will disintegrate as a state. Therefore, one of Putin's main tasks is to eliminate bourgeois nationalism. In Russia, there is practically no Russian nationalism, unlike all European countries, which are practically so-called national states. In Russia, there is a healthy patriotism, which in the West does not exist.
As the famous Russian scientist, American professor Daniel Rancourt-Laferiere writes, the term "Russian Federation" "mysteriously sounds like a temporary one." The patriotism of today's Russia is the patriotism of a new multinational, multi-confessional empire. Therefore, to normalize Russia is to create a Eurasian Empire, which has nothing to do with Russian nationalism. We see here a multi-confessional, multi-ethnic state, which is built on the principles of free market relations and equality between people.
It is worth remembering the former CIA officer and whistleblower of US global espionage Edward Snowden, who became a milestone in Putin's career. After all, Snowden showed by his example that if earlier people were looking for a better life in the West, now they are looking for it in the East.
By the way, I wonder why there is no Lavrov in the Forbes list, but only Putin? After all, Russian Foreign Minister Sergei Lavrov is also one of the most influential people on the planet. His influence is greater than the influence of some chancellors and prime ministers. To be honest, Lavrov also needs to be added to this list, and it was biased to put only one person from Russia in the list. Apparently, in this way, the creators of the list wanted to demonstrate once again that they are ignoring Russia's present influence in the world.