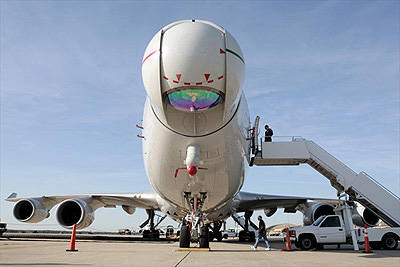 The US Air Force Research Laboratory has announced the receipt of applications from private companies for the supply of impact lasers to equip a sixth-generation multipurpose fighter capable of destroying enemy air and ground targets.
Air Force officials said the department was interested in developing low-power laser technology to interfere with enemy radars, medium-power lasers to destroy anti-aircraft missiles, and high-power lasers to strike air or ground targets.
US military experts would like to see that by October 2014, the main components of weapons could already be tested in the laboratory, and by the 2022 year - in conditions close to real ones.
The US Department of Defense has long been studying the possibility of using lasers as combat weapon systems, reminds ITAR-TASS.
The program of creating a laser cannon for warships is continuing, and it is expected that in 2014 for the first time it will be installed and demonstrated on board a large amphibious assault ship Ponce converted into a floating base of a US Navy special forces.
As stated by US Navy spokesman Vice Admiral Matthew Klunder, the cost of a prototype of such
weapons
capable of striking, in particular, unmanned aerial vehicles, will amount to just over 30 million dollars. In this case, the laser shot itself is estimated at only 1 dollar.
"Compare this with the hundreds of thousands of dollars that a rocket launch costs, and you will understand the merits of this project," said Klunder.
At one time, the Pentagon ABM Agency was actively working on the creation of laser weapons. It studied the possibility of installing a high-energy laser with chemical pumping on the nose of a modified Boeing-747 aircraft to destroy ballistic missiles at the initial stage of flight.
The program, which was spent millions of dollars, existed for several years, but in the end this idea was abandoned, recognizing it as ineffective.
Fighters of the sixth generation are now developing the company Boeing and Lockheed Martin. In the 2030s, they are expected to replace the F-22 Raptor aircraft in service with the US Air Force and the F (A-18E) F Super Hornet carrier-based fighter aircraft.