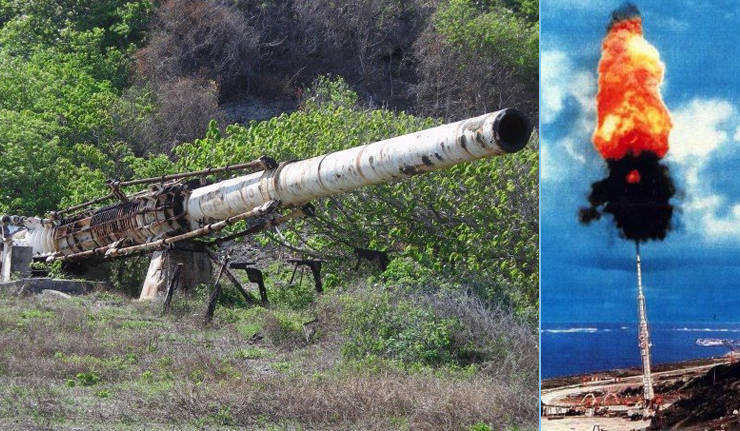 Military experts have found two objects in the satellite imagery of Chinese territory, allegedly being long-range artillery installations. Apparently, they may have similarities with the
weapons
Saddam Hussein, "Project Babylon".
The complex with two 33,5 and 24 meter-long guns mounted on a concrete base was mounted in the desert to the north-west of the city of Baotou (Inner Mongolia, Suiyuan Province, China). It was first seen by experts back in the 2010 year, but new images, dated July 2013, confirmed that the objects observed were long-range artillery installations.
For the first time, the long-range artillery in the People's Republic of China was investigated in the 1970s, when the Chinese created the first long-range Xianfeng cannon, which was to become part of the missile defense system, but the project was closed. In 1990, China showed an interest in the technology of Canadian engineer Gerald Bull, who worked in the US and Canada on the High Altitude Research Project (HARP), a long-range weapon capable of launching artificial Earth satellites. After the United States abandoned the project, Bull began working in 1980 for the Iraqi leader Saddam Hussein, who was going to use this weapon (codenamed "Project Babylon") to achieve a break in the Iran-Iraq war.
Bull was shot dead in 1990 in Brussels (according to some sources, the Israeli intelligence was behind the murder, Mossad), and Hussein did not have time to implement the "Project Babylon". Perhaps, China decided to test this technology, since no one has yet been able to fully implement the original idea of ​​Bull.
The project HARP and "Project Babylon" meant the creation of giant guns with a barrel length of about 30-40 meters. Before a shot in the barrel, an artificial vacuum was created and a projectile weighing several hundred kilograms flew out of it at a speed of 13000 km / h. Theoretically, with the help of this weapon one could launch satellites into low orbit or, conversely, knock them down. However, the guns seen in China are shorter than the planned length of the "Project Babylon" cannon - the 45,7 meter.
According to the assumption of the military analytical agency Jane's, the observed weapon may also be the prototype of the "railgun", a pulsed electrode mass accelerator, also potentially capable of sending satellites into orbit. However, it requires a powerful source of energy, while next to the installation of this is not available.
According to foreign media.