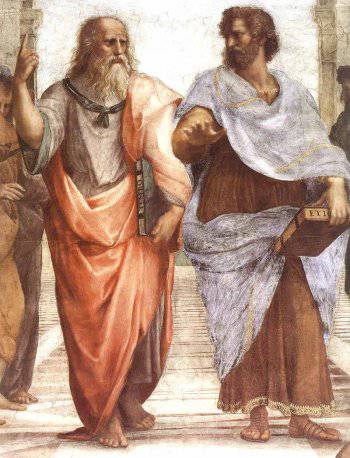 Many have probably heard of one of the main writings of the ancient Greek philosopher Plato called "The State", but hardly any of the current readers read it. And in this work, where, in the form of a conversation between Socrates and his students, the draft of the ideal state is discussed, the mass of the most interesting conversations with our day.
According to Plato, invested in the mouth of his teacher Socrates, all the then four types of government, number four, were bad. The first is timocracy, the "power of the ambitious", the most archaic, but also the most tolerable. With him, the rulers enjoyed a general honor, the warriors do not think about a piece of bread and should not get it with a curved sword in their free time from war. Common meals, regular exercises in military science and gymnastics - but the passion for acquisitiveness does not sleep. "The rulers secretly begin to collect gold and silver and store them in their dwellings. And with the pernicious participation of their wives, they change their modest lifestyle to a luxurious one, "writes Plato.
So comes the oligarchy - the domination of the rich, enshrined property qualification for participation in power. But when the ship is led not by the one who is the best at it, but who is fatter than the purse http: //www.abc-people.com/data/rafael-santi/pic-8a.jpgk, don't wait. The rich, protected by military force - this, according to Plato, two-legged drones, villains and blasphemers. During the war, they are even more than the enemy, afraid to distribute
weapon
the crowd, for she hates them. When an oligarchy everyone has the right to sell off all his property, after which it becomes not only useless, but also dangerous for society. Such a state inevitably falls ill, begins on insignificant reasons to fight with itself, and some then seek help from some foreign rulers, others - from others.
The insoluble internal conflict leads the oligarchy to an even worse form - democracy, formally representing the power of all members of society. But in reality, the difference between the rich and the poor then only increases, the desire for luxury drives people into the hands of usurers, pushes for any crimes, and still hates everyone more.
"Many, like women and children who admire all motley, will decide that democracy is best." But with her, "it is not necessary to fight when others are fighting ... With such a system, people sentenced to death or to exile continue to revolve in society: such a person walks right like a demigod ... Democracy is not concerned about the activities from which a person comes to government activities, if only he showed his favor to the crowd. "
Morality completely falls, dominates the conviction, "that moderation and order in spending money is village ignorance and a lowly trait. Impudence is called enlightenment, unbridled freedom is called freedom, shamelessness is called courage. The most poisonous of the drones give speeches and act, while the rest sit down on the platform, buzz and do not allow anyone to say otherwise. "
Hatred of the poor to the rich eventually leads to a popular uprising. If the poor win, they destroy some of the rich, expel the other. And the worst order is established - tyranny, the power of one. Since everything that is done too, over the edge, then, according to Plato, in the form of retaliation hits its opposite, and the excess of freedom turns into complete slavery.
"At first, the tyrant smiles at everyone, and says about himself that he is not a tyrant. He makes many promises, promises to free everyone from debt, distributes land to the people and his entourage. " But soon it all ends in failure. "They say that someone who tasted human viscera, finely chopped with meat from sacrificial animals, will become a wolf. Is a tyrant, having in his hands an obedient crowd, refrain from the blood of fellow tribesmen? On the contrary, he will bring them to trial but unfair charges, savor the killing of relatives. The tyrant is hostile to all and builds against all the machinations. The more he is hated by citizens, the more he needs faithful bodyguards. He must dwell with this crowd of scoundrels, or bid farewell to life ... "
Since the time of Plato, 24 has passed the century, but do not we recognize ourselves in his extremely sharp descriptions? During his lifetime, he walked around the edge, risking repeating the fate of Socrates executed for "verbal terrorism" - and even now attract him "for incitement", in any case, he would not have got on our TV for sure!
But his thoughts about the ideal state are already quite fantastic - although, unlike our opposition, he really tried to make his fairytale a reality on the outskirts of the metropolis. And I want to extract from there only one line, on the part of the "passion of the tender," which seemed to me completely delusional before - but now we are falling more and more into this nonsense.
According to Plato, the power and security of the state will increase if not only men but also women are involved in his defense. After more than two thousand years, it was successfully adopted in Israel; True, Plato goes on and on: children and wives should be common - to which they still have not survived anywhere else. But what's even further with him:
"For a woman to become a guardian, her training should not be different from that of men. Naked women will exercise in the palestras together with men, because it is more convenient to exercise without clothes ... And who among the men will laugh at the sight of naked women who will do gymnastics for such a high purpose, he himself must not know what laughs ... "
But why does he believe that a naked woman can only cause laughter? Here he also has the following phrase: "In a campaign, no one is allowed to refuse if the warrior wants to kiss someone, because if he happens to fall in love with a young man or a woman, this will give him more joy to accomplish feats." The woman here is as if not only in order, but also in meaning relegated to second place - and finally puts the following passage in places:
"Connoisseur of love affairs is not good to forget that an amorous man is amazed and excited by everyone at a flourishing age ... Isn't that how you treat handsome men? You call one pleasant because he is snub-nosed and you praise him; the other has a crook-nose - it means there is something regal in it; and whose nose is of medium size, is proportionate. In the dark-haired - courageous appearance, blond - children of the gods. As for the "honey-yellow" - do you think that this expression was composed by someone other than the lover so dearly that even pallor does not repel him, if only the young man was at a flourishing age? "
So much for Plato with his platonic love! There is already asking for another expression: Fedot, but not that! In his huge work for women, he did not find anything but laughter at their naked bodies, and for the Maltsians such a lush palette! But just in this he is more and more for us; and we approached his ideal state except along this bad line: our president himself is already scuffing in front of her!
But this rampant thought, drowned in carnal perversion, and brought Ancient Greece under it
historical
end. Ancient Rome came forward, where instead of captivating thinkers like Socrates, Plato, Aristotle, the emblem was a young man Mutsiy Stsevola, who burned his hand in front of the eyes of enemies to prove his love for the Fatherland. But even the valiant Romans, over the centuries of their world leadership, got their own cockroaches in their heads, devouring their power - and then the state itself.
In the same way, our country once rose above the whole world, becoming the superior of its destinies - like Greece and Rome in their finest hours. But we were eventually struck by these cockroaches and vices known thousands of years ago ... We have not completely disappeared, we began to live even better - like the Romans under Nero and Commodus, when they went to squander all that Caesar had conquered, hitting the grave sins. We think that we will get away with this; these are some ancient Greeks with Plato, who had glanced over the centuries ahead, suffered a fierce retribution — and we, who do not see even tomorrow, will pass! Say we do not read more books - and only by this lack of reading will we save ourselves from the perversions described in them!
We also fell into such idiocy: what is the light of reproaching our yesterday's greatness for certain excesses - which neither the present Greeks, nor the Italians, nor the Egyptians do. On the contrary, they are proud of their stellar past, in which these excesses were a dime a dozen, and the victorious leaders were most often distinguished by extreme cruelty.
Take even the same Caesar, who was very much like our Stalin's tenacious economic mind, brutal memory, ruthlessness to the enemies and clever political calculations. Even failures in personal life bring them together: the suicide of Stalin's wife is the same knife in the back as the scandal with Caesar's wife, to which the lover went in women's clothes. In the army, Caesar used the decimation - the execution of every tenth warrior for the offense of the entire cohort or legion, even more likely executed political opponents. But it would not occur to anyone to say: the Roman people won the Gallic war not because of, but in spite of the tyrant Caesar, who only violated human rights at every step ... But for our victorious leader, it comes to us!
We would like to draw useful experience from our history - but we, like children in my father's car, just want to ride on it so that we don't collect bones later! Foolish business is simple: to absorb all the antediluvian vices, including this Platonic one, the topsy-turvy, love not for the motherland, but for boy's asses - a lot of mind is not necessary.
Weed grows by itself - just stop mowing it. A good grass should be grown, including by mowing weeds. We have mowed down our education and diligence - and even little Israel, who took the grain useful to him from Plato, beats us laughing at us!
So friend us Plato or not friend? He possessed great breadth and courage, all his life he praised his executed teacher Socrates and invested such desperate idealism into his "State": "In an ideal state, philosophers are not given a cup of poison, but the reins of government!" your big breasts. It is not interesting to judge him - it is interesting that we will take out from his still actual heritage, which included all human puzzles, from the most holy to the evil.
We have a choice: to sink to its rotten sin - or to rise to its truth piercing through millennia. Or just forget it and not read it: they say that fools read books, and we ourselves, with mustaches, are strong with our mind! That's just this fortress something, including under the onslaught of yesterday, who seemed to be an incredible game of gay parades, is melting before our eyes!