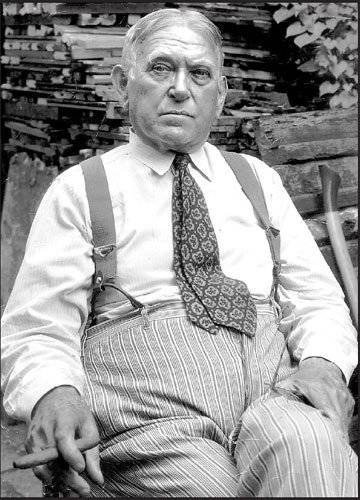 The American Anglo-Saxon bears a false label, and denigrates both great races, declaring that they have come from them, I see no point in trying to change this label. Let him be called as he wants. Whatever he calls himself, it should be clear that the word he uses denotes a special race, differing in character and way of thinking from all other tribes - that it represents almost a separate biological species on earth. He still retains the characteristic features that he acquired during the course of the mixing of races during the colonial days. Despite the great changes in the environment, it practically does not differ in thoughts and actions from its ancestors.
Other great races over the past two centuries have changed markedly, but the American Anglo-Saxon keeps its familial
weapon
. In addition, Americans are much more similar to each other than representatives of other races. No race, with the exception of the Chinese, is so strictly regulated.
The positive qualities of the so-called Anglo-Saxon are many and I am not going to question them, but I will not silence them without apologizing, as he devotes almost all of his literature to their glorification, and there is no possibility that they will go unnoticed. Not a single person on earth is so unbearably bragging, except that his English counterpart. Therefore, he serves as a laughing stock to all other people. He boasts so unceasingly that even if he possessed the virtues of Socrates, Sid Comprador and the twelve apostles together, he would still go beyond reality, and, by this, looks just a boaster. This habit is originally English, but it is strengthened by an American with a greater admixture of Celtic blood. In recent years in America, it took pathological forms and can be explained only in terms of Freudian necromancy. The bragging of one hundred percent American - "we won the war", "we are obliged to lead the whole world behind us" and the like - apparently nothing more than a protective mechanism built to hide the feeling of inferiority.
That this inferiority is real is obvious to any impartial observer. Whenever an Anglo-Saxon, English or American, comes into sharp conflict with a person of another breed, he loses, or, at best, is forced to use extraneous and unnatural aids. Here, in the United States, he suffered such an obvious defeat that, fearing death, he resorted to truly grotesque and extravagant methods of struggle. In the arts and sciences and even in advanced forms of business, the children of late immigrants overtake the descendants of the early settlers. If you make a roll call of Americans, outstanding in any field, except perhaps the most primitive types of activity, we will hear a list of strange and outlandish names; even the list of members of Congress is a striking example. Of the past fifty years of American poets, writers, critics, artists, and sculptors who have achieved fame, less than half have Anglo-Saxon names, and there are few pure Anglo-Saxon blood among this minority. So it is in science. So it is in technology. So in philosophy. So even in industry and agriculture. In those places where competition between old and new blood is most acute, say in New York, on the coast of New England and in the agricultural states of the upper Midwest, the so-called Anglo-Saxon suffered a complete and obvious defeat. Once his domination everywhere was real and indisputable; today, even where it is numerically predominant, it is only sentimental and illusory.
The descendants of late immigrants rise; the descendants of the first settlers descend mentally, spiritually and even physically. In the United States, we see the lowest level of civilization precisely in those places where Anglo-Sax rules. He governs the whole of the South and in the whole of the South there are not as many first-class people as there are in the same city in the cross-North. Wherever he is still firmly seated in the saddle, pathological phenomena such as fundamentalism and the Ku Klux Klanship flourish. It is not in the northern cities with their mixed population the highest mortality rate, the most corrupt policy, religion is similar to shamanism and any worthy human aspiration is suspicious. It is in those places where recent immigrants have not yet penetrated, where "the purest Anglo-Saxon blood in the world" still flows, I can find similar examples, but they are not needed. The fact is too obvious to argue with him. One certificate will be enough. He was given to us by two researchers who carefully studied one area in southeastern Ohio, where "people are cleaner Americans than in the rest of the state":
"Here superstitions determine the thoughts and actions of a large part of people. Syphilis and other venereal diseases are common. In some places, almost every family is afflicted with a hereditary or infectious disease. There are many cases of incest. Many imbeciles, imbeciles and criminals. Politics is corrupt, the sale of votes is common, many minor crimes, schools are poorly managed and poorly attended. Within a five-minute walk from the City Hall, rape, hooligan attacks and robberies occur every week, while the neighboring town is ruled by a confessed criminal. Excessive alcohol abuse. Rough immorality with its sad fruits is not limited to mountainous areas, but is also common in cities. "
The American of the old breed is aware of this constant, and more recently, rapid, decline - the gradual loss of dominance on the land, which his ancestors beat off from the Indians. He feels it is very painful and, as if desperate to change something in practice, he is trying to get rid of this feeling by denying reality. His efforts take grotesque and extravagant forms. Special laws are being adopted to make hundreds of fantastic ways to put fetters on citizens of new blood. It is difficult and dangerous to teach children the language of their fathers and preserve the cultural traditions of their ancestors. Any deviation from the level of low-grade Anglo-Saxon is considered a crime against society and is fiercely punished.
It so happened that I myself am an Anglo-Saxon - and much more thoroughbred than the semi-bleached Celts, who pass under this name in the USA and England. I am partly English and partly Sax and everything else in me is safely Nordic, Protestant and blond. Thus, I do not risk falling into a bad mood by openly discussing the so-called Anglo-Saxon of this incomparable republic and its less dubious cousin with
historical
homeland. What do they seem to me after so many years spent accumulating their disfavor? What features do I distinguish most clearly in the so-called Anglo-Saxon type of person? I can answer right away that the two stand out from the others. One is his incurable incompetence, his innate inability to do any difficult thing easily and well, whether to isolate a bacillus or write a sonata. Another is his astounding susceptibility to anxiety and fear - in short, his hereditary cowardice.
Accusing such an entrepreneurial and successful tribe of cowardice, I risk seeming ridiculous, however, an impartial analysis of its history will justify me. Nine-tenths of the great feats that they teach reverent in the school of their milkmen (that is, their feats as a race, and not the individual deeds of their great people, most of which were, at least in part, of a different breed) are not examples of the most elementary courage . Consider, for example, the creation of two great empires, the English and the American. Have genuine courage and determination been shown at the entrance of these campaigns? Obviously not. Both empires were created by deceiving and slaughtering unarmed savages, and by robbing weak, devoid of allies, states. Not a single true hero has appeared; the population has never been in serious danger. Almost always, mercenaries fought for Anglo-Saxon - praise of his common sense, but hardly confirms the ferocity that he constantly boasts of. The British Empire was fought mainly by the Irish, Scots and local allies. The American empire was largely created by the French and Spaniards. Moreover, not one of the great campaigns was worth a noticeable amount of blood; there was no serious risk; the conqueror was never in danger of being conquered. The British captured most of their vast possessions without a single clash with a formidable civilized adversary. The Americans captured their continent through several dozen childish shootings with savages. The total price of conquering the entire space from Plymouth Stone to the Golden Gate and from Lake George to the swamps of Florida, including even the price of crowding out the French, Dutch, English and Spanish, was less than the price of Verdun defense.
As far as I know, there has not been a single case in history when the Anglo-Saxon state entered a big war without having allies. The French did so, the Dutch did so, the Germans did so, the Japanese did so, and even such inferior nations as the Danes, Spaniards, Boers and Greeks, but never the British or Americans. Can you imagine the United States entering decisively in a war in which the chances of their defeat were as great as that of Spain in the 1898 year? Historical facts dismiss a similar fantasy. Anglo-Saxon, when going to war, always tries to bring a whole gang with him, and even when she is behind him, he is very nervous and at the first real threat he panics. I invite the impeccably Anglo-Saxon witness, the late Charles W. Eliot, to court. In an article cited in agreement with the minutes of the congress sessions, he writes that during the American war of independence, the colonists, who are so eloquently praised in school textbooks, "fell into despair, from which only George Washington's firmness and the Continental Army helped them out France "and that" when the 1812 war of the year led to serious losses, a significant part of the population experienced the moral collapse of unprecedented depth and duration, from which only the will of a few patriotic statesmen saved them and the exploits of three or four American naval frigates, not to mention the initiative Corsican gentleman named Bonaparte.
In these wars, the Americans had a huge positional and numerical superiority, but they fought very poorly and from the first to the last shot, most of them stood for peace on any terms. I am not talking about the Mexican and Spanish wars at all, since they are absolutely indecently not knightly to discuss them; of the latter, Ulysses Grant who participated in it said that it was "the most unjust war in history of a strong state against a weak." Who remembers that during the Spanish War the entire Atlantic coast trembled with fear of a weak Spanish
fleet
that the whole of New England fought hysterically every time a strange barge appeared on the horizon, that the contents of Boston's bank safes were transported to Worcester, and the Fleet had to organize a patrol so that the coastal cities would not be empty? Perhaps those reds, atheists, and perpetrators who also remember that during the First World War the whole country was in a wild fear of an enemy who, without the help of divine intervention, could not strike at all, and that a great moral victory was finally gained by twenty-one ally with a numerical superiority of eight to one.
But the American civil war still remains? Really? In the 1861, in the North, there was an almost unanimous opinion that everything would end after several small battles; the first soldiers were called for only three months. When the case unexpectedly turned into a serious war, the recruits needed to be driven to the front by force, and the only northerners who supported the continuation of the war were Abraham Lincoln, several ambitious generals and businessmen who profited from it. I go to Dr. Eliot again. "In the last year of the war," he writes, "a large part of the Democrats of the North and the Republicans wanted to surrender to the Confederation, so they lost heart". Were discouraged with a numerical superiority of three to one! The South was obviously braver, but the courage of the South is largely illusory. As soon as the war began, the leaders of the Confederation resorted to the traditional Anglo-Saxon method - the search for allies. They wanted to win over England and almost succeeded. When hopes of this disappeared (that is, when England decided that contacting the North would be dangerous), the people of the Confederation raised their hands, and the catastrophe that finally happened was caused mainly by internal causes. The South could not stop the quivering North because, borrowing the phrase Dr. Eliot used in another connection, "survived the moral collapse of unprecedented depth and duration." People in the rear ceased to support the troops and the troops began to leave positions. Already at such an early stage as the battle of Shilo, many confederate regiments refused to fight.
This unwillingness to tempt fate, so evident in the military history of English-speaking countries, is clearly manifested in peacetime. Living among the so-called Anglo-Saxons, a person superior to their breed always notices (a) their inability to win in fair competition, whether in craft, art or education - in short their common incompetence, and (b) their constant desire to compensate for this inability, placing an unfair burden on its competitors. The Frenchman, I think, is the worst of the chauvinists, but as soon as he lets a foreigner into his country, he treats him fairly and does not try to absurdly fine him simply for his foreign origin. Anglo-Saxon American is always trying to do it; his story is a list of outbreaks of blind anger against the peoples who began to win from him. Such social movements are inconceivable among intelligent and sincerely self-confident people who are absolutely convinced of their superiority, as they are inconceivable among gallant and brave people who despise undeserved privileges and easy victories. The measures allegedly caused by some imaginary inferiority of a non-Anglo-Saxon man (as a patriot, democrat or Christian) are in fact caused by his general superiority. They are constantly fining him for winning a fair fight, putting up obstacles to lower him to the general level of the Anglo-Saxon population, and if possible, even lower. Of course, the Anglo-Saxon minority, which is actually better and, as a result, self-confident and tolerant, does not resort to such methods. But this minority is very small and gradually becomes even smaller. Social norms and morals are determined by the masses and they prove not only the general inferiority of the Anglo-Saxons, but also their anxious awareness of this inferiority. A typical representative of the American "purebred" majority goes to bed with the uneasy feeling that he has a thief under his bed, and wakes up with an unhealthy fear that his underwear is stolen.
Anglo-Saxon great herds are the least civilized of all white people and least capable of true civilization. His political ideas are cheeses and crayons. He is almost completely devoid of aesthetic sense. The most elementary facts of the visible universe disturb him and excite the desire to ban them. Teach him, make him a professor, teach him to express his soul, and he will still be third-rate. He is afraid of ideas just as cowardly as he is afraid of people. His blood is growing thin (perhaps he didn't have much to boast about at the beginning); in order to master any occupation, a higher level than the activity of a merchant, a teacher or a crowd agitator, he needs an incentive from other, less exhausted tribes. The fact that their representatives are getting bigger is the best hope for civilization in America. They shake out the old race from its spiritual lethargy, excite and encourage it to experiment. They contribute to the free play of ideas. Confronting these trends, whether in politics, in literature, or in the search for truth, the prophets of Anglo-Saxon purity and tradition only expose themselves to ridicule.
The article was first published in the Baltimore Evening Sun newspaper in 1923. Translation was done by Mencken Chrestomathy (Borzoi book, New York, 1956).