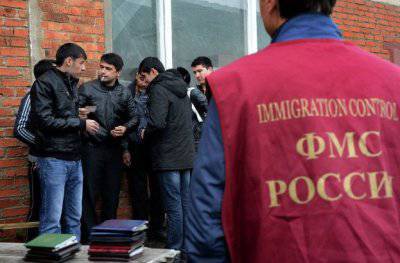 ... There are such moments in the political and public life of my beloved Motherland, when I clearly want to blink. Then make sure that you did not seem, and squint again - but already in sight.
As you all know for sure, a sad sight awaits us in the beginning of November - the "Russian March" in the capital. Well, you know, this is when our fellow citizens get together to once again be convinced of their own nationality.
The case is completely unnecessary, stupid and unhealthy, "minor" in ideological content. Therefore, there are so many people marching so hugely who feel themselves victims, for example, of kosher aliens from the violet radiation.
Nevertheless, this action does not contradict the law of the Russian Federation and is a form of exercise of their political rights by citizens of the Russian Federation. Therefore, we must endure. This is our duty to our fellow citizens.
However, not everyone agrees with the laws of the Russian Federation.
Public Organization "Federation of Migrants of Russia" (officially - "assists migrants from 40 countries in learning Russian and getting education, working on countering extremism and terrorism, promoting tolerance" and others. Established, by the way, with the support of the Office for Domestic Policy of the AP) represented by its leader, Mr. Amin, 1) appealed to the mayor of Moscow with a request to cancel the event, 2) announced that she would hold 4 in November, simultaneously with the Russian March, the Migrant March. At the same time, the venue of the action did not specify and no applications were submitted to the city authorities.
And here, dear readers, there are two logics. Both true. But one is tactical. And the second is strategic.
1. The logic of an ordinary country
There is a difference between a citizen of Russia and her non-citizen.
It lies in the fact that a citizen of Russia, along with human rights, has civil and political rights. Non-citizens of Russia in Russia have no civil and political rights. They have the right to life, the right to justice, and so on. And there are no civil rights.
So, for example, Art. 31 of the Russian Constitution states that "citizens of the Russian Federation have the right to assemble peacefully, without
weapons
, hold meetings, rallies and demonstrations, processions and picketing. "
Please note: in the 31 article there is not a single word regarding the rights of immigrants from Bangladesh, Uzbekistan, Kyrgyzstan, Tajikistan, and so on. No one.
This is not because they have the wrong eye shape and nose shape. This is because they are non-citizens. We are citizens of Russia, concerned "nationalists" are also citizens of Russia, but they are not. Therefore, they are not covered by any article 31 of the Constitution. Only citizens of Russia can be involved in politics in Russia. Migrant workers policy we do not need.
Citizens of Russia have one privilege that is attached to our problems with the Caucasus, to terrorism, international and intellectual Russophobia, the emerging economy, officials, to "drink and steal", to fools and roads. This is an opportunity deeply and sincerely, from a high bell tower to spit on what any native of Bangladesh thinks of us and our rights.
Of course, migrants to our business (in the current situation) are very useful. Because they are cheap low-skilled labor, which allows to ease the tax burden.
That is why they cannot be engaged in politics in Russia - because then they will no longer be cheap and become very expensive. And it will be bad for the economy, for business, and for the country.
Actually, they are cheap labor force precisely because they had political rights in their homelands. And using these political rights, they have done with their homelands such that now they have to flee from their homelands to ours. Their fellow citizens and parents enthusiastically began dismantling along national and religious grounds, expelled Russians from their homelands, flooded their countries with drugs, destroyed education and industry, ran wild, restored feudalism and slavery.
If we give people from degraded states political rights with us, they will do the same with Russia: therefore, all countries with immigrants are divided into those where they have no rights, and those who foolishly singled out their rights and are now suffering. The fact that the leader of the Federation of Migrants threatens the Russian authorities with unrest - and I believe that everyone understands that the simultaneous holding of the "Russian March" and the "Migrant March" will lead to unrest, and in order to prevent Russian citizens from exercising their civil rights - sure proof given assumptions.
People who want to turn migrants from labor and economic power into political - Russia is not friends. They are friends only to themselves.
People who have come to live in another country and are beginning to prohibit the citizens of this country to enjoy their rights do not deserve any other fate than deportations.
Citizens are not all migrants who want it, but only those who have proved their usefulness, loyalty and trouble-free over the course of several years. Import problems we do not want. We have a lot of our own problems and their creators - our own nationalists. New - we do not need.
2. The logic of a big country
The logic outlined above is sufficient if we — that is, our state — continue to consider ourselves as an "ordinary country". Well, the type is very big Czech Republic, the goal of which is as much as possible trouble-free pastime throughout the nation.
But the whole thing is that considering yourself "normal" - for Russia, the occupation is inorganic and dangerous.
Just look at the map to understand this. There are no "ordinary countries" on the planet with huge people and territory who would quietly live surrounded by poverty, feudalism, drug trafficking, Sharia and the Stone Age, without any contact with them. Any large country is forced either to civilize the surrounding space for itself, or to endure a continuous, growing "import of problems" in case it avoids this mission.
Therefore, any coercion of migrants to obedience is not a solution to the problem, but at best its depreciation, the laying of straw under it.
The real solution of the problem can be, of course, only its liquidation. Its real essence is 1) in the very presence of degraded post-states at our borders and 2) of the "Eloy-Morlok" model within our borders.
If we were a "normal" Czech Republic, we would be an extremely dependent state, which is not willing to either choose its own systemic problems or solve them, but can only choose ways to mitigate them. But being a big country, we can both systematically eliminate the profitability of low-skilled labor (and the need to supply farm laborers), and restore statehood (and with it both culture and production qualifications) in the places where the farm laborers now come to us.
Otherwise, we are waiting for the same "dictatorship of minorities" that prevails today so-called. advanced countries.