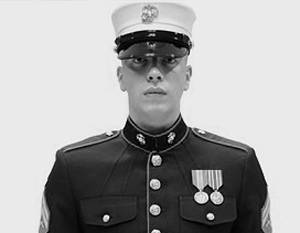 The US Marine Corps was outraged by new caps, which they are going to issue command: the marines said that the headgear was "female", media reported, linking the innovation to the demand of President Barack Obama.
According to the draft uniforms, both men and women serving in the US Marine Corps will wear the same caps.
Instead of old headdresses with a pronounced high crown, it is proposed to dress up marines into an analogue of French caps - caps with a small hard bottom, high white band and a black visor.
In the proposed version, the little band expands slightly upwards, specifies the Voice of Russia.
The existing caps are used by the Marine Corps in full dress and everyday form from 1922 onwards, and the proposed ones are a reworked version of the cap, which US marines wore in 1904 – 1918, but at the beginning of the 20th century the cap was blue rather than white and therefore had a more "courageous" view.
As noted by The New York Post, marines are dissatisfied not only with the fact that men and women will wear hats of the same style, but also with the fact that the new detail of the uniform looks too "feminine": some servicemen compare the new hats with the cap of the butler or French military and gendarmes.
The New York Post writes that the marines were asked to make changes to the uniforms "from above", as ordered by the Department of Defense and President Barack Obama himself.
However, The Atlantic Wire and other publications say that Obama and the Pentagon have no right to make such decisions, and the last word will be for the corps commander James Amos.
In this case, as noted by Business Insider, Obama is not even included in the commission on the uniform. However, earlier Obama had "offended" the Marine Corps: in particular, in May 2013, he forced the marines guarding the White House to grossly violate the charter, opening an umbrella during the rain over the president and his guest, which was strictly forbidden to the corps.
Particular dissatisfaction with ordinary employees of the Marine Corps caused the cost of changes: according to The New York Post, it will take more than 8 million dollars.
"We don't even have enough money to buy cartridges, and the Ministry of Defense demands that we spend 8 million on hats similar to women's caps. Marines deserve better. "
In March, 2013, the media reported that a shortage of rounds had hit the Marine Corps. And even in September, 2013, when Aaron Alexis made a shooting at the Navy Yard complex in Washington, the Marines in the building could do nothing, because they were there with discharged
weapons
.