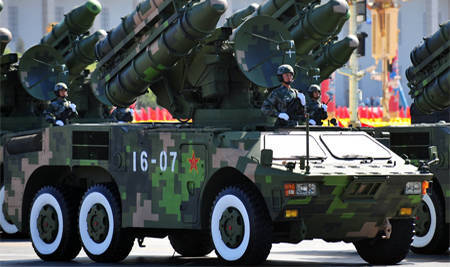 Chinese defense crowns competitors and gaining new positions.
The message from Ankara about the intention to buy the Chinese antimissile system has become, in the opinion of many experts, a landmark event. It means the appearance on the world trade market.
weapons
The new player is young, but very ambitious and aggressive.
Previously, Chinese companies were known mainly as suppliers of small and small arms to developing countries. Recently, this image has changed a lot. Now the Chinese military industrial complex sells everything from machine guns to frigates, supersonic fighters and other high-tech weapons.
Chinese weapons vendors are aggressive. They are increasingly squeezing competitors, and in the markets of not only developing countries.
Amazing win
NATO membership and undisguised discontent of Washington and other members of the North Atlantic alliance did not prevent Turkey from announcing its intention to conclude a major contract for the purchase of an anti-missile system not with an American company, but with a small and little-known manufacturer of missile defense systems from China. Ankara rejected offers not only from American but also from Russian and European companies. The selection by the Turkish Defense Ministry in September of China Precision Machinery Export-Import Corporation shocked Washington, Brussels and Moscow. The choice of the Chinese manufacturer by the Turks is all the more strange that the exploitation of Chinese equipment will cause problems with compatibility with NATO weapons, which the Turkish army had previously properly armed with.
To top it all, China Precision is on the black list of the US State Department, and they are subject to sanctions. The Chinese were faulty in trade with Iran, Syria and North Korea.
The final agreement for the supply of Turkey to the Chinese system HQ-9 has not yet been signed. Perhaps, Ankara will not withstand the powerful pressure of Washington and give up the Chinese technology. On the other hand, the temptation is very great, because the Chinese have resorted to the tried and true method of dumping: they sell their system for only 3 billion dollars, that is, much cheaper than their Western and Russian counterparts.
Whatever the end
история
with anti-missile systems, it shows that the Middle Kingdom loudly, without hiding, enters the international weapons market and becomes a serious competitor for its strongest players.
"This is a striking victory for the Chinese defense industry," commented Peter Wesemann, a senior fellow at the Stockholm Peace Research Institute (SIPRI), which specializes in the arms trade, in an interview with the New York Times International.
In the top five
The time when the People's Republic of China sold only third-party machines and cartridges to the third world countries remains in the distant past. Now China is a weapon seller just like the developed western countries. According to SIPRI, published earlier this year, in 2008-2012, China's sales of ordinary weapons, including airplanes, ships, missiles and artillery, increased by 162% compared to the previous five year period.
The main buyer of Chinese weapons is Pakistan. According to IHS Jane's, Islamabad bought 2012 million weapons from China in 611,8 year. Then follow with a large margin Bangladesh (351,3 billion dollars), Bolivia (289 billion), Venezuela (279 billion). Zambia bought Chinese weapons for 140 million dollars last year, Saudi Arabia for 107, Iran for 76, Thailand for 70, Namibia and Vietnam for 30.
SIPRI ranked China in fifth place in the list of the largest exporters of weapons. The Chinese bypassed the UK in 2012, mainly due to purchases of their weapons by Pakistan.
In the last five years, Beijing was the eighth in terms of the volume of weapons sold.
The export of Chinese weapons is growing rapidly in dollar terms. According to IHS Jane's, over the past five years, it has almost doubled and reached 2,2 billion dollars; this is more than Canada and Sweden. In dollar terms, China is now in eighth place.
According to Xu Guanguy, a retired major general and head of the Association for Control of Chinese Weapons and Disarmament, a spurt in China's sale of high-tech weapons is normal. In addition to pricing, Chinese companies, according to Xu, have another important advantage: they do not interfere in politics - both external and internal - of the countries with which they trade.
Would not get lost in a hundred
China North Industries Group Corporation (Norinco Group) is considered the largest weapon manufacturer in the People's Republic of China, whose profit last year, according to information published on its website, was 9,8 billion yuan (1,6 billion dollars).
Another well-known Chinese gun manufacturing company is China South Industries Group Corporation (CSGC). She had a profit of about 2011 billion dollars in 1 year.
Both of these companies, as well as a number of other Chinese manufacturers of weapons could well enter into the hundred largest producers of weapons and not get lost in it. However, SIPRI does not include Chinese companies on its list on the grounds that it does not provide sufficiently verified statistical data.
Most of the money in the Chinese military industrial complex is invested in the production of military aircraft and aircraft engines - in order to reduce the significant gap between the West and Russia. Guy Anderson, senior analyst at IHS Jane's, is confident that in the medium term, the Chinese will catch up with competitors without any problems. He believes that Beijing is still ten years behind technology. But, given the persistence of the Chinese in achieving the goals set and the enormous material resources, in this area the days of Western superiority seem to be numbered.
Perhaps now a significant part of the Chinese weapons and inferior to Western counterparts, but this does not mean that it is of poor quality and that they do not buy it. Low prices allow Chinese arms dealers to stifle competition in developing countries. In recent years, Argentina has become a new Chinese customer, for example. In 2011, Buenos Aires signed a contract with Avicopter, a Chinese company, for the supply of X-NUMX light helicopters Z-40. The first helicopters were commissioned by the Argentine Air Force this year.
The Chinese are not offended when buyers use the equipment they bought at low prices as a base on which they then install better-quality Western weapons. For example, Algeria ordered three corvettes to Beijing last year, on which radar equipment from the Dutch company Thales Nederland will be installed. Thailand modernizes Chinese frigates with the help of the Swedish Saab Group.
Beijing hopes to quickly reduce the lag in technology and other aspects. Opportunities and even more desire for this he has. Chinese companies do not spare money for new developments and research. Western competitors, in order to compete with low prices of Chinese weapons, have to cut research spending.