The first Russian helicopter landing ship-dock (DVKD) of the Mistral type Vladivostok will be equipped with four French-made amphibious boats, a source in the Russian military-industrial complex responsible for military shipbuilding said on Tuesday.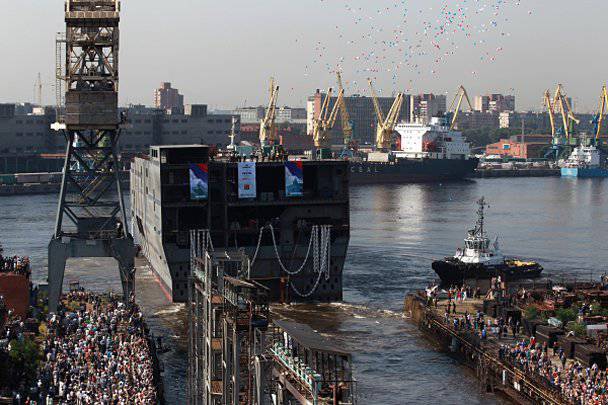 "At the Vladivostok DVKD, when it is completed, French specialists will install four French-made amphibious assault boats, intended for the delivery of marines to the coast," the source said, ITAR-TASS reports.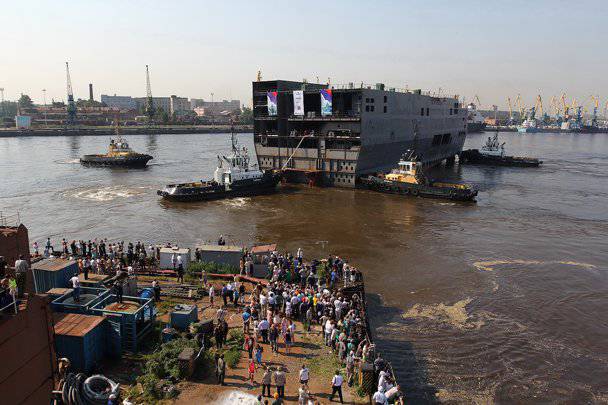 "Boats will be placed inside the ship. Their cost is included in the amount of the contract, no additional payments will be made, "he specified.
The source stressed that all four French landing craft will be fully integrated into the command and control system of the Vladivostok.
"Naturally, these boats will be equipped with Russian
weapons
, including artillery, as well as Russian radio electronic and electronic weapons systems, "he added.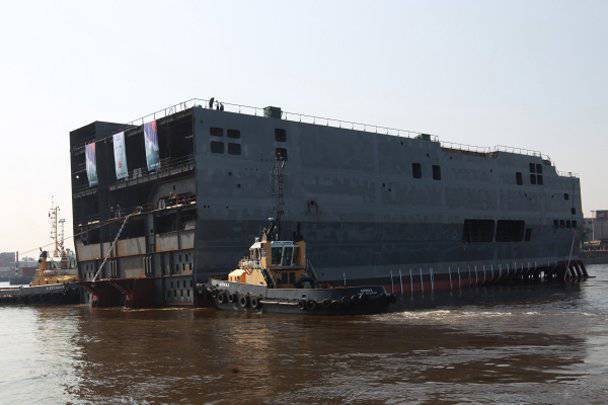 The source confirmed that the DVKD Vladivostok will come from the French Saint-Nazaire to the shipyard "Severnaya Verf" in St. Petersburg to install weapons and continue testing in November 2014 of the year.
Before moving to Russia, "Vladivostok" will be completed, retrofitted afloat and undergo factory tests in France. During them, French-made ship systems will be tested and tested.
"It is assumed that Vladivostok will be equipped with Russian weapons systems, undergo factory sea and state tests in Russia during 2015, after which it will be accepted into the Navy and transferred to the Pacific
the fleet
for military service, "the source said.
"Thus, the first Russian Mistral will not be part of our Navy before the late autumn of 2015," he concluded.
Earlier, a solemn ceremony of launching the hull of the first Russian Mistral-type helicopter carrier "Vladivostok" took place at the French shipyard San Nazaire, the construction of which was launched on February 1 of the year 2012. The ship's first launch into the sea is scheduled for March 2014 of the year, and its transfer to Russia will take place on November 1 of the year 2014.
The Ministry of Defense reported that Russia would take a decision on the acquisition of two more Mistral-type helicopter carriers at least one year after the first Vladivostok ship began operating.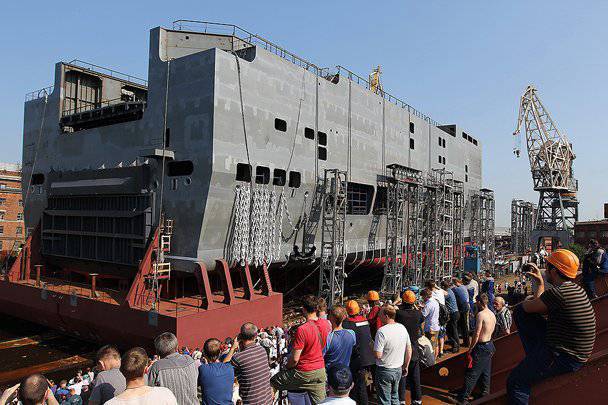 Rosoboronexport and DCNS in June 2011 of the year signed a contract to build the first two Mistral-type helicopter carriers (Vladivostok and Sevastopol) for the Russian Navy. The contract amount is 1,2 billion euros. Russian United Shipbuilding Corporation is involved in the deal as a subcontractor of the French shipyard STX France in Saint-Nazaire. The ships will install the latest Russian shock and defensive weapon systems, including supersonic cruise missiles.