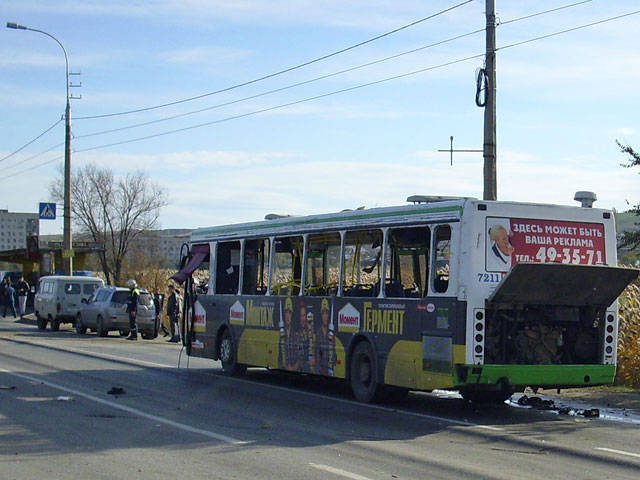 A terrorist act in Volgograd was allegedly committed by a suicide bomber who recently converted to Islam. This opinion was expressed in the investigative department of the Investigative Committee of Russia. It is known that the documents of this woman were found not far from the site of the explosion.
"She recently converted to Islam and was the wife of one of the leaders of the gangs," Interfax was told in the TFR in the region.
According to the latest information, among the victims of the explosion in a bus in Volgograd there is one child. As specified by ITAR-TASS in the Center for Disaster Medicine of the region, his condition is assessed as moderate severity. A baby aged 1 year and 8 months, received a concussion.
In total, the explosion killed 5 people, 27 suffered. The condition of the 19 injured is assessed as mild and moderate in severity, eight people are in intensive care. According to the Ministry of Health of Russia, the majority of victims of mine explosive injuries. Injuries caused by interior trim and glazing bus. The injured doctors are sent to 15 and 25 city hospitals in Volgograd. There were about 40 people on the bus at the time of the explosion.
Information about the explosion in the bus brought to the governor of the Volgograd region Sergey Bozhenov. An operational headquarters has been established in the region, which will be engaged in providing all the necessary assistance to the victims.
In the main department of the Emergencies Ministry of Russia in the Volgograd region there is a "hot line", which allows you to clarify all the information about the victims and those killed during the terrorist attack. Her phone: 8-846-338-9656.
EMERCOM of Russia sends to Volgograd for evacuation for treatment in Moscow of victims of an explosion in a bus. As the ministry spokesman Irina Rossius told reporters, in the near future an IL-76 aircraft equipped with five medical modules will fly from the Moscow Ramenskoye airfield to Volgograd. The evacuation of the victims will involve a medical team of the All-Russian Center for Disaster Medicine "Protection", doctors of the "Centrospas" Detachment of the Emergencies Ministry of Russia and the Emergency Operations Task Force and psychologists.
The terrorist attack in Volgograd was committed on October 21. The explosive device worked in the passenger bus "LIAZ" route number XXUMX about 29 hours 14 minutes, near the stop "Lesobaza". As a result of the attack, 5 people died, more than 5 were injured.