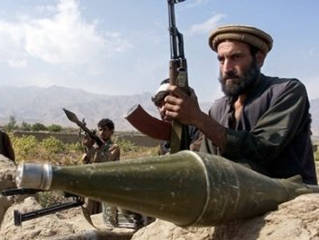 From the editors. Terra America publishes a review written specifically for our portal by the famous military historian, professor at the University of Jerusalem (Israel) Martin van Creveld on the popular book of the British Army officer Emily Simpson [1] "War from scratch". Simpson served for several years in southern Afghanistan and is well aware of the complexity of waging war against primitive guerrilla groups armed nonetheless not at all primitive.
weapons
. Judging by the latest data from Afghanistan, the situation in this country remains hopeless for all the positive expectations of the West - so far this van Creveld-proposed clever strategy for intelligent exposure at almost a micro-atomic level, taking into account the internal relations of various tribes, remains a project task rather than a working by technology.
* * *
I have a friend, the recently retired General of the Bundeswehr, who served as a military adviser to Angela Merkel for seven years. Once he told me that, in his experience, politics is much more dangerous than war. In war, he said, they only shoot at you from the front. In politics, fire should also be expected from the rear. Often it comes to the fact that you no longer understand who is the enemy and who is friend.
The author of the book in question is a former officer of the British army who served at least three terms in Afghanistan, I agree with my friend. Explaining why politics is more dangerous than war, he wrote a fascinating work that gives rich food for thought.
Returning to the British
stories
- the author mainly draws material from it - in 1939, when Britain entered the war, its soldiers knew that the enemy was made up of German soldiers, who were later joined by Italian and Japanese soldiers. It is with these soldiers that they will fight and try to kill.
The same was true in the 1956 year in Egypt, in the 1982 year in the Falkland Islands, and in the 1991 and 2003 years in Iraq. In all these cases there have always been two sides, the British and their enemies. Since both sides were dressed in uniforms, they were usually easy to distinguish from each other.
Even the fact that one of the parties or both formed a coalition with others did not create serious problems with identification; as long as the laws of war were respected, it was also not difficult to distinguish the military from the civilian population.
The experience of other modern armies was for the most part similar. During the Great Patriotic War, Russian soldiers fought with German and Japanese. American soldiers fought with German, Italian and Japanese. Later, they also fought with North Korean and Iraqi soldiers. Indian troops fought with Pakistani, Israeli fought with the troops of various Arab states.
The idea that an enemy in war almost always consists of one adversary (or a coalition of adversaries), which can be identified and fought with, goes back to the nineteenth century. And, although she never speaks directly there, the same idea underlies the works of the greatest western writer on the war, Karl von Clausewitz. In his famous treatise "On War" there are several pages about what he calls the "armed people," but the rest of the book is written from the point of view of one regular army fighting against another.
Imagine, now, the surprise of a young officer who arrived in Afghanistan for the first time. The government that pays him ordered him to fight the Taliban - the name, by the way, means "religious students" - and to free the country from their heinous presence.
But what is this "Taliban"?
Does such an organization exist in the same sense as, say, the British, Russian and other armies? And assuming that it does exist, then, given that its members usually do not wear military uniform, the question arises, how to deal with it?
When the first shock passes, our young officer quickly discovers that everything is much more complicated than he thought. The Taliban may indeed exist. However, its members do not form a unified organization. They also do not obey the orders of one president, prime minister or commander in chief. Instead, they consist of a large number of tribal groups, each with its own leader.
Some groups are large, others are small. Some of them, associated with the Taliban on a more or less permanent basis, form the core of the Afghan resistance to foreign troops, who, from their point of view, invaded their country. Others join this resistance if and only as long as they see fit.
Many groups are connected to each other in a complex way. Not necessarily sticking to their side, many are willing to take money or other benefits — especially weapons — for switching to another. When they fight, they wear military uniforms only when it suits them. As a result, they are difficult to distinguish from the civilian population that foreigners must protect.
In addition, in a country where there is no centralized police, for many residents, carrying a weapon is something that goes without saying. The fact that residents often shoot not only at foreigners, but also at each other, adds even more difficulty. Under such conditions, the traditional terminology of war — offensive, retreat, front, rear, lines of communication, and the like — simply makes no sense, except perhaps at a purely tactical level.
But most importantly, the war is no longer a continuation of politics by other means, as Clausewitz wrote. Instead of the people at the top making all the relevant political decisions, as it always has been, the policy expands down the chain of command to its very bottom.
War and politics often become the same. The result is the creation of what other authors sometimes call a "strategic corporal." Or a strategic junior officer, for that matter.
Each time a corporal or junior officer proposes to fight with members of tribe A, he (rarely, in truth, she) must take into account the influence of this decision, positive or negative, on members of tribes B, C and G. The same the same applies to the case, if he decides not to fight. Does it impress them? Will it push them away? Will they remain faithful? Will it push them from friendship to enmity, or vice versa?
In addition, the impact on the civilian population, assuming that such a thing really exists, should also be considered. Far from being homogeneous, this population itself consists of many groups that are often separated from each other by marked cultural and linguistic differences. All of these factors interact. All of them are constantly changing like a mad kaleidoscope. However, the nature of the changes, the direction in which they are moving, and what can be done (if it is possible at all) to push them in the right direction can only be understood by those who know the country, its inhabitants and its culture. like the back of your hand.
As the author himself notes, much of this is not new. In fact, anyone who has ever tried to wage war against, and among, pre-modern tribal society, faced similar problems. The difference, which Captain Simpson passes over in silence, is that in former times such tribes were armed only with ancient weapons that they produced themselves or were able to acquire from others.
As the British author Heeler Bellock put it at the beginning of the twentieth century, "for every question there is a clear answer: / we have" maxims ", they don't have it".
Since then, everything has changed. As the USSR discovered in Afghanistan, in our time tribes are often equipped with the best weapons. They capture part of it. They receive part of it from foreign powers, and partly they buy in exchange for goods such as (in Afghanistan) opium. They may not be able to get or control the most powerful weapons, such as airplanes,
Tanks
(except for the few captured), artillery, and so on. However, judging by their ability to fight and even win in the end, they do not seem to need him.
By providing first-hand descriptions of these and other problems affecting the war in Afghanistan, the captain (retired) Simpson did us all a great service. Unfortunately, like almost everyone else who has dealt with this issue, he is better at analyzing problems than recommending measures to solve them.
In the end, all he can do is say — I don't want to say, chat — about "ethos," "vision," and "confidence." All the more regrettable because the world is changing.
Even if we drop Syria, where the army of President Assad is currently fighting with a number of different militias, Afghanistan is unlikely to be the last country where modern armed forces oppose an amorphous enemy that is very different from them.
Some authors even believe that the armed struggle, in many ways similar to what is happening in Afghanistan, may soon erupt in many cities around the world. One of these authors, a well-known Australian anti-rebels expert David Kilkallen, provided an advertisement for the book directly on the cover. Thus, the conclusions of Captain Simpson have consequences that go far beyond the borders of Afghanistan.
These are frightening conclusions. But those who, closing their eyes to them, hide their heads in the sand, are likely to end up with their foot on the ass.