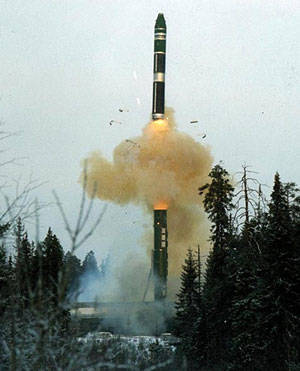 By 2020, the Strategic Missile Forces (RVSN) of Russia plan to adopt a new liquid ICBM, defense-update reports in October 6. At present, a conceptual design of the rocket is being worked out, which is to replace the SS-18 Satan (PC-20 - approx. "VP"), which has been in service with the 1967 of the year.
The Russian Ministry of Defense announced plans to develop a new ICBM in 2011 year. Construction of the 100-ton prototype will begin in the 2014 year, tests will be conducted for four years, then the rocket will be recommended for mass production.
Another, but somewhat peculiar, ambitious step of Moscow could be the development and production of railway-based ICBMs, which can also be deployed by the 2020 year. The new missile will be two times smaller than the similarly-deployed SS-24 Scalpel of the Soviet period (PC-22, top photo - "VP"), which weighed 104 t and three locomotives were needed for its transportation. Railway-based strategic ballistic missiles are difficult to detect (Rubezh can become such a home-based ICBM, according to media reports, an automobile chassis with a starting module shaped like a railway car has been developed for this missile, the bottom photo is a comment of VP ).
The first Soviet SS-24 ICBMs entered service in the 1987 year, by the 1991, there were 12 missile trains. In the 2002 year, in accordance with the START treaty, the missiles were decommissioned, the last base was closed in the 2007 year. However, a new agreement on strategic offensive arms does not prohibit the deployment of rail-based ICBMs. A return to the ICBM will be a clear response to the deployment of elements of the US missile defense system in Eastern Europe.
The commander of the Strategic Missile Forces Colonel-General Sergey Karakaev noted that the new liquid-fuel ICBM will have a better ratio of payload to the launch mass than that of solid-fuel missiles. As a result, the rocket will carry more powerful warheads and more false targets to overcome the missile defense system. "The presence of a powerful liquid-fuel ICBM will give us the opportunity to create strategic high-precision
weapons
with conventional warheads and near-global range, if the US does not abandon its global rapid strike program (prompt global strike - PGS), the general said.
In 2010, the United States tested the prototype PGS platform on Minuteman III type ICBMs, but then decided to develop hypersonic platforms to provide fast global impact.