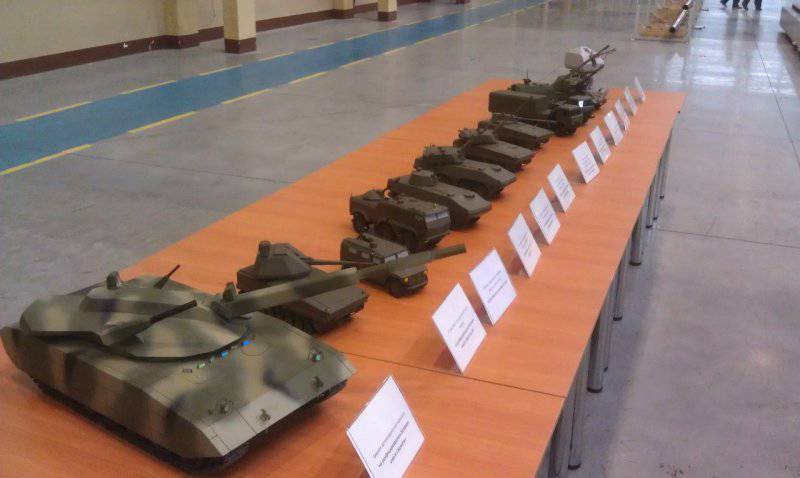 The development of the Instrument Design Bureau was presented at a closed show as part of the IX International Exhibition of Arms, Military Equipment and Ammunition Russia Arms Expo 2013, which took place from 25 to 28 in September in Nizhny Tagil.
According to the website
kbptula.ru
, the show took place on September 25 and 26 in a special closed pavilion, where the country's leadership, officials of a number of ministries could evaluate the advanced weapons and the possibilities of equipping the army with new models. D. A. Medvedev and D. O. Rogozin were able to personally get acquainted with
weapons
future.
On the eve of the exhibition, N.I. Khokhlov, the head of the delegation of the enterprise - deputy head of the BBTT and ATGM, said that KBP OJSC fulfilled its part of the contract and delivered the fighting units in time: OCD as a part of promising unified platforms.
By joint efforts of our designers, the production of JSC Shcheglovsky Val, as well as support services, we have qualitatively fulfilled the task set in the planned timeframe. The main distinctive feature of this BO, which is planned for the series, is that it is crewless.
The presence of a person is completely excluded there, that is, it is conditionally possible to call this fighting compartment partly robotic or remotely controlled. In addition, there used a sighting complex of a new generation, which we began to develop even before the appearance of this topic and the formulation of the problem.
Now our scientific and technical groundwork has come in handy. That is, this idea has long been in the air - to make a sight of this type, of the next class, because compared to the "Bakhchoy" and "Berezhk" this is a step forward. Moreover, when designing, a sufficiently large modernization potential has been established, where it is possible to change a gun without any major modifications, to attach additional types of weapons, that is, this branch of the future.
How much BO is going to be a department of the future is a debatable question. But for now, the customer's wish is to have a crewless compartment that is managed - fulfilled. "
N.I. Khokhlov noted that having compared with other powerful enough weapons in this BO, the designers did not "enter" down the machine a centimeter: "That is, if you go into the landing compartment, then this is an even ceiling," said the head of the delegation "KBP", - nothing stands, and all the gunner and the commander are thought out and calculated according to all the rules of ergonomics.
In this BO, the function of two-channel work is realized, that is, the gunner and the commander can work on various goals independently of each other, each with their own weapons. "