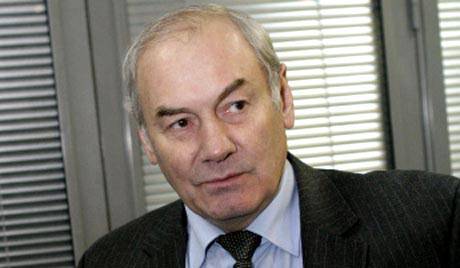 The head of the Academy of Geopolitical Problems, Leonid Ivashov, in the Pravde.Ru interview, shared his opinion on possible supplies of Russian
weapons
Iran.
Leonid Ivashov: "There is no problem, do you understand? That's just the route will be a little further, there, but what problems bring weapons to the Iranian port? No problem. And problems are created, in my opinion, by orders from Tel Aviv. Tel Aviv does not want us to deliver to Iran, does not want us to deliver to Syria, but here they just take the visor and answer: "Yes!" That's all. Our military technical cooperation with these countries is fully controlled from Tel Aviv. This is still Ariel Sharon said, as Minister of Defense. Then, in my opinion, somewhere at the end of 90, he, as an inspector, came, figured out who, what, whom you were teaching, and so on.
Therefore, it is necessary to recognize, it is better then, to open a branch of the Israeli Ministry of Defense or Ministry of Commerce, and declare that everything. We, our authorities, while playing with routes, have some difficulties. Two sovereign states! Yes, it is possible somewhere always, and in Soviet times it was always ensured that the balance of forces in this or that region was not upset. Because the balance of power is a guarantee of security in one and the other country. But Tel Aviv, after all, today it surpasses Iran in many parameters, in almost all military-technical parameters. Surpasses
So, in order to prevent the war, you need to put the appropriate weapons to Iran. This is our interest. Thus, we will push the threat away from the Caspian Sea, move the threat away from our borders, move millions of refugees to our country and so on. But, you see, for some reason, our national interests are not in the foreground. I will tell you more than that, what I'll find out now - even over the summer - you know, frankly, not something that angers - I want some kind of repression against those who, in fact, create.
Look, today, in fact, on the verge of bankruptcy will be the famous firm "Mig",
because through the corruption schemes Mr. Poghosyan pushes Sukhoi planes everywhere. Worldwide, the ratio of light and heavy fighters 70 / 30 in favor of light fighters. Today, light fighters and production, and the development of the general cover. We shove only heavy ones. The infantry will cover and conquer airspace.
I was at the International Nuclear Center in Dubna. You understand, they let me in - he is international. There Americans dominate today. For the Ministry of Defense, we cannot not only nuclear but also conventional weapons, some projects, to be implemented without the permission of this international community. Well, what is this going on? The Ministry of Defense can not enter into a contract.
I visited a surprisingly interesting enterprise - this is the State Research Institute of Chemistry and Technology of Elemental-Organic Compounds. You know, I saw miracles there. Miracles! And including - in the defense sphere. Miracles are simply done — they create composite materials, technologies, and, let's be frank, straight defense products of the second half of the 21st century. Appeals to an American company to cooperate with them. Naturally, closed topics - refuse. Appeals another firm - on the other hand come - refuse. What do our Russian technologies do then? They remove the directors, declare that all the enterprises of Russian Technologies should make a profit, and today they are already walking around, that it is necessary to build a shopping center on the basis of this non-profit institution - there will be a profit tomorrow. Is this not a crime? This is not a betrayal of the motherland? This is a betrayal of the Motherland, you can't call it another way.
And those who do it, they still hope to escape punishment, to escape, somewhere in the West to hide. First of all, let them look at all these defectors: they will be given away, they will find and put up against the wall for these things. I am convinced of this. And not in any century - this decade will be. Therefore, it is difficult to talk about defense and security today. On the one hand, there was hope that Sergei Kuzhugetovich would come and put things in order, and he started, but we see, but we see how everywhere, everywhere today, obstacles are being put.
The Ministry of Finance does not finance those contracts that the Ministry of Defense was ready to conclude, for example, with Mig. Does not finance simply. This enterprise, which works for the defense industry, for the military space industry of ours, for the same Bulava, for our ship fleet, is working quite successfully, is not able to defend the Defense Ministry, but there is no one else. There is no one in our country to defend - everything is bought, everything is sold, and so on. Therefore, I would like to hope that at least Syria will not surrender - the last ally in the East. "