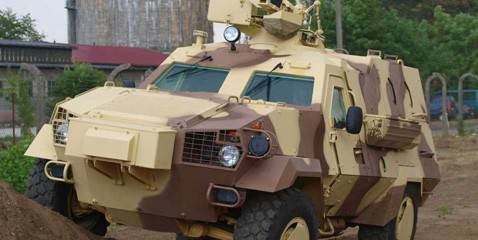 Our armored car is the best friend of the Polish grader
At the recent MSPO – 2013 International Defense Industry Exhibition MSPO – XNUMX, which took place recently in the Polish city of Kielce, the Ukrainian combat armored vehicle (BBM) DozorB developed by the Kharkov Design Bureau
them. Morozov.
Interest in it was not accidental: just a week before the exhibition, Polish and Ukrainian media reported that this car would be produced in Poland under license. The Polish version of DozoraB is called Oncilla and differs from the Ukrainian original in full compliance with NATO standards for ballistic and mine protection. Moreover, the first prototype of this machine was already assembled at the end of July this year by a Polish manufacturer, but with the use of components from Ukraine.
It would seem an unprecedented case: the country - a member of NATO is preparing to issue Ukrainian armored vehicles under license! Are Western countries really so interested in our
weapons
, what even are ready to produce it under license? However, before making such sudden conclusions, it is worth understanding. As a closer look doesn't look so optimistic.
To begin with, with all the long-standing assurances of friendship between Kiev and Warsaw, their military-technical cooperation has never been particularly successful. Moreover, if the Ukrainian and Polish gunsmiths met on the global arms market, then perhaps as direct competitors. And, as a rule, these meetings ended with our defeat, but mainly for political reasons. And it was the scope of the sale of armored vehicles became the scene of the main opposition.
The classic example was
история
with a tender for the purchase of Ukrainian
tanks
Malaysia in 2002, in which experts predicted a victory either to Kiev, representing the T84 tank, or Moscow with the T90S tank. Moreover, Ukrainian experts convinced: T84 is more suitable for the climatic conditions of Malaysia than cars of other manufacturers. And the RT91 "Tvarda" tank submitted to the Poles for tender was not taken seriously by anyone at all. Against the background of Ukrainian and Russian ultramodern vehicles, it looked rather faded, since it was not new - it was nothing more than a modernized Soviet T72 tank developed in the late 60s of the last century.
But the Poles won! Moreover, the Malays readily laid out for the Polish modernization of the old Soviet tank a total of 250 million dollars - by 3,9 million per unit. This is despite the fact that the Ukrainians requested about 2,5 million dollars for one really new tank. As our "defense industry" noted, such an unexpected turn in the Malaysian tender was entirely on the conscience of Ukrainian diplomats who did not pay enough attention to bilateral relations between our countries. However, the matter was obviously still different: in Malaysia, the Western arms lobby came out against Ukrainian design ideas and technologies. And of course she won.
This case made Ukrainian tank builders wary. The fact is that Poland, not differing in the development and production of its own original armored vehicles, nonetheless very actively modernizes Soviet designs, including those made in Ukraine. In addition to the allegedly their PT91, in fact "converted" from the Т72 tanks, the Poles can offer a whole range of Soviet-Soviet "hybrids" that are relevant to the countries of the former socialist camp. For example, the BWO40 armored vehicle offered by them is the MTLB multi-purpose armored tractor developed and manufactured in Kharkov with the 40mm Swedish cannon. At the same time, there is more than enough "material" in Poland for the production of "its own" armored vehicles on its base - more than 700 armored vehicles, including Ukrainian MTLBs, are stored there. The most continuously declining Polish army all this good is simply useless.
However, all good things end sooner or later. The success of modernized equipment among serious buyers is also decreasing. Therefore, now Poland is banking on the production of new weapons and their promotion in the arms market. And Ukrainians were even invited as partners. In particular, in May of this year, Deputy Minister of Defense of Ukraine Arturo Babenko, who took part in the Ukrainian-Polish forum on defense-related issues in Warsaw, upon his return to Kiev, happily announced that we would jointly develop and promote weapons and military equipment in third countries.
No one doubted that Ukrainian tank builders have a powerful potential and it is interesting for Poles not shining with their own developments. But the fact that Poland, as a member of NATO, is really ready to create new weapons and trade them together with the Ukrainians as equal partners, it is hard to believe.
As the current situation with the release of the Ukrainian BBM "DozorB" under license in Poland, these doubts were justified. Because it is not clear what the leadership of the Ministry of Defense of Ukraine agreed on in Warsaw, but it doesn't mean anything like an equal partnership in the development and joint sale of armored vehicles to third countries. "DozorB" is the newest development of the Ukrainian defense industry (for the first time the car was presented at Khreshchatyk in Kiev on the Independence Day of Ukraine 24 August 2009 of the year). As it turned out, they don't need it in their own army - when Yanukovych came to power, the Defense Ministry of Ukraine did not have the money to buy it. The Poles immediately took advantage of this situation by proposing to sell them a license for this development. Judging by the fact that Ukrainian developers completely refuse to name the amount of the contract, we are talking about very small money. Indeed, in a similar situation, would Polish manufacturers lay out serious sums?
The most interesting thing is that the production of the licensed DozoraB in Poland will be handled by the company Mista, which has no relation to the military-industrial complex: it specializes in machines for excavation and road works. That is, in fact, from the Ukrainian defense industry for a penny, technologies are being pumped out not only by Western "defense industry", as it was before, but also by manufacturers ... of graders.
On the one hand, Ukrainian designers selling licenses for their offspring abroad can be understood: if new weapons and equipment do not need their own army and other siloviki, why not sell a license to manufacture them? Let at least others let out, since they don't appreciate theirs. Poles can also be understood: it is a sin not to use Ukrainian developments, since they were not useful in Ukraine itself.
On the other hand, we have a deplorable result: the domestic design idea works not for its defense power, but for someone else's. By the way, the Poles have already stated that they have an agreement with a certain country that is ready to purchase several dozens of these machines, and by the end of this year the corresponding contract will be signed. That is, making money on "DozoreB", which was "repainted" in Oncilla, is quite realistic. Only, alas, this money will not go into our pocket. And it can't be called a shame ...