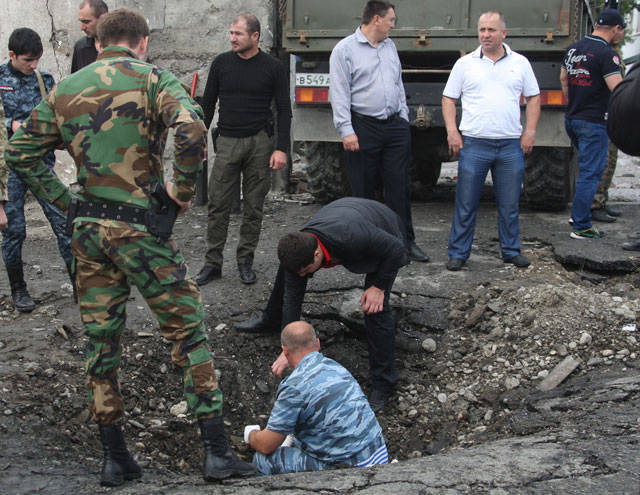 Two bombs exploded at once on September 16 in the Sunzhensky district - one on the territory of Chechnya, the other on Ingushetia. And behind them, probably, stands the same gang. Four security officials died. But the victims could have been more if not for the professional actions of the police.
The three meter diameter funnel is practically all that remains of the VAZ-2115, which was packed with explosives. The suicide bomber was driving. At high speed the car flew to the police department.
Police opened warning fire into the air. When only a few meters remained before the gates of the ROVD, one of the officers turned on the anti-ram barrier, which all Chechen police departments are equipped with. The car crashes into the gate and takes off.
"As a result of the explosion, three employees of the Ministry of the Interior were killed, four more were injured of varying degrees of severity. According to preliminary data of experts, the power of the explosion was about 60 kilograms of TNT equivalent," said the deputy head of the first department for investigating particularly important cases of the investigative department of the Investigative Committee Of Russia in the Chechen Republic Beslan Labazanov.
Among the dead - 35-year-old Yuni Suleymanov. It was he who closed the gate. The senior sergeant in this department has been working for only three months. The organs came in 2002 year. He has a wife and two daughters, the youngest is only one year old.
A powerful blast wave in nearby houses smashed windows, smashed doors and damaged the roof.
"When the explosion thundered, we all slept. At first, we couldn't even understand what had happened. We thought an earthquake. At that very moment, windows flew out of us, doors were knocked out," says Sayda Batsaev.
It is already known that the car bomber stole in Ingushetia. In Ingushetia, while trying to check the documents, another car flew up on the air, filled with explosives. According to operational data, literally half an hour before the explosion, a suicide bomber, tied with a belt of TNT stitches, came out of the car in front of the ATS building. Toward evening he was detained. He said that, together with his accomplice, he was preparing a series of terrorist attacks in Chechnya and Ingushetia.
During the detention of a mined car, one policeman died, three more employees were injured.
The investigative committee opened a criminal case under three articles - this is "Illegal storage
weapons
and explosives "," Encroachment on the life of law enforcement officers "and" Intentional infliction of damage to property ".