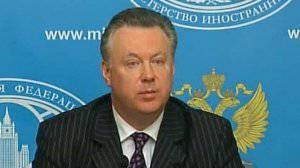 Pay attention to the massed. stuffing into the information space of various kinds of materials, called upon - even before the appearance of the results of the UN investigation - to impose responsibility for the possible use of chemical
weapons
in Syria to official Damascus. Thereby "preparing the ground" for the use of force against him. With this in mind, we consider it possible to share the main conclusions of the Russian analysis of samples taken from the scene of the incident with the use of chemical warfare agents in the suburb of Aleppo - Khan al-Asal.
Recall that this tragedy, which resulted in the death of 26 civilians and military personnel of the Syrian army and another 86 people received defeats of varying degrees, occurred 19 in March of this year. The analysis of the samples, carried out at the request of the Syrian authorities by a Russian laboratory certified by the Organization for the Prohibition of Chemical Weapons, was transferred to 9 July on the occasion of an appeal by the Syrian authorities to conduct an independent investigation of this episode. The main conclusions of Russian specialists are as follows:
- the used ammunition was not the regular ammunition of the Syrian army and was made by artisanal method according to the type and parameters of unguided rocket projectiles produced in the north of Syria by the so-called Bashir Al-Nasr brigade;
- to explode ammunition, hexogen was used as a bursting charge, which is not used in regular chemical munitions;
- in the samples from the ammunition and in the soil samples, the nerve substance sarin and diisopropylfluorophosphate, synthesized in the industrial environment, was detected, which was used by Western countries for the purposes of chemical weapons during the Second World War.
We emphasize that the Russian report is very specific. It is a scientific and technical document with a volume of about 100 pages with numerous tables and diagrams of spectral analysis of samples. We expect that it will significantly help the investigation of this incident through the UN. Unfortunately, it still has not begun in essence.
The attention of those who seek to foresee and always place all responsibility for what is happening on the official authorities of the SAR, has completely switched to the events in Eastern Gut. But there - "selectivity with a flaw". There are attempts, in particular, to give to oblivion the data presented by official Damascus in the UN on cases of the destruction of the Syrian army 22, 24 and 25 in August by the poisonous materials and equipment and containers with traces of sarin in the suburbs of the Syrian capital. As is known, the condition of the injured servicemen was examined by members of the UN expert group headed by O. Selström. It is obvious that any objective investigation of the 21 August incident in Eastern Gut is impossible without taking into account these circumstances.
In view of the above, we welcome the statement by UN Secretary-General Ban Ki-moon that O. Selstrem's group intends to return to Syria in the near future to continue work, including in the Khan al-Asal district.