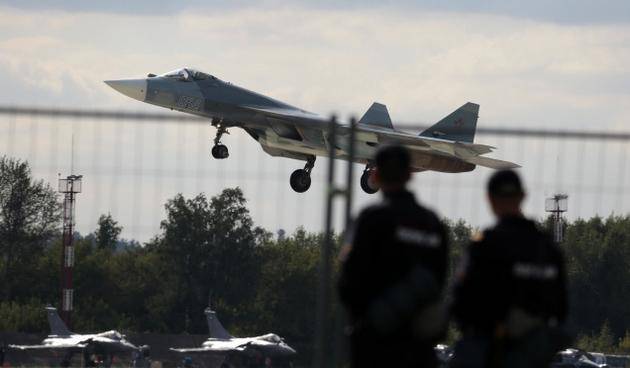 The Indian version of the fifth-generation joint fighter will have less weight, will be more powerful and less noticeable for enemy radar, said the senior director of Hindustan Aeronautics Limited, reports The Hindu Times 30 August.
As part of a joint project with Russia, the Indian version of FGFA will be "modified and reconfigured" to meet Indian requirements. "While the Russian version is all-metal, our version will have a wing and tail unit (keels and horizontal stabilizers) made of composite materials," said S. Subrahmanyan, managing director of the MiG complex at HAL. "The use of composites will reduce the weight of the aircraft and reduce radar visibility. Our version will also have more advanced Indian avionics. Thanks to these improvements, we will get a better and more powerful platform, "he said at the MAKS-2013 air show. Subramanian led the Indian delegation at the exhibition.
FGFA is the largest and most ambitious Indian defense project and the largest joint military-technical cooperation program with Russia. Earlier this year, both sides completed the preliminary design of the FGFA and are now negotiating to create a detailed project. The contract can be signed before the end of this year.
Four Russian prototypes of the T-50 (or PAK FA) have completed more than 2010 test flights since January 200. The Russian Air Force intends to take the first vehicles into service in 2015. HAL Corporation intends to receive three redesigned T-50 prototypes in 2015, 2016 and 2017, the aircraft will enter service with the Indian Air Force in 2019, Subramanian said. The FGFA project will bring Indian expertise to
aviation
technology to a much higher level. "We have moved from licensed manufacturing and technology transfer to collaborative design and development," he said. India supplies avionics for the Su-30 aircraft that Russia is building for Malaysia and Indonesia. "Collaborative development offers much greater opportunities for knowledge sharing than licensed production. With this organization of work, the parties have all the rights to intellectual property, "he added.
Currently, India is working with Russia on the second project - the creation of a multi-purpose transport aircraft, which is already at the stage of detailed design. With the West, India had only one joint design experience - the Dhruv light helicopter was developed with the assistance of the German company MVV.