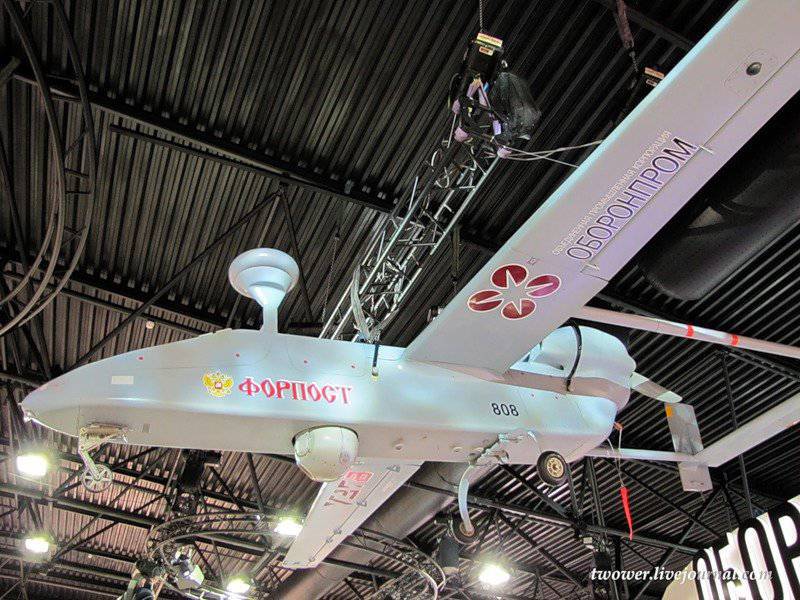 For the first time, demonstrations of military equipment at the test site of the International Armament Exhibition Russia Arms EXPO-2013 in Nizhny Tagil will be broadcast by the Russian outpost. As ITAR-TASS reported today, Denis Koksharov, press secretary of the Nizhny Tagil Metal Testing Institute / NTIMP /, at the landfill of which the exhibition will be held, the aircraft successfully passed test flights and carried out a broadcast of the "battlefield" image. "All the actions that will unfold at the Prospector training ground during demonstrations will be broadcast to the spectators on the main tribune," he said.
As the director general of NTIIM, academician of the Russian Academy of Rocket and Artillery Sciences Valery Rudenko said earlier in an interview with ITAR-TASS, the video signal from the drones will be transmitted to the command post, and from there to the control panels
tanks
and other military equipment. "During the exhibition, it is also planned to demonstrate the image from air vehicles using a special television system. Everything is done for participants and guests of the exhibition," he said.
The first tests of unmanned aerial vehicles of the Forpost and Zastava models produced by the Ural Civil Plant
aviation
/ part of the defense industry complex "Oboronprom" / passed at the "Prospector" training ground in Nizhny Tagil on January 25. Unmanned aerial vehicles were manufactured as part of the state defense order for the supply of the Russian Ministry of Defense systems with unmanned aerial vehicles, provided for by the state armament program.
The international exhibition of weapons Russia Arms EXPO-2013 will be held on September 25-28 at the Nizhny Tagil State Demonstration and Exhibition Center for Armament and Military Equipment STIIM. There will be presented the latest achievements of the Russian military-industrial complex and advanced world models of military equipment - the unique characteristics of their products will be demonstrated by 400 exhibitors from 50 countries of the world. Training demonstrations of military equipment are scheduled to begin on September 6.