Once again, there is criticism of promising examples of armored vehicles being developed in Russia, in this case, the Armata tank, - and why that's understandable! It was already so in the USSR, when, contrary to logic and common sense, there were three
tank
T-64, T-72 and T-80 (not counting the stock of old T-55 and T-62!) Are different from each other. And again I do not want to step on the same rake, that is, to deploy a completely new combat vehicle in conditions when oil revenues are almost completely lacking. But which tank is really needed and will be in demand, this will be discussed now.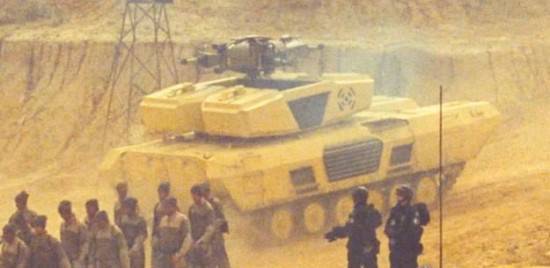 Tank emitter, a frame from the movie "Inhabited Island"
The fact is, what should be a promising Russian tank depends on "against whom we are friends." If against terrorists on the borders of Russia and former "friends" who have become enemies, then this is one tank; against the tanks of NATO countries - the other, on the Far Eastern border - the third. In reality, it is unattainable to have three types of tanks in a poor country. But to create a universal tank, and most importantly - to use it in peacetime is also a problem. "Anti-NATO tank" will be too expensive to operate in peacetime. "Antiterrorist" may be extremely cheap in all respects, but its shortcomings will have to be compensated by something. Well, and so on: the tail stretched out, the nose stuck.
Yes, our modern tanks and infantry fighting vehicles are exported and sold quite well, but which countries are buying them? And how much do we get on this, not to mention the fact that the same China is coming on our heels?
The designers tried to reanimate the old T-55 and create on its basis a combat tank support vehicle (BMPT) with two automatic guns, ATGM complexes, grenade launchers at once, but again nobody buys this car. At the beginning of 2013, Rosoboronexport proposed BMPT as a version of the conversion of obsolete T-55 tanks from Peru. But again, why is it Peru in their Peruvian mountains, where
weapon
fit to carry on the llamas ?! And besides, why two guns? For such a machine, this is clearly redundant, although, of course, people from distant military equipment should be impressed.
Meanwhile, a much stronger impression, for that matter, must be made at all by a reckless tank, armed with a stock of heavy kinetic rockets with a throwing start: "first up and immediately ahead"! At a certain weight and speed, the impact force of such a rocket will be so great that it will take down the turret of any tank that has it, because the laws of physics ... these are the laws of physics! The most important thing here is not to miss, and even there, neither the Arena system's grenades remotely undermined in the way, nor the interference to the guidance system will play any role: the mass multiplied by the speed will do its job even without explosives.
Well, and if the enemy's tanks are not foreseen, then a high-explosive warhead missiles can be loaded. And then not a single house, not a single fortified basement will stand before them.
We are now strong in missiles, and we should put them on tanks, and take them precisely by the masses, because "there is no reception against scrap." However, this is one of the directions and, by the way, speaking, it is clearly no worse than all the others, although it is clearly cheaper. But the following article may be a clear breakthrough, although in the field of small-scale production. What is meant? And here is what: "a tank for journalists" and a whole series of cars based on it.
The fact is that the role of information wars on the globe is constantly growing and the number of dead journalists is also increasing in proportion to their growth. It is known that during the "War in the Gulf" special services of the US Army organized trips for journalists to places of recent battles, where they even picked up warm fragments of shells and took photographs against the backdrop of smoking Iraqi tanks. However, later it became known that often everything — and burning tanks, shell fragments, and even uncleared corpses — were specially organized solely for the sake of "impression" - impressions! Well, the journalists, of course, seeing all this with their own eyes, tried with might and main, and their reports acquired both authenticity and rare emotionality. Although in this case it would be more correct to simply say: "Lying as an eyewitness!"
Recall one of the most popular songs of the Great Patriotic War Konstantin Simonov's "The Correspondent Drinking Table", which tells about the difficult work of war correspondents:
"Where we have been
We were not given tanks,
But we never lost.
On pickup truck
And with one Nagant
The first to enter the city "
Indicative attitude in that era to people in general and to journalists in particular, is not it? But think about it, what would happen if they gave it? If these tanks were equipped with effective means of communication, surveillance devices and would allow journalists no longer on the pickup truck, but on a high-speed car with covered armor to be the first to appear on the battlefield and promptly provide information? How many lives it would save, not to mention how much increased the effectiveness of propaganda based on such truly "fast news"! Such a machine would also be useful as a control center, well, let's say, by the same drones or EW systems.
"You are alive, or dead,
The main thing is that in the room
You managed to pass on the material ... "
Yes, this is how the military journalists of the Great Patriotic War did their work, but who said that the information that was promptly transferred to the "right place" became less important today than it was important in the past?
Such a "tank" seems to be, first of all, a wheeled-tracked vehicle capable of moving, both on wheels and on tracks, in order to move quickly along the highway and at the same time be able to move after tanks and infantry fighting vehicles. Of course, not in the first rows, but so that the first after them enter the liberated or captured city and transmit the latest information from there. The color is bright yellow so that it would immediately be seen that the "press" is moving and to exclude, accordingly, all types of fire. Well, to protect against random bullets and shell fragments - armor! Surveillance devices should provide the ability to shoot directly out of the car, without leaving it, and even interview! Upstairs, a radar to communicate with the satellite, to conduct live reporting from the scene of the fighting, and of maximum comfort inside, up to the built-in bio-toilet. Weight - allowing you to deliver such a machine to the "hot spots" by plane.
Well, now about why, in addition to the "journalistic needs," one should make such a tank. And this is an indicator of the country's power, public relations of its technical capabilities and good advertising for the military industrial complex. "This is what we can see!" There will be something to show at international exhibitions, what to talk about in terms of caring for "people of the pen" and people in general, and, of course, the democratic right of the masses for information and the widest public awareness. All these are advantages of information warfare and informational influence on society, and this is precisely this that cannot be underestimated today! In short, a whole bunch of benefits, not to mention the fact that several such machines can be used, first of all, in our country, which will give them the appropriate advertising. Well, and then, you see, others will start buying them. After all, it is not for nothing that it is said that "the bird pecks on the grain, but it can be full".