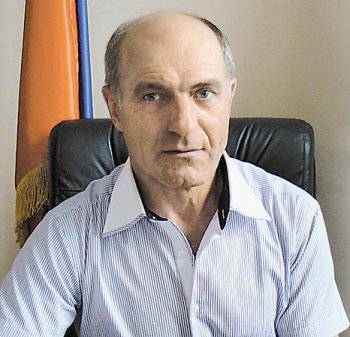 On August 27, the 11th International Aviation and Space Salon MAKS-2013 will open its doors and sky for hundreds of thousands of visitors. Fascinated spectators will see off Russian and foreign planes and helicopters with their eyes. Collect autographs from pilots of aerobatic teams. To be proud of a country in which, despite the efforts of domestic officials - foreign agents, the Russian is still alive aviation.




Hero of Russia, test pilot, honorary president of MAKS, Magomed TOLBOEV, these days are incredibly busy. But he found the time, frankly and sharply, like a real officer, to answer all the questions of "AN". Including on very sad.First of all planes
- As they say, President Putin refused to visit MAKS this year due to the lack of new products ...
"Every time, new items are not displayed anywhere - neither in Fanboro, nor in Le Bourget, nor in Dubai, nor among us. Aviation develops very long. The development of new models has been going on for decades. We show upgrades to existing products. However, the highlight will be - the PAK FA T ‑ 50 must show everything that it can do in the air based on the most stringent requirements of the Ministry of Defense. And, believe me, he is far from American competitors. Now our task is to prepare this car for mass production for ordinary pilots, and not test pilots. Prototypes and serial machine is a huge difference.
- And on civil aviation - which ones
news
?
- They will fly undeservedly persecuted by the Ministry of Industry and Trade Tu-334, Tu-204CM. The planes of the Ilyushin company will fly. At the parade we will show everything that our country has in aviation. And we have a lot! The situation thanks to Putin over the past 10 years has moved. Literally her teeth pull out. And after 10 – 15 years, I am sure that Russian aviation will be at the peak of its shape. Because the first person has given her great attention. Aviation is a locomotive, everything else: electronics, materials - trailers that it drags. The same space - nothing without aircraft.
- But if everything is so good, then when will MAKS become equal in popularity to world air shows?
- According to the organization, it is already higher. In 20 years, we have traveled more than Le Bourget in 100 years. For example, they do not have large areas for viewers. We have hundreds of thousands pass. Those young guys who were in the first MAKS are already coming with children. Then their children will bring their children. This is a Russian approach - children up to 14 are accompanied by adults for free. And in the same Dubai, the air show is visited by a maximum of one and a half thousand important fat cats. Luxury is - no people. And in Russia there are both spectators and luxury - Russian spaces. I tell everyone - take umbrellas and some rugs, blankets just in case. He laid on the grass, laid down - and enjoy the flights.
I am a Russian officer
Argument of Hero of Russia Magomed Tolboev:
- My granddaughters at home, in Dagestan, are greeted with flags. The eldest holds the flag of Russia, the youngest - the Air Force. And shout: "Glory to Russia! Death to America! I have the honor! "I have a house in the Gunibsky district, there was a stone with the inscription:" Field Marshal Prince Baryatinsky was sitting on this stone, taking the captive Shamil 25 on August 1859 of the year ". The stone was thrown out by Wahhabis, but I restored the arbor in which the prince received Shamil for his money. And he became a stranger among his and his among strangers.
Sold Slogans
- Our slogan in blood is: "Every Komsomol member is on a plane" ...
- Refused such calls. In Gorky Park is only a model of "Buran". This "Buran" is demonstrated at the Polytechnic University of Munich. They respect
history
. And we have? In Russia, there are no flying copies of the front Yak-3, La-5, Mig-15 and Mig-17 and dozens of other legendary cars. What is left - all abandoned, rust, stolen. Spit in history. There are enthusiasts. For example, in Samara, Vladimir Ptashinsky and his comrades restored the famous "night bomber" U-2, now they are collecting bit by bit the attack aircraft Il-2. But this is an individual approach to the history of Russia. There is no aviation museum in the National Aviation Center in Zhukovsky. Wrecked Air Force Museum in Monino. And there are such instances that are not found anywhere in the world. The state approach to the history of our country simply does not exist.
- Faina Ranevskaya said: "Do not spit in eternity!"
- To mock your story is the same as mock monuments to the fallen. I want to tell Putin that we can restore the museum for our children and grandchildren. After all, all die, so at least the memory will remain. A boy will come, stroke the plane on which his grandfather was flying, and his soul will be a little different. After all, the mammoth bones are preserved, the rock carvings in the caves are looking to feel the involvement. And they do not want to save the recent glorious past. And we don't ask for money, we'll type it ourselves. Give only freedom. But we have everything closed, everything is impossible. The plane can be cut, put in a scrap, and a government decree is needed to make a monument out of it.
- And what about the Tu-144?
- One car - almost flying - is. For their own money saved. Tomorrow you can repair and fly a little. I have a dream - to make an air show Olympics in Sochi. To go Tu-144, a number of fighters, followed by a helicopter group with flags. And from the air: "The Olympics are open!" We are ready. Only one signature is needed. But nobody needs that.
Mortal loop of Rosaviation
- Rosaviatsiya, the Ministry of Transport is already planning to hire foreign pilots, migrant workers. And our military pilots in civil aviation do not take. Is this a mistake or a betrayal?
- I asked this question to Putin in a straight line this spring. He replied then that it was necessary to attract foreigners, since there were not enough pilots of their own. But the president was misled or he did not understand the problem. There is a government agency - Rosaviatsia, which is designed to carry out state policies in this area on behalf of the government and the president. But there is no such policy. Rosaviatsiya led by Neradko - is bandyuki, thieves and bribe takers. Therefore, we do not have state control in all areas of aviation, including the training of pilots. On aviation, a lot of departments are parasitic, but no one is responsible for the final result.
I get a call from thousands of military pilots who have resigned, ready to fly. Do not take. Going to hire air migrant workers. But there a real pilot gets 120 thousand euros per month. Which of them will go to us? I am totally against it. For me personally, as for a Russian officer, this is an insult.
- The head of UAC, the father of the unsuccessful and on 80% of imported Superjet, M. Poghosyan again demands money for his plane. But at the same time, it literally drowns competitors, artificially depriving them of financing. This is normal?
- My attitude to the Superjet is well known. Strongly negative. How much money was requested before the start of its construction and how much money was actually already invested! But there is practically no normal aircraft. And it offends me that Tu-334, which I personally represented five years ago at an air show in Iran, does not get on the wing. Great plane! This is not a parquet Superjet - Tu ‑ 334 was even tested for taking off and landing on dirt strips. The main thing is that there are no very deep holes. There is a unique military transport An-70: a huge plane is economical and the mileage after landing all 400 meters - in the world there is no such thing. But "An" is a hostage of uneasy Russian-Ukrainian relations.
In fact, the unique Yak-40 is prohibited - so far they have not been able to create such a glider in the world. Thousands of Yak-40 and An-2, which can be re-engineered and upgraded for dying regional aviation, are cut into scrap metal. In fraternal Ukraine, Motor Sich developed and manufactures the MC-14 turboprop engine for aircraft with a capacity of up to 30 passengers. Why we do not cooperate with them? Why not remotorize their 1184 An-2?
Because the current rich who robbed the country, it is not necessary. And with the power there is no feedback. They have only one direct connection: stole - ran away. Besides, Pogosyan doesn't need the glory of Russia, he needs only money. Back in 2012, he was supposed to turn in 130 Superjet, today it's almost 2014. So what?
Unknown pages of MAX
- And I dreamed about the Russian air show from 1987 year. In 1992, he met with Alexander Rutsky, who was then vice president. And he said that I wanted to revive the Russian air show by the centenary of the first, which took place in 1903 in St. Petersburg. We circled around the LII them. M.M. Gromov in a helicopter. And they saw such open spaces! There are no such places anywhere. In England, France, the Emirates, there are many restrictions, closely and on the ground, the flights are watched by the elect. And in our aerobatic teams of freedom, the pilots can work freely.
Planted a helicopter on the field, the height of the grass to the waist. He asks: what will you do with it? I answered: skosim. Just make your way here. But the most difficult thing was to open Zhukovsky for a visit - the city was closed. The territory of the Flight Research Institute. Mikhail Gromov - in general, three levels of protection and total secrecy. Open - a state crime. But he issued a decree for his signature. And in 1993, the first International Aerospace Salon, our MAX, was held. And I am not interested in what they say today about Sasha. Russia is exactly Rutskoi owes its air show.
Patriots and assistants
- Who is now engaged in strategic planning in aviation?
- No one. In the Ministry of Industry and Trade Manturov there is an aviation department - 16 people. They are not responsible for anything. In space, we have a Russian space agency. In aviation there? Not. KLA is pure commerce. Although Putin ordered another spring, Medvedev should prepare a report on the situation by July 1. Silence. There is no specific executive officer.
There is no government project that will pull everything else along. In the last century, after the flight of Yuri Gagarin, US President John F. Kennedy promised that America would be on the Moon in 10 years. And he kept his promise. The lunar program remained a priority even after the Kennedy assassination. That is what the will of man and the state is. And even the president cannot pound the table with us ...
- Why?
- I do not know. Money that stands out - just guzzle. They can not prohibit the export of stolen. All dragged. My native "Anji" loses. Suleiman Kerimov put into it insane money. It would be better to invest this money in the development of the whole sport of Dagestan, first of all children. No, invest in toys. No one in the country is responsible for anything.
- But the highest ranks have assistants even on innovative technologies ...
- There are many assistants. There are no patriots.