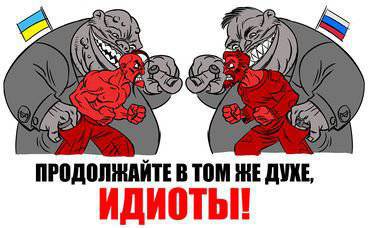 Every day I meet with a whole bunch of nationalists and freaks on this forum, some are fighting for Putin, others for all kinds of neoliberats, some simply don't hide their contempt for the country where I live is Russia. It was always interesting for me to look into the face of those crocodiles who pretend to be patriots, begin to ascribe to me the word "rashka" or "share", while in my life I did not allow myself to express myself even in jest about my country or express an opinion Bender. I am also interested in the opinion of some oligophrenics trying to escalate relations on the national question, proving the superiority of the Slavic races over all "Churkistan", and seeking unity in the union of Ukrainians, Bulbash and Katsapov rejecting all other options that were organically formed even before the Soviet Union and perhaps even before the rise of Rus ...
I understand that in vain I am so harsh, but I try to maximize all the angles of those faces that hit adults in the mind, no matter how unpleasant it may sound. For me, there is no difference between races and nations, there is a different mentality between them and the conditions in which they grew. Therefore, the harshness of my words is directed to those of all idiots for whom the slogans "Glory to Russia" is about the same as for the leavened nationalist Sterligov, who in one
wonderful post
LJ rejoices at the death of a person, curses innovations and technologies that this person contributed to, and in the same post praises Christ. Who is this to be ?! This is not hypocrisy, this is a frontal lobotomy ...
I have always tried to understand the mentality of different people and different cultures. I will not hide, when I was young, being at the peak of youthful maximalism, I was rather anti-Semitic in my views, I read literature, but over time my views underwent a transformation and in adulthood, putting puzzles of the world outlook for me, an amazing picture began to open up, people are not like that they are, people are just the opinion of leaders and imposed opinions. Very few people with their uncomplicated clean eyes, not contaminated by someone else's imposed opinion, but a lot of those people who are obeying the herd instinct, not trying to understand the question and blindly following the stamps, begin to evaluate what is happening. There are very few sober, reasoned, reasoned attempts to refute the opinions of others, as usual, the hackneyed pattern and the first plus or minus marks prevail in the discussion, after which a crowd of sheep who do not have their own opinion begins to sculpt - either a hero or a pariah.
So, let's talk about patriotism, not about the forced patriotism that knocks in your dibil brains of the blood you got, if you are Russians or Tatars or whoever of our multi-ethnic brotherhood, let's talk about conscious patriotism, about understanding who YOU ​​are, and not what your grandfathers were, it is not YOUR merit, it is the merit of YOUR ancestors, you have nothing to do with them, if YOU ARE A NATIONALIST, you are just ungrateful descendants.
Let's remember
stories
those wars which were called Patriotic. Did you know that in addition to the Russian troops, partisans and Cossacks, the Wild Divisions as they were then called took part in that 1812 war of the year? Ethnic compositions of the Wild Divisions - Tatars, Bashkirs, Kalmyks, Nogais. The Wild Divisions were at that time extremely effective types of troops, the fact of the matter is that in the early era of the development of firearms
weapons
, more anachronistic bows had an indisputable advantage over the gunshot due to the higher rate of fire. The foot troops no longer had armored armor, and therefore a lunolic archery horseman having high maneuverability and high rate of fire became the force that repeatedly plunged Napoleon's soldiers into confusion. There are many examples and reviews of the actions of the Wild Divisions, including Denis Davydov, who openly despised his allies, despite this noted their amazing efficiency and unpretentiousness. That is, in that war, the Wild Divisions played their part and the fact that they stood up to defend the Fatherland only says that they defended the Fatherland together with the Russian and rightfully bear the title of compatriots.
Now let us touch on the Great Patriotic War, where many nations of the International Revolution have come together in one row shoulder to shoulder with them and have united in one united will the Nazis who have broken their backslides.
There were no peoples inhabiting Soviet Russia whose representatives would not participate in that Great War. I will not enumerate, all of Central Asia not only fought shoulder to shoulder with our grandfathers, but also extracted cotton (gunpowder component), weaved the silkworm for parachutes with bare hands in boiling water, accepted refugees and orphans as relatives. And then Perestroika happened, and this house built by our grandfathers was destroyed, communications between the peoples were lost, and from our former brothers we became enemies. The Russians were subjected to mass persecutions in all Central Asian republics, I know not from hearsay, according to their relatives who were forced to leave Kazakhstan under the pressure of local ethnic officials, this happened to the father's sister and her children. Of course, they were accepted by all of their relatives, they gathered as much as they could, bought her an apartment, her younger son and his family moved to Magnitogorsk, the eldest stayed in Kazakhstan. These are very unpleasant moments that leave the same unpleasant aftertaste, the whole story and the background of the relationship to foreigners in KZ, I know not from hearsay, and therefore I don't need to explain that we didn't get along and so forth. I know, I will not speak, because the Kazakhs themselves also know at what level these issues were solved and to whom jobs were cleaned, for what nationality.
Around the same way, events developed in different republics in Central Asia and the Caucasus, where it is softer, where it is as tough as possible. First, Gorbachev, behind him Yeltsin, and after him, and Putin let the situation take its course, did not determine the strategy of preferences for their citizens by the will of the fate turned out to be hostages of the Epoch of Changes. And I don't even know who turned out to be more disgusting in this situation - whether Gorbachev, who openly betrayed the interests of the once great country, ever drunk Yeltsin - allowed such a failed military company, or Putin - did not find the political will to suppress armed resistance and forcefully world and penitentiary measures to incite to change the worldview of militants. In my opinion, Putin's policy eventually led to a "complex of winners" among all Caucasian nationalities, and the hopelessness of all Russians about "the government betrayed them". Then the soldiers understood it, now everyone understands it. This is noticeable now, that is why Russians have such xenophobic sentiments, while Caucasian comrades have aggressive behavior and jubilation, this is all a direct continuation of that war. But after all, it was not the Russians who unleashed such sentiments, for we endure toleration .. and we will endure? We will endure, because it is our share. And nationalists already understand it in different ways inside Russia, the Tatars and Bashkirs, and their slogans and aggressive notes more and more often become louder and louder every year. Increasingly, they sound out of print about a change in the vector of Islamist movements within the country to more radical ones, all of which indicates that Russia is regressing as a state.
Of course, it is interesting to me to observe Putin's geopolitical successes, about how he "boldly" upsets Obama, how Snowden gives shelter, but he will remember Vladimir Chamov's demarche and how everything falls into place, and understanding who is the master of the globe. Well, then Medvedev was the President, have you really never heard of the expression of Zitz-chairman, and do you really believe that Putin was not aware of what followed after he did not block the UN decision ?! That and it is, that everyone understands which side is covered with butter ...
So, we must clearly understand that there is a past between us, as nations, and there are politicians who, to please their political conjuncture, begin to play nationalism and become national leaders. A typical example of Navalny, his only desire at this stage is to legalize himself in power, he has no other tasks, and therefore he is a nationalist in his confessions (a blue-eyed blond Aryan does everything), and he digs dirt with some kind of bestial instinct, and a charismatic leader, and studied at Yale, and just self-made men ... but there is no such faith ... Many people like me, after his statement that he was a nationalist, put an equal sign between him and the Hitlerite Nazis. Why? Quite simply, the Nazis were Nazis, which did not prevent them from seeing in their ranks and mihlinge and Jews (about 150 thousands) and even Gypsies! I remember a funny anecdote attributed to Goering, when he insisted in order to hide Erhard Milch's "racial inferiority", call the mother of the latter and persuade her son to incriminate herself and disgrace her husband about allegedly having a connection with the Aryan - Baron German von Beer. "Since we are going to take away from him the real father, then at least let the aristocrat in return." The present birth certificate was withdrawn and a new one was instilled in its place, indicating von Beer as his father. So it becomes clear that national slogans are nothing more than a profanation for xenophobic-minded masses, this is all agitation, whereas an understanding of what happens is in ourselves, we ourselves must be a measure and be able to distinguish lies from truth, grain from tares ... Therefore, a politician starting to put forward slogans as once Zhirik "Russia for Russians" is a political corpse for me ...
For this, I am with you my ideological, organically inferior enemies say goodbye, I hope I have clearly stated my position on the extent to which I am a nationalist. Most of the guests from the southern republics are not very sympathetic to me, but this is most likely due to the tiredness that I experience in communicating with them, from their intellect and subversiveness, but sometimes there are those who have received a decent education who practically speak Russian not distorting him, with such people, communication for me becomes joy. It is necessary to understand the level of carriers of a foreign culture in order to draw conclusions. And so, yes, these guests are convenient material, both economic and political ... Dumping labor for capitalists and exponential sweeping on occasion as a curtsy to the "people" for politicians ... How convenient! 2 to 1 !!!
A separate topic is Ukrainians and Kazakhs, but I don't want to continue. Everyone understands that this is a hohlorach this is a war of shkoloty) by the way, proof on
typical holivar