"Whether he has flown in his head for five years in a day, and something has clouded, or he is not quite all right, but his statement that political scientists need to be fed to beasts is unacceptable and outrageous. What does he do in politics if he doesn't look serious? "Said one incomprehensible political scientist about Alexei Navalny. Really, what is he doing in politics?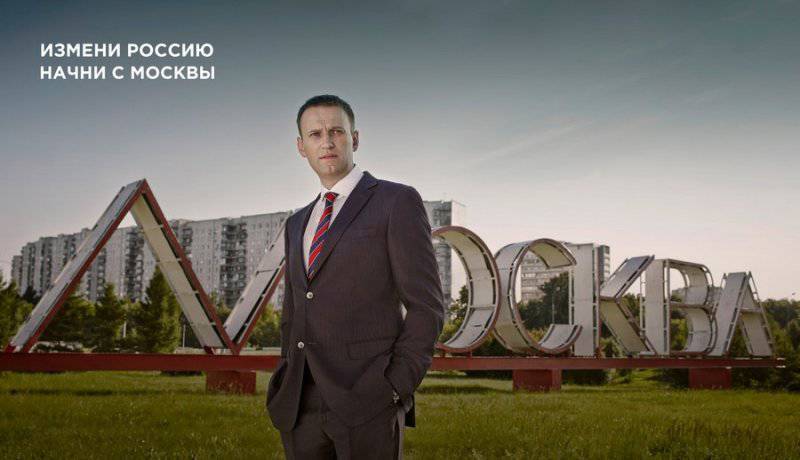 In his face we are dealing with fake (fake - English) politics in its pure form, when instead of discussing essentially go to the individual, and in the course go insults, ridicule, cynical jokes with subtext, accusations (today in the fashion of corruption charges, but it does not matter). In fact, this is fraud, political corruption, but criminal law does not apply to the political sphere, and such a term does not exist, but fraudsters therefore like to engage in part-time politics.
Recurrences of the fake policy happened before, but today it is becoming a political strategy, moreover, a global trend. The "human rights policy", LBHT policies are fakes that hide the other, real goals of their organizers: interfering in the internal affairs of foreign states for self-serving purposes. If big politics became fake, then political adventurers, as they say, God himself commanded her to do it.
The "Navalny" phenomenon is our home-grown fake, political fraud, and in addition, prostitution with "Western values", grants, sponsors and "Russian nationalists", burdened by a dark "legal" past.
Naive political scientists are amazed that Navalny has no economic, foreign or domestic "policy" - and he simply does not need it. In this hypothetical case, he has "experts" whom he allegedly can always attract, but in reality he has long been with them, apparently on the content.
A companion of Navalny in Yabloko, a certain Tareeva, is frank today: "And I don't believe in a pretty picture that many people believed in, in which a young fine lawyer went one-on-one to fight a huge state machine. This can not be simply because it does not happen.
History
doesn't know such a lonely hero. I would not believe it, even if I did not personally know Navalny, but I personally know him. I believe that smart, strong and influential people stand behind Navalny, this is their project, they made a bet on it. "
What is happiness fake? All people are not sinless, so he will always find something to postebat. You can find fault with any Sobyanin, Putin and even the Pope, find some "incriminating evidence" - and then let them figure it out ... In general, this is nothing new - the usual type of demagogue, in all its disgusting magnificence. Anything that falls on him is "God's dew" because he is a priori "white and fluffy". When asked about "legal" affairs, he takes the pose of an offended righteous person. Therefore, political analysts who dare to question his greatness, you need to feed the animals in the zoo. This "joke", but also fighting
weapon
fake hinting that in every joke there is something ...
The cat always knows whose meat has eaten, so the fake always knows its true place, and even is somewhat afraid of the political "power chair" - because it does not need it at all. It is necessary for its "sponsors", and he will be at ease in it, and he knows that at the first failure he will be handed over, and his "sponsors" will eat him. His element is the "movement" itself, for which he receives his "moment of glory" and that is attached to it.
Hence the tactic of Navalny - balancing on the verge of a foul. But today, when he got to the "electoral distance" - and then beyond the foul. And he is doing everything possible to be removed from this distance - in this case, he reaches the maximum fake scandal.
Therefore, he is not only grimacing, but also substituted as he can. "Foreign financing", dirty technologies from the "independent" "Navalny Brothers" - will there be anything further? The worst option for him is to participate in the mayoral elections, to receive his "legitimate" minimum, which, with his loud promises, is an obvious failure. However, therefore, the goal of "power" is to force him to participate in elections, for the sake of this she is ready to close her eyes on his "legal" past, at least for a while.
When the Kremlin's "party" policy was defined by Surkov, the fakes were indicatively "screwed" for formal reasons, like hooligans, but then it became annoying, especially since the fakes themselves, and Western journalists, clearly got sadomasochistic pleasure from it. It seems that the new internal political strategy "after Surkov" consists in squeezing fakes, like ulcers, into public space, so that everyone can feel their real smell. After opening the abscess, he is known to be easier to treat.
Any psychologist will tell you that persuading "to stop a tantrum" will never lead to anything, and the best "medicine" in this case is a common slap in the face. In the case of political hysteria, a good "public slap in the face" is therefore the best way, so our doctor is best practiced by Dr. Zhirinovsky, who has a lot of practice in this area. Not everyone likes it, so what it is.
The fake smell of the current election campaign is, of course, not for refined noses, but what can you do if the Kremlin has decided to try to turn their weapons against the fakes. In the summer, when even the ordinary life in Russia stops, this tactic can be successful, and now it's summer in Russia.