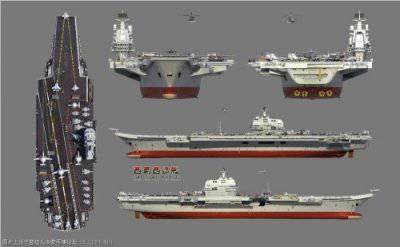 Chinese expert Du Wenlong said that the new Chinese aircraft carrier should be equipped with a catapult for taking off aircraft, but it is necessary to decide which one - steam or electromagnetic, mil.news.sina.com.cn. informs today.
When
aviation
entered the jet era, steam catapults appeared on large aircraft carriers since the 1950s, which for many decades have become an integral part of the construction of ships of this class. On American conventional and nuclear aircraft carriers appeared steam ejection systems C7, C13 and others. Since the late 1980s in the USA, Westinghouse began developing a fundamentally new electromagnetic catapult for the new generation of aircraft carriers Ford (EMALS - Electromagnetic Aircraft Launch System (EMP) - approx. "VP").
What is better - a steam or electromagnetic catapult ?, wonders military expert Zhen Wenbao, and concludes in favor of the latter. "Compared to an electromagnetic catapult, steam has many flaws," he said in an interview with Xinhua. First of all, low efficiency in converting steam energy into translational motion (total 5%), while electromagnetic catapult has energy efficiency 60%, 50% less number of staff, 20% less life cycle cost, 20% higher availability level.
More importantly, the electromagnetic catapult has the flexibility of application, that is, it is possible to adjust the power that is needed to launch aircraft of different weight class. The expert drew attention to the fact that an electromagnetic catapult, by reducing or, conversely, increasing the amount of energy supplied, can launch aircraft (airplanes and drones) weighing from 4,5 to 45, regulates the launch speed from 100 to 370 km / h, which in the case of need allows you to create a comfortable environment for the ejection of the pilot. "Steam catapults are likely to be too powerful for launching light drone, and after all, different types of UAVs will soon become an important element of the aircraft carrier fleet," said the expert.
The device of a steam catapult is very cumbersome and has a complex structure, its maintenance is very dangerous. It was reported that the 40% of the cost of aircraft carrier maintenance falls on steam catapults. The presence of high temperatures in such a catapult reduces the life of cylinders and valves. In addition, in cold high latitudes, steam becomes a source of ice on the deck of an aircraft carrier ("the deck becomes very slippery"), so using a steam catapult in such conditions is very dangerous. Although the Soviet Union developed a steam catapult, but was forced to abandon it in favor of a springboard take-off aircraft.
PLA Navy expert Li Jie believes that it is unknown what type of catapult the first aircraft carrier of the national construction will be equipped with, but the catapult on this ship will be necessary. "It depends on the level of our technologies. If we develop a good steam catapult, there will be a steam one, but if we make significant progress in the development of electromagnetic, we just need a step to get to it, "said the expert.
Some media reported that the new Chinese aircraft carrier is being built on the basis of Liaonin's technology (ex-Varyag) and is a further development of it, but in its final form it will be similar to the Soviet nuclear aircraft carrier Ulyanovsk.