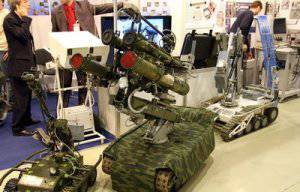 Moscow. The Red Square. Military parade. Along with officers, cadets, sergeants and soldiers in the parade, a column of combat robots passes by the podium ...
While this is fantastic. Although today robots performing combat missions have become a reality. True, not yet with us, but mainly with overseas partners. For example, their robot Big Dog is able to move across rough terrain with a group of special forces, carrying a backpack of a fighter on its back and overcoming various obstacles. There are Americans and reconnaissance-impact robotic systems. In our Armed Forces, there are only a few robots.
Why is this? What can our designers and engineers offer to the Ministry of Defense today and what can they create in the near future? These and other questions of the "Red Star" are answered by the director of the Scientific-Training Center "Robotics" of the Moscow State Technical University. N.E. Bauman Alexei MAKSIMOV.
- Alexey Alekseevich, what kind of combat tasks in the armies of the most technologically advanced states today are capable of performing robots?
- The set of these functions is quite large. This is the reconnaissance of the theater of military operations, which is also carried out with the help of drone ...
- Are BLA's robots too?
- Yes, robots, if they can create a map of the area, become attached to the reference points. This and ground reconnaissance robots, which make it possible to determine the placement of optical tools, enemy manpower, using thermal imaging sensors scanning laser range finders.
There is also robotics, which allows, after reconnaissance, to destroy manpower and various types of enemy weapons. Basically now it is radio-controlled electromechanical and hydraulic platforms on different types of chassis.
- What are the general criteria for this or that technique attributed to robotics?
- This line is now blurred, and many are trying to call a remotely controlled object equipped with this or that attached equipment as a robot. In my opinion, robotics begin when the operator has software and hardware to help, for example, to automate the movements of a robot that automatically bypasses obstacles using vision systems, including laser scanners. A management tooling, including
weapons
may remain with the operator. Because in the same robot-
tank
It's hard to combine control tasks with targets hitting targets. Even in a tank crew, the driver and gunner are not the same person.
Now cars that can move independently, without human intervention, are already entering the market (Google has made two cars based on the Toyota Prius).
We also have similar systems, where the movement is carried out on an electronic map. They have been tested, and some samples have already been adopted. Objects detected by the robot are automatically plotted on this map. There is also the possibility of returning to the point where the robot was sent from, with loss of communication with it.
- Of the robots you listed in our army, there are only a few ...
- As far as we know, the Ministry of Defense should now adopt a program for the development of robotics before 2025, which indicates the main directions of development of our robotics, the tasks that it must perform. The content of this program is brought to us.
"But after all, robotics has been on display at domestic security exhibitions for a long time, including those produced at the Bauman MGTU ..."
"This robotics has been used for a long time by other power structures in solving their counterterrorism tasks, for example, to clear non-standard ones, including improvised explosive devices, to conduct surveillance, to perform security functions.
- Let's go back to the robots that can be used in the Armed Forces. What can they be equipped with?
- We have developed good attachments. At one of the departments of Moscow State Technical University. Bauman's Antisniper system was developed, which, together with our mobile robot, makes it possible to detect enemy optical-electronic systems and its living force and plot them on an electronic map.
- What is the name of our robot, which can go in exploration?
- For example, we have a mobile robot "Plastun". This is the fourth car we have created. It has an auto-movement system and definitions of all objects in the field of view.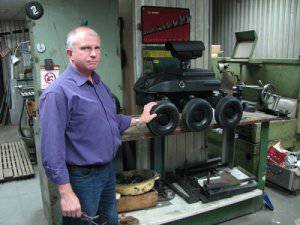 What can you offer to the Armed Forces tomorrow, given that the program for creating robotics is designed for up to 2025 year?
- Naturally, we can not go past the development program of US drones, which is in full swing. Before 2032, they formed a "road map", which indicates when and what should go to the troops.
First of all, there is an actual task of managing a group when all flying, crawling, floating robots are connected into a single information system.
Imagine: a group of machine-robots equipped with various types of weapons - grenade launchers, machine guns, laser optics damage vehicles - leaves. For different purposes you need to use different weapons, so the actions of these machines need to be coordinated. In addition, the failure of one or two units of robotics should not lead to the cessation of hostilities. It requires a reasonable distribution of power between the machines. For example, some build a trajectory of motion, exploring the terrain and quickly creating an 3D terrain model using unmanned aerial vehicles and ground vehicles. Other machines use this information for movement, already knowing where there are any obstacles, where is the enemy's living strength, where its technical means are located.
- Isn't it possible to build all 3D-models of all localities in advance - the Earth doesn't change its relief, if you do not take into account areas of earthquakes?
- The tree fell - now a new obstacle appeared. And robots must build 3D models taking into account the smallest details, taking into account any enemy objects that have appeared in real time.
Otherwise, taking the map, which was compiled two weeks ago, as a basis, we will not get a real picture. It is important to clearly define what is happening and where, and immediately respond. This problem will be solved now.
In addition, new communication channels are needed ...
- Alexey Alekseevich, are you talking about the plans of your Robotics Center or what should be done in principle in the field of military robotics now?
- Our center is not engaged in communication channels. But we feel the need for such well-protected channels that cannot be disabled by jamming.
And our center is engaged in various areas. Robotics is a synthetic science, starting with control boards for hydraulic and electric drives and ending with artificial intelligence. We create automovement systems, stationary and mobile sapper machines, ranging from drive design to software tools that implement artificial intelligence.
- Can you also create reconnaissance and shock systems?
- In total, MSTU has four divisions that deal with different areas of robotics, including these issues. In addition, the scientific research institute of special mechanical engineering has tasks similar to ours (sapper robotics, reconnaissance-impact machines). We in the center create reconnaissance robots that move along the ground or even are able to penetrate into hard-to-reach cavities (the drone from above cannot see what is in the arch, in the tunnel). I repeat, coordination of ground and air robots is needed, so the task of controlling the group of robots is very important. Many are doing this now; I think that we will get results at the Moscow State Technical University in the coming year.
- And then robots will be able to fight without control from the operator?
- At the next stage, there will be a combined control, that is, the tasks at some top level are set by the operator to a unit from several machines. But to find manpower or enemy equipment and hit it, this group will be quite capable without a person. The main thing is to indicate to her the search area.
- And the robots will perform the task, clearly distinguishing our troops and the enemy using the "friend or foe" system?
- There are no such opportunities yet. A robot is a machine in which a program is laid by man. And, of course, you need to be very careful here, because any technique sometimes fails. It depends on many factors, including software and element base.
- By the way, do our robots have an element base?
- Unfortunately, yes - by 90 percent. There are components that are not just supplied to us (suitable for military products or dual technologies). For example, high-resolution thermal imagers, high-power on-board computer, gearboxes that are used for pan-tilt devices, etc. Everything is produced either in the USA or in Taiwan, in Europe.
- And how do you get out of the situation?
- You can purchase chips, power components, which are used to create them. Therefore, there is only one way out: to develop our own compact boards and create controllers based on them under tough military requirements (the ability to operate in a wide range of temperatures, under the influence of vibration, etc.).
- Where is Russia now in military robotics?
- Any new development should be based on frames, and here we have problems. The Bologna system makes it easier for talented university graduates to apply their knowledge and skills abroad, if in our country they do not find work with the level of remuneration that they consider worthy. While there is no funding normal, no salaries, work on the creation of robotics, we are more like a hobby. Significantly, signal samples are created that are poorly adapted to perform the tasks characteristic of the troops of the Ministry of Defense. 90 percent of robotics we do for the FSB and the Ministry of Emergency Situations.
Another advantage of the United States is that their army fights every day, which allows you to quickly determine which robotics are needed, order it and get the finished product. They realized that they needed a powerful marine reconnaissance robot "Triton", and they made it. We saw that the wheeled vehicles were not suitable for tracking units in the mountains - they immediately ordered the necessary defense robot DARPA to the agency of advanced defense research projects and received a Big Dog ("Big Dog") - a four-legged robot capable of moving with the special forces and carrying backpacks of soldiers .
The combat situation allows the Pentagon to identify the shortcomings of the created technology, the robots are constantly being run-in ...
- You can also make such a "big dog"?
- I do not want to praise myself ... We will try now to help security forces in the creation of such machines. But the cycle of their creation - two or three years. There is one more problem: we do not have such hydraulic cylinders with a small moving pressure, light compact pressure distributors (Big Dog's legs are moved using hydraulics), compact hydraulic stations. It is to be developed and made. Although the elements of this "dog" we have. For example, a walking hydraulic robot created at the E-10 department (the head is Stanislav Semyonov). In our department of the Research Institute of Special Mechanical Engineering of Moscow State Technical University, headed by Vladimir Kudryashov, we use wheeled walking technique. The department of Victor Dementei works towards the creation of hydraulic manipulators. So we can not say that we do not keep abreast. Just such tasks from the military has not yet been.
In my opinion, the former leadership of the Ministry of Defense has suffered in this area. Robotics in the United States has been developing actively, and a whole line of UAVs is already being used. And in our recent years, 20 has been poorly developed, and it would have been necessary to "get on the fast and the furious" in recent years, but this has not been done.
Let us hope that with the arrival at the Ministry of Defense Sergey Kuzhugetovich Shoigu, who paid much attention to robotics in his previous position (there are many such machines in the Emergencies Ministry now), positive changes will also occur in our army.