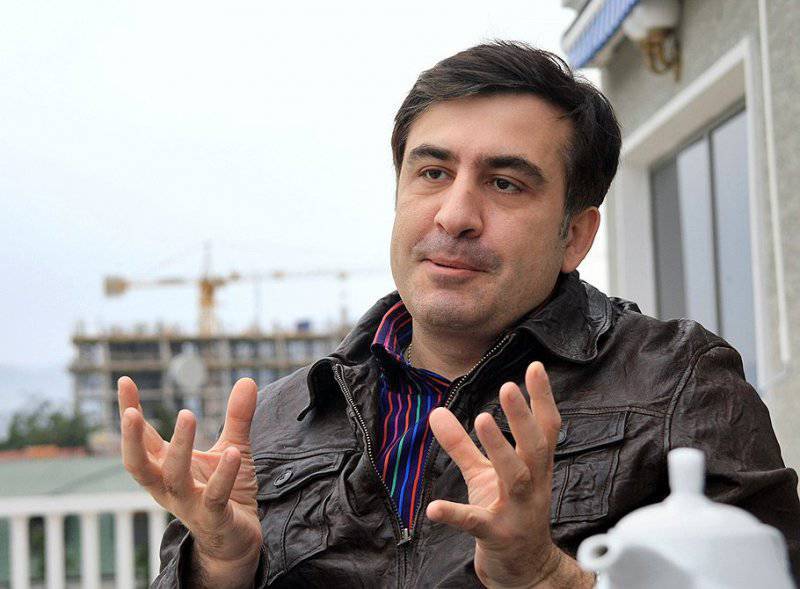 Georgian President Mikhail Saakashvili presented his own version of the events that preceded the armed conflict with Russia in August 2008. In a programmatic interview with Georgian journalists, he assured that he had tried with all his might to prevent the war around South Ossetia and was even ready to give Russia guarantees that Georgia would not join NATO, but could not persuade Russian leaders to abandon plans for military intervention.
Mikhail Saakashvili made his sensational confessions in an interview with "Rustavi-2" TV company, which on the eve of it broadcasted an extensive interview with Russian Prime Minister Dmitry Medvedev. Therefore, many in Tbilisi perceived the revelations of the President of Georgia as a kind of response to the statements of the Russian Prime Minister.
Mikheil Saakashvili said that he tried in every way to prevent a war with Russia and even offered President Vladimir Putin (his second presidential mandate 8 on May 2008) to conclude a special agreement on Georgia's non-accession to NATO - with the condition that Moscow help Tbilisi solve the problems of Abkhazia. and South Ossetia. "Several people from our and the Russian side were present during the negotiations, when Putin replied with a smile:" We are not changing your territory to your orientation, "says Mikhail Saakashvili. According to him, during the consultations, both bilaterally and in an expanded format, Vladimir Putin "repeatedly warned about the need to prepare for the" Kosovo option "for Abkhazia and South Ossetia," and once promised to "arrange for Georgia Cyprus."
Mikhail Saakashvili mentioned his secret message addressed to the President of the Russian Federation. "I proposed to move the Russian peacekeepers in Abkhazia to the Kodor River (approximately 100 km from the Abkhaz-Georgian border." Kommersant "), legalize all sanatoriums and Sukhumi airport to Russian business, open the railway traffic from Russia to Armenia, and in exchange asked only the return of Georgian refugees to the south of Kodor, "Mikhail Saakashvili recalled, complaining that the secret message" was published almost immediately in the newspaper Kommersant. " "Instead of a clear answer, Putin again began to refer to Cyprus and sentence:" You shouldn't be afraid, guys, it will not be very painful for you! ", The President of Georgia was indignant.
According to the Georgian leader, "Putin directly warned US Secretary of State Condoleezza Rice and German Foreign Minister Frank-Walter Steinmeier about the imminence of the war", but unlike Rice, who did not believe in these threats and constantly advised the Georgian leadership "not to fall into paranoia ", The head of the German Foreign Ministry" during the meeting in Batumi accurately described how everything will happen, starting with armed provocations of Ossetian separatists to Russian military intervention. "
Relations between Mikhail Saakashvili and Dmitry Medvedev were no less difficult. "After his election as president, I began to call him, and for some reason Putin took the phone, who advised to discuss matters only with him," the Georgian president assures.
The most vivid impressions left by him from the meeting with Dmitry Medvedev in Astana at the birthday party of Nursultan Nazarbayev. "I invited my colleagues to go to the disco, Medvedev supported me, almost everyone went to the Monaco bar," recalls Mikhail Saakashvili. According to him, President Medvedev began to dance, and he found the situation appropriate for a frank conversation. "I approached him, began to dance too. Then he sat down, put his hand on his knee and offered to have a heart-to-heart talk, "the head of Georgia said." I say: "We have to discuss everything, because it cannot be worse," and he suddenly switched to "you" and left: "You are mistaken , Misha, soon you will be much worse! "". Saakashvili in an interview recalled that he had frightened pale then, but Nazarbayev approached him and asked: "Why are you so pale? Medvedev offended? "And, according to Mikhail Saakashvili, he reassured him," barely able to stand on his feet from shock ":" Do not pay attention - he is still young, everything is still decided by Putin. "
Finally, the Georgian president went directly to the August events, telling viewers interesting, from his point of view, details. He remembered that when Russian
Tanks
began to move towards Tbilisi, the US leadership invited him to evacuate from the presidential palace in a military helicopter. "But I said a firm no," exclaimed Mikheil Saakashvili proudly.
At the end of the interview, he assured the viewers that "Russia will probably soon leave the North Caucasus and in general it does not have a national idea, and after the discovery of shale gas there is no future either." Mikhail Saakashvili asked compatriots not to judge him harshly. "I will judge only
история
and she will prove that I was absolutely right, "the outgoing president of Georgia assured.