The Russian Ministry of Defense and the Irkut Corporation signed a conclusion on the results of flight tests of the newest multi-purpose fighter Su-30CM. They were found to be satisfactory, which allows us to begin mass production and mass deliveries of fighters to the troops.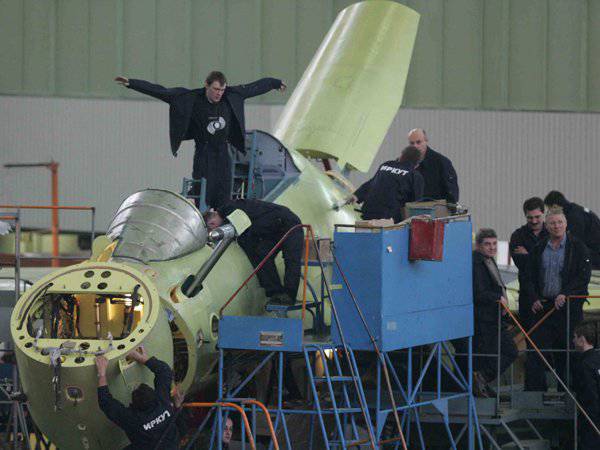 The plans of aircraft manufacturers - an increase in supply for the state defense order almost 2 times compared with 2012 year. Photo: Konstantin Zavrazhin / RG
It should be noted that the military department under the new minister not only finances defense contracts within a fixed time frame, but also keeps them under constant control. To check how the state defense order is being carried out, a delegation of the Ministry of Defense headed by Deputy Minister Yuri Borisov flew to the Irkutsk Aviation Plant. According to him, IAP is one of the most advanced in the country in terms of technical equipment, production organization, staffing and economic indicators. Borisov emphasized that 3,5 million rubles of average annual output per worker is "a very serious indicator."
According to the chief
aviation
- Deputy Commander in Chief of the Air Force for Aviation, Hero of Russia Colonel Sergei Kobylash, Su-30SM will significantly increase the combat capabilities of the Russian Air Force, as its ability to simultaneously detect and defeat several targets and super maneuverability are unique. Fighters will enter the Air Force as a whole squadron.
In 2012, the Russian Air Force transferred 17 aircraft. Borisoglebsky Training Center received the 15 combat training Yak-130. The design of the Yak-130 allows you to work out the piloting skills of all domestic 4-generation fighter jets, as well as the most popular foreign models. The creators claim that it is possible to master the piloting of fighters, even 5-th generation. It is planned to begin work on the creation of a full-fledged combat version of a light assault fighter based on a combat training aircraft.
The plans of aircraft manufacturers for this year - an increase in deliveries on state defense orders almost 2 times compared to 2012 year. In total, in the next 3, the Russian Defense Ministry will receive the 60 Su-30CM and 55 combat Yak-130.
Summing up, the head of the delegation said: "Over the coming 2-3 of the year, we have to fill in a guaranteed order quantity for the Irkutsk aircraft factory until the end of the" State 2020 arms program. "" Companies such as Irkut should be taken seriously to could make plans until the end of the state program ", - said Yuri Borisov.