The SE PACIFICA ship loaded with Ukrainian armored personnel carriers has been in the Persian Gulf for three months due to Iraq's unwillingness to accept this batch of vehicles, sources at the shipowner White Whale Shipping report.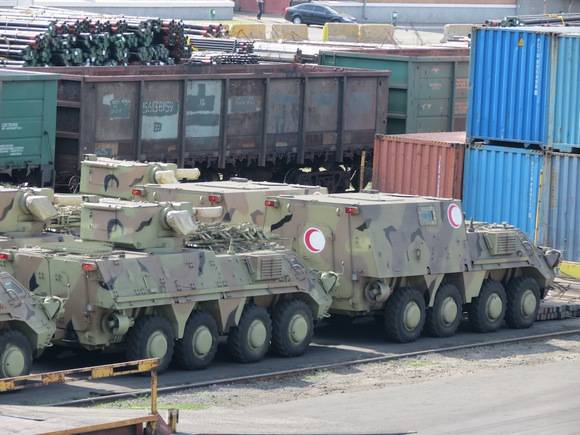 The 42 BTR-4, which arrived by ship in Umm Qasr in the spring, Baghdad considered defective, refusing to unload them ashore. The vessel is now in neutral waters (at approximately equal distance from Kuwait, Iran and Iraq), awaiting resolution of the situation. The shipowner notes that exporters - Ukrspetsexport, Ukroboronservis and Progress - do not pay for downtime. The owners of the vessel consider as an option for getting out of the situation the unloading of combat vehicles in the port of a third country, followed by a petition to the court to arrest the vehicle.
According to sources portal Dumska.net, these events contributed to the dismissal of the CEO of Ukrspetseksport Dmitry Peregudov in early July. The duties of the head of this company are now performed by Alexander Kovalenko. According to some reports, he is now in Iraq, along with officials from the Ministry of Defense and the General Staff, trying to resolve the conflict. Consideration is being given to sending specialists from the Malyshev plant to the Middle East to eliminate defects on the spot and to give buyers a significant discount.
These combat vehicles were delivered to Iraq as part of the largest supply contract
weapons
в
stories
independent Ukraine on $ 556,5 million (420 units BTR-4E and AN-32 aircraft), concluded in 2009 year. The Iraqi side has repeatedly accused of delaying supplies, but it was possible to resolve the previously arisen conflict situations.
Recall that in February 2013, a representative of the Commission on Security and Defense of the Iraqi Parliament, Shivan Mohammed Taha, accused Ukraine of supplying poor-quality BTR-4 to the Iraqi army and disrupting deliveries under this contract. "An investigation into the supply of arms to Ukraine by Iraq revealed corruption in part of the third contract concerning the sale of 420 armored personnel carriers, of which only about one hundred vehicles have been delivered at present, despite the fact that several years have passed since the contract was ratified," he said. According to the deputy, in the course of the investigation it was established that all the "very old, rusty bodies supplied by the APCs were installed, the vehicles were unsuitable for use."