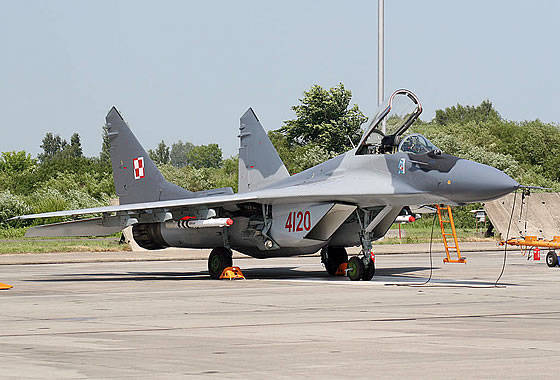 At the 23rd tactical base
aviation
The Polish Air Force (Minsk-Mazowiecki) on July 29 landed the first MiG-29A fighter with a modified avionics, Altair reports.
Delivery of the remaining upgraded 15 aircraft will be completed before the end of the 2014 year.
As TSAMTO had previously reported, the Armed Forces Inspectorate of the Ministry of National Defense of Poland signed a contract with the Aircraft Plant No. XXUMX (Wojskowe Zaklady Lotnicze 2) to carry out the 2 modernization of the 16 X fighter aircraft base in September 23. The agreement cost was 29 million zlotys (2011 million dollars).
As part of the agreement, the 13 single-seat MiG-29А fighters and three two-seater combat-fighting MiG-29UB will be upgraded.
The contract also provides for the supply of spare parts, aircraft maintenance, training of flight and technical staff. The goal of the upgrade is to extend the life of fighters, at least until 2028, to increase their combat capabilities and compatibility with the new F-16.
According to the requirements of the contract, the aircraft will be equipped with new avionics, including MDP on-board computers, MIL-Std-1553B data bus, INSB-29, AVB-29 and HDB-29 interfaces, a color multifunction display 127X102 mm, a navigation system with a module for protection from GPS interference signal SAASM (Selective Availability Anti-Spoofing Module).
As it is expected, the replacement of outdated analog equipment with modern systems will increase the reliability and reduce the weight of the aircraft, providing the possibility of increasing the bomb load and fuel reserves.
According to the Polish Air Force, the delivery of a second aircraft with modernized avionics is due to take place shortly. The overflight of the modified MiG-29 is scheduled for the fourth quarter of 2013.