Still, a strong thorn in the soft place of the "progressive" West sat down this Snowden. The progressive West cannot understand how a person born in the "freest country in the world" is ready to seek asylum in the "wild, corrupt, totalitarian, barbaric," etc. etc. country, that is, in Russia, and this "wild, etc. the country also artachitsya when it is issued back to the "loving" homeland. No one in the heads of US senators, British lords and other distributors of a single "democracy" can fit the scale of the Universe: how could he! But however he could ... You see, he overcame himself and asked for asylum.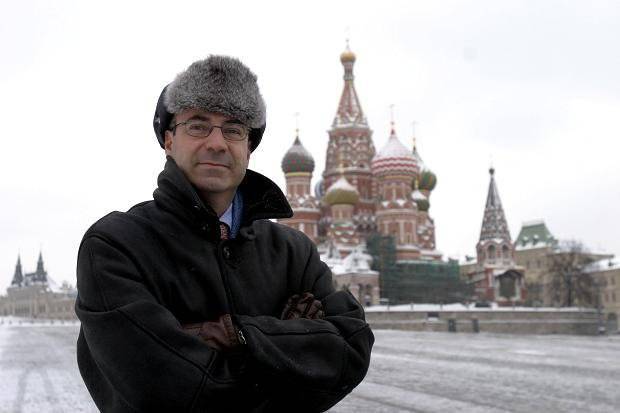 Who then after Snowden became for Russia and, first of all, for the Russian leadership? Omitting all the husks about the struggle for human rights and other utopian maxims, one can say that the Snowden card is being played here and now. And it is played upside down. The Russian leadership still does not fully know what kind of card it is. It seems to be not a trivial six, if the American special services and authorities hysteria left and right about the fugitive. But what is the weight of this card? To find out, an interesting operation is being played today, which can be defined with the code phrase "Get Edward Snowden's price".
As the first lot is played Mr. Browder. A few days ago, a Moscow court in absentia sentenced a native of the United States and a subject of Her Majesty to 9 years of imprisonment in a penal colony. Bill Browder was accused by Russian justice of having jointly with his, let's say, colleagues at the widely known Hermitage Capital fund, developed a scheme that allowed this very investment fund to easily evade taxes. It is in this fund, we recall, that Mr. Magnitsky worked in the sweat of his face, whose name has for some time become almost the main stumbling block in relations between Russia and the West. It is obvious that Mr Magnitsky was just a pawn on a chessboard for making money on a crisis Russia for Mr Browder and more powerful pieces. But it just so happened that it was Mr Magnitsky who first came under investigation in Russia, which, as is known, turned out to be the first and the last ...
Then the law enforcement system of Russia proceeded to the person directly to Bill Browder. What, then, was Browder suspected, and for what he was given a "nenya"? The Moscow court concluded that this same Mr., using a chain of dummy firms registered in Russia, had acquired, as much as 130, millions of Gazprom shares at an extremely low price. Who personally helped in such a promising venture to a "friend Bill", the investigation and the court have not yet clarified (and whether they will clarify ...). In addition to a foreign citizen buying up a strategically important company at the domestic Russian price, Browder (after Magnitsky) was accused of using domestic Russian offshore companies to open several LLCs, whose employees credited (on paper, of course) exclusively the disabled. What for? These disabled employees allowed the Hermitage Capital of Mr. Browder to have substantial tax preferences in doing business in Russia.
If we evaluate all the activities of Mr. Browder in the Russian Federation from the very moment he arrived in our country, then this activity is constantly associated with the presence of one-day intermediary firms that worked on preferential terms and allowed using Russian "progressive" privatization as much as the Browder and those who, due to his activities, also received a good sum. Of course, such an activity of this Billy would be impossible by definition, if the privatization mechanisms in Russia were not so loose, and the privatization itself would not have been barbarous a priori. In this regard, together with Browder, it was necessary to assign real prison sentences to our homegrown privatization fathers, at the head of which was a well-known citizen now alive and holding a post in another state-owned company. But this is, as they say, completely different
история
...
And according to this we return to William Browder. The prosecutor estimated the total damage that the "investor" had inflicted on the Russian treasury at half a billion rubles (it's not quite clear in the money of what period of modern history) and asked for a real term. The court went to meet the prosecutor and the term is such a document for Mr. Browder. Here is just one snag. There was no Browder in the dock ... He was arrested in absentia.
The "businessman" himself, with obvious signs of a new-time combinator, who knew at least 400 "relatively honest" ways to warm up his hands on the Russian treasury, at that time drank his duty cocktail on completely different shores and remembered how in just a dozen years of being in Russia, he managed to turn from a graduate of an American university into a multimillionaire. At the time, he shared these same memories with students, telling them in a verbal show about his merry financial adventures in Russia.
So that our readers could feel what financial (and not only financial) plans Mr. Browder was nurturing at one time, and which he nevertheless endured regarding Russia, here are some Browser quotes.
Everything was very simple. The country had vouchers that every citizen received. In the country of 150 millions of people, each voucher costs 20 dollars. Total 3 billion dollar vouchers. They could be exchanged for 30 percent of all Russian assets. That is, in 1992, all of Russia cost 10 billions of dollars. Whole country. All oil, all gas, all metal, and everything. 10 billion dollars. Wow!
And this Browder still exaggerates the price of those Chubais "vouchers", either slyly, or really not knowing that buyers in the Russian markets and 90 flea markets were given a privatization check (in provincial, at least, cities) no more than 10-12 dollars (in terms of US currency). And millions of Russians sold. And what else did people have to do when every second family did not know what to buy basic foodstuffs and where to get these foodstuffs at all ... Thus, a third of Russia "Browders", "Berezovsky" and other "investors" could buy for some then a billion dollars ... Impressive, isn't it ... Interestingly, this is only Browder who counted all the benefits from Russian privatization for foreign and domestic Russians, sorry, freeloaders, or Anatoly Borisovich and Co. also guessed about this ... The question is, of course, rhetorical.
And suddenly all the guys who did not want to invite me to lunch and did not want to communicate with me, began to approach my table and say: "Bill, how would we do these Russian affairs, I would like to buy papers myself ..." Every morning four people stood near my desk, waited for my arrival to get advice on how to make money from Russia. But more importantly, the main salespeople, who had customers from large hedge funds, began to come and say: "Bill, would you like to go to New York and meet George Soros?". I, of course, refused. "And maybe you will meet with John Templeton? By Michael Steinhard? "
I was not yet thirty, and I was invited to meet with the most successful investors on Earth, so that I could explain to them what I had done in Russia.
A good illustration of how it was combed by Western financiers, excuse me, in one place after they heard what price for Russia was determined by its leaders in 90's. Any financier will cherish if he finds out that the whole country, along with plants, nuclear
weapons
, army, innumerable deposits of oil, gas, gold, diamonds and other wealth can be bought with money comparable to the annual budget of one relatively large western city. And flew - like bees on honey. And Soros, and Steinhard, and the rest ... There were "humanitarian" and financial programs, the consequences of which we still can not solve.
What will you do if something is sold at a discount in 99,7%, then how should it be sold at a discount in 10%? Naturally, everything must be damned to buy. So we did - Gazprom became our largest investment.
Good investment ...
In general, Browder himself told about his achievements in Russia, and therefore it is strange that he subsequently was surprised to learn that he had come under investigation design. But we need to be surprised, frankly, not understanding why only Browder received a term. But what about all those who organized 99% discounts for him? But then again - this is another story ...
As a result, Browder, as has been said, sips his cocktail somewhere abroad, while Russian law enforcement agencies made a request to Interpol to help the agency find and detain the "investor". But a fig came from Interpol ... They say that we need solid evidence, some sanctions, documents, etc., and in general we will not look for Browder ...
The Russian Foreign Ministry has already expressed its bewilderment about this and is awaiting detailed explanations from Interpol Secretary General Ronald Noble. But Ronald Noble is a US citizen, and will he be given a distribution list from his state to send Browder to Russia. Of course not…
What's next? Next thing for the Russian authorities. It remains for them to turn the card Edward Snowden face down, showing its price. And although Snowden is sort of like a former US intelligence official, and Browder is a banal cheater, but somehow you have to do some of these statuses ... But maybe there will be no card games? It may be beneficial to keep Browder out of reach: they say, we passed a sentence (albeit in absentia), our soul is clear to the people. And then suddenly someone else will shine ...