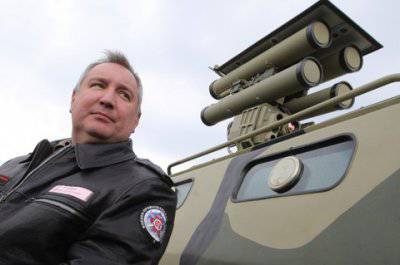 Dmitry Rogozin, who oversees the Russian military-industrial complex, confirmed reports of his upcoming visit to France to discuss the issue of joint production of certain types of weapons. "This will not be about purchasing finished products in France, but about joint production," he wrote on his microblog on Twitter. The Vice Prime Minister noted that "it's not a shame to adopt the best experience and knowledge" and "everything that will be adopted by our army and
fleet
must be produced in Russia. "
Earlier, ITAR-TASS, citing the opinion of French military expert Arnaud Calico, announced the intention of the French Ministry of Defense to further strengthen military-technical cooperation (MTC) with Russia. In the future, this should lead to the signing of new defense contracts with the Russian Federation after the completion of the construction of Mistral-type helicopter carriers for the Russian Navy.
Rogozin announced his plans to visit France this fall at the 6-th International Navy Salon (St. Petersburg). His intention to consolidate the new approach between the two countries in the field of military-technical cooperation is also supported by French Defense Minister Jean-Yves le Drian. According to the French expert, the Russian Directorate has already formed in the Defense Directorate General for Armament (DGA) of the Ministry of Defense.
In June, the Concern "Constellation" and the French multinational corporation "Thales" (Thales) signed a license agreement on the joint production of radio communication facilities. According to the general director of the concern Azret Bekkiev, the Russian side will assemble from the supplied kits a family of radio stations SOTA (310-470 MHz operating range), which provide simultaneous transmission of speech and other data, including real-time video and locations. The stations will be additionally equipped with GLONASS, GPS, Galileo (Galileo) navigation system modules, as well as built-in cryptographic protection.
A source in the military-industrial complex, said that the Russian and French gunsmiths are working together to install the combat module "Bakhcha" from the BMP-3 on the NTXTER BTR.
Earlier, the media reported the intention of the UAE to acquire several hundred such hybrids.
Viktor Murakhovsky, a member of the Public Council of the Chairman of the Military Industrial Complex under the Government of the Russian Federation, believes that "we have a unique experience with France in creating cooperation in the production of certain types of weapons. In particular, based on the transferred technologies, joint production of thermal imagers at the UOMZ was organized. inertial navigation systems for our combat aircraft, from the field of electronics (firms "Thales" and "Safran"), shipbuilding and in other areas. In connection with the chosen course in the Russian Federation for the acquisition of technology, this visit is quite natural. "
Ruslan Pukhov, Director of the Center for Analysis of Strategies and Technologies. "There are three points here. First, the purchase of the Mistrals had a great resonance at one time, and the number one topic will probably be the question of Russia's purchase of the third and fourth ships of this type. Secondly, assembly under the licenses of French firms
tank
thermal imagers in Vologda ("Thales") and inertial systems for our
aviation
in Ramenskoye, Moscow Region ("Soot"), the purchase of light Eurocopter helicopters for the Ministry of Defense and several others. The third aspect of Rogozin's visit could be giving a new impetus to the negotiations between the two countries on France's possible purchase of individual Russian weapons, from Mi-26 helicopters to Krasnopol ammunition. Another area of ​​the visit may be the issue of joint development and production of special cable-laying and supply vessels, which are necessary for both countries. President Hollande made such an offer to President Putin during his visit to Moscow. "