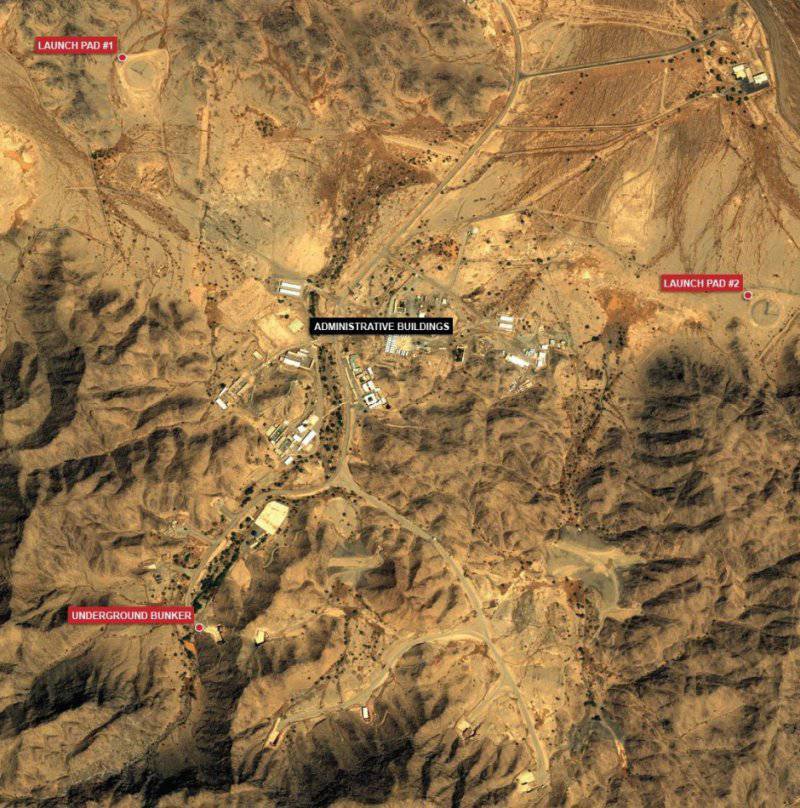 A satellite photograph of a military facility in the al-Oatah area (approximately 200 km south-west of Riyadh) appeared in the Western media. Experts IHS Jane's Intelligence Review, who studied the picture, say that it is a base of ballistic missiles aimed at Iran and Israel.
Land-to-ground missiles are located in deep underground warehouses. The 1 launch pad is located northwest of and the 2 east of the administrative building complex, and to the south of this complex there is an underground bunker, apparently with a missile launch control center. According to Jane's analysts, the rocket from the 1 mine will be aimed at Tel Aviv, and from the second one - at Tehran.
The newspaper The Telegraph writes that we are talking about Chinese-made DF-3 ballistic missiles. However, judging by the reducible characteristics, we mean a more sophisticated rocket DF-3A (Dongfeng-3A, "Dong Feng" - east wind, whale.) With a range of 2800-4000 km. According to unofficial data, 60 of such missiles with a high-explosive warhead (up to 2 tons) were delivered 26 years ago to Saudi Arabia.
According to Jane's, the rocket base at al-Watah was built in the last five years. According to military analysts, Saudi Arabia is currently modernizing its missile arsenal, but even DF-3A is a potentially very serious threat to Israel and Iran. In addition, theoretically, these missiles could carry a nuclear charge.
Dongfeng 3 is considered the first Chinese medium range ballistic missile (MRBD) developed in-house. After the refusal of the USSR to provide access to materials on P-12, the Chinese government at the beginning of 1960-s decided to develop its own MRBD with similar characteristics. Dongfeng 3 with a range of 2,5 thousands of kilometers and a drop in weight of two tons, was originally designed to deliver a nuclear (and later - thermonuclear) warhead.
Recall that last year for the first time the White House officially declared that Saudi Arabia had nuclear ambitions. A veteran American diplomacy, Dennis Ross, said that even in 2009, King Abdullah had warned him that the monarchy would begin work on nuclear
weapons
if Iran becomes its owner.