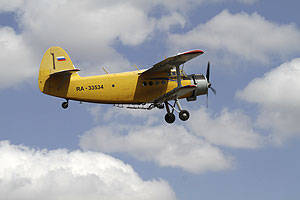 Antonov, a Ukrainian state-owned enterprise, has received orders from Russia, Azerbaijan and Cuba for the supply of the An-2-100 aircraft, a modernized version of the famous Kukuruznik, Antonov's General Designer Dmitry Kiva said on Wednesday.
"There are orders from Russia, Azerbaijan and Cuba. Our partners are even ready to make some orders for hundreds of aircraft, "Kiva told reporters. According to him, the cost of the An-2-100 aircraft will vary from 850 thousand to 1 million dollars, depending on the order, RIA "
News
».
On Wednesday, for the first time since the development, a new version of the famous "corncob" has risen - the An-2-100 aircraft. It is intended for passenger, passenger-freight and freight traffic on local airlines.
The main difference between the An-2-100 and its famous predecessor is the power plant with the marching turboprop engine MS-14, developed by the Ukrainian company Motor Sich. One of the advantages of the modernized "maize", according to the developers, is the transition from aviation gasoline, which is not produced in the CIS countries, to
aviation
kerosene. Also, the weight of the stocked An-2-100 is 200 kilograms less than that of the An-2.
An-2 aircraft in service will be upgraded to An-2-100. On the territory of Ukraine today there are X-NUMX An-135 airplanes, of which only 2 are airworthy.
The crew of the modernized "corncob" is still two people, and the passenger capacity is 12 people.
Russia is also working on upgrading An-2. In December, 2012 of the year an agreement was signed with the American company Honeywell to supply 2013 100 turboprop engines TRE331 to Russia in 2, which are planned to be installed on "corn dusters" upgraded to An-XNUMXMS.
It was reported that this power unit will make the old Soviet aircraft competitive and at least four times cheaper than their foreign counterparts.
In the meantime, the aircraft was designed in Russia, which is intended to be a replacement for the An-2: "Rysachok". Certification tests of the aircraft are currently underway, and mass production is scheduled to begin from 2015.
At the end of May, the commander of the Airborne Forces Colonel-General Vladimir Shamanov announced his intention to return to the Russian "winged infantry" squadron of An-2 aircraft for the commission of training jumps.