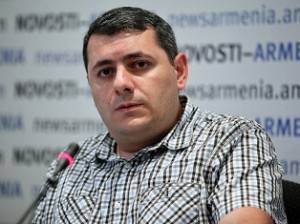 Starting with the theme of the Russian-Azerbaijani last
armory
deals, our conversation with the political scientist, deputy director of the Caucasus Institute, Sergey Minasyan, very soon turned to the psychological perception of the Armenian society of political relations with Russia. Among the phobias, he attributed the public perception of information about the specified arms deal, and the topic of Yerevan's choice between European and Eurasian integration, and its attitude to membership in the CSTO. The political scientist also shared his opinion on who and why the status quo in the Karabakh conflict works for, what is the likelihood of renewed hostilities in Karabakh, and who could become an alternative strategic ally for Armenia instead of Russia.
REGNUM: The start of deliveries of a large batch of Russian weapons to Azerbaijan has caused mixed reviews in Armenia. The transaction is estimated at up to a billion US dollars, which is quite a lot. What is your assessment of what is happening?
Russia does not sponsor, but sells at market prices weapons and military equipment, which Azerbaijan, in principle, was ready to buy in any case. That is, in this case, the primary is the ability and desire of Azerbaijan to acquire weapons and military equipment. From this point of view, everything is logical, although moral assessments may be different, which, however, is not so important from a practical point of view. When, perhaps justifiably, the question arises, how much is the sale of arms to Azerbaijan morally justified and does it correspond to considerations of strategic alliance with Armenia, then it can be noted that in the world
stories
There are dozens of cases when similar combinations were played out. For example, for almost the entire period of the Cold War, the United States sold and even donated weapons to both Turkey and Greece for a ratio of 7 to 10. There were other examples, Egypt and Israel, for example. Despite its, to put it mildly, difficult relationship with Israel, Egypt, however, as far as I know, was the first country in the Middle East to receive American
Tanks
M1 "Abrams". They were not delivered to Israel, although this is partly due to the fact that this country had its own development of Merkava tanks. But the fact remains - Egypt was the first Middle Eastern state to receive the latest American tanks at that time. After the Camp David Accords, the Americans tried to play the role of a broker, not only in the Arab-Israeli peace process, in the relationship between its two most important players (Israel and Egypt), but also on the issue of military supplies.
So this is not some kind of Moscow know-how. In fact, this dynamic has been observed for about 20 years; The same thing happened at the beginning of 90-x, then repeated several times during the 2000-s. Moreover, some of the most recently announced deliveries, which were announced recently, were actually implemented last year. If the supplies for T-90C, BMP-3, some other types of weapons are just beginning, then a number of weapons systems, for example, MNTA-S 152-mm self-propelled howitzers were delivered last year, as well as portable anti-aircraft missiles complexes "Needle". These shipments were reflected in last year's open Russian report on conventional weapons. And the current information about the occasion is connected with the desire of Ilham Aliyev to quickly buy expensive toys to demonstrate them at a military parade in the pre-election year.
So, in principle, the informational occasion has in many respects a public sound in Armenia, although it can be understood. It is not common for an ordinary citizen to assess such events from the point of view of political expediency or two-three-way military-strategic combinations. And what is really important for Armenia? For Armenia, it is important that Russia is really - as it has been doing since the beginning of 90's, as it is doing now - to a certain extent, all this is compensated by the supply of military equipment and weapons to Armenia. If the military-technical balance between Azerbaijan and Armenia, which sells its energy resources, which does not have such opportunities, persists, and in conditions when the officially announced military budget of Azerbaijan approaches the budget of the whole Armenia, and military actions do not resume, then this happens, naturally not so much due to the morale of the Karabakh or Armenian soldiers, but also due to the quantitative parameters that were provided and are provided mainly by the Russian side.
I would not want to overload our conversation with a large number of numbers, it is meaningless. Those who really need these numbers, at least in general terms, have an idea about them. But believe me, this balance, even after the fulfillment of the specified contract (and this will happen in the coming 2-3 of the year) will remain. And the information available today does not mean at all that all the 94 T-90С tanks that were announced are already in Azerbaijan. These are contracts that will take a lot of time to fulfill, and the Russian side, naturally, will not be in a hurry in this matter. There is still the question of components, the question of supplying artillery and other weapons systems with shells, rockets, and so on. That is, the Russian side, as she very often did, will not be in a hurry in this matter.
It also gives Russia the opportunity to have some levers of influence on the military-technical policy of Azerbaijan, and this is also a fact. Don't get me wrong, I'm not going to whitewash anyone. My job is only to analyze the military-political situation in the region. The most difficult thing that some "colleagues in the workshop" often fail to do is to avoid politicized or ideological assessments of any situation. Personally, I do not give a qualitative assessment of what is happening, it's just that I don't see any conceptual difference between what Russia did several years ago and what it does today. In 2011, Russia delivered the C-300 PMU-2 Favorit complex to Azerbaijan, which was demonstrated during the 26 June 2011 military parade. And by this time, Armenia had supplied Armenia with a corresponding number of mobile anti-aircraft missile systems of the C-300 PS. Before that, there were no mobile complexes in Armenia, but there were "semi-stationary" C-300 PT systems, which the Armenian side also preferred not to talk about.
Also in the same period, the tactical missile system "Tochka-U" was installed in Armenia. All of these weapons, in turn, were demonstrated by Armenia during the September 21 military parade of the same 2011 year. Military experts understand what is at stake. Special serious leap did not happen. Another thing is that every time the arms race spins again like a spiral, this causes general tension. However, those who occasionally criticize Russia, let them explain to me the following: first, how can Azerbaijan be stopped in the arms race, secondly, if Russia is such a bad ally, then why doesn't it sell us weapons at market prices? price, and transfers on preferential grounds? Russia is what it is - with its pluses and minuses, and to this, as it seemed to me, everyone should have gotten used to it for a long time, both her friends and her enemies. For some reason, I don't know another real or potential military-political ally for Armenia, which is ready to provide weapons and military equipment to Armenia for free or very cheaply, and in sufficient quantities.
REGNUM: In the context of this information, opinions also began to sound, saying that Russia and the CSTO will not be ready to fulfill their obligations to Armenia, even if there is direct aggression against it, not to mention Nagorno-Karabakh, which is not an internationally recognized territory.
Well, firstly, from a military-strategic point of view, I do not really believe that, given the current level of militarization of the region and other similar strategic considerations, the fighting initiated by Azerbaijan can be limited only to the zone around Nagorno-Karabakh, and that Baku does not will be forced simply out of purely military expediency to abandon the temptation to strike at the territory of Armenia. In the end, in Baku they simply cannot digest the fact that the Karabakh forces inflict retaliatory missile strikes on the oil terminals and other targets in the depths of Azerbaijan, while at the same time drinking coffee in Yerevan. Even taking into account the political consequences of any kind of Azerbaijani reaction, including a blow to the territory of Armenia. If somewhere and someone from the thrill-seekers wants to assure themselves that Russia and the CSTO, having clear guarantees of a security commitment to Armenia, do not react accordingly, then this is their sovereign right, multiplied by the price of their desires . As they say, fear your desires, they can be fulfilled. I would just like to recall two examples at the same time, when Russia, without having any formal legal obligations, reacted accordingly in similar situations, although its opponents tried to convince themselves and everyone else that she had no political will to react to this: Abkhazia and South Ossetia August 2008 and Syria of the last two years ...
REGNUM: Your opinion is known, according to which, by its actions, Azerbaijan, in fact, simultaneously stimulates technical modernization and rearmament of the Armenian armed forces.
Azerbaijan has achieved two things in recent decades with its military rhetoric and arms race. In addition to the substantial military-technical re-equipment of the Armenian army that you have already mentioned, and that many in Armenia, as well as in Azerbaijan, and throughout the world have already been forgotten, but what was relevant at the beginning of the 2000s. If then the co-chairmen, some of my foreign colleagues, various experts and even some people in Armenia themselves often talked about the need to make unilateral concessions along the current border of Nagorno-Karabakh, arguing that Azerbaijan is strengthening and can start military actions, today this topic is closed. For ten years of the militant rhetoric of the current President of Azerbaijan, any disputes on unilateral concessions by the Armenians simply disappeared. The unrealistic demands of the current military-political leadership of Azerbaijan have led to the fact that this factor has ceased to be relevant. Everyone more than clearly understands that if there are some opportunities for resolving the issue (and there are few of them now, because the status quo is strong now more than ever), then they can be realized only after Baku's military rhetoric is reduced. , the threat of war will diminish. But how can it diminish if the spiral of the arms race continues to wind? Although it is possible that Azerbaijan has a couple more years in store during which it will be able to use its oil revenues to increase the arms race.
REGNUM: "A couple of years to Azerbaijani energy carriers" is an estimate known in pro-Armenian circles since the times of the 80-s of the last century. Meanwhile, this couple of years stretched out over 30 over and today there are estimates that oil and gas reserves will be enough for Azerbaijan for another half a century.
What do these 50-60 years mean? Although I am not an expert in the field of energy, but I believe that gas and oil in Azerbaijan will not lose, at least in the foreseeable future. Oil will always be in Azerbaijan. The case is different: what are the country's industrial reserves? What are the reserves that can ensure the implementation of the budget of the whole of Azerbaijan at the expense of oil and gas exclusively, as is being done now in a country where about 90% of revenues comes from the sale of energy resources?
10 years ago, Gazprom also said that the entire European energy system would be in its hands. For ten years there was a shale revolution. The United States is turning from an almost pure importer into a gas exporter, and shale oil will soon be coming, which will revolutionize the whole energy picture in the world. I don't know what will happen in three, four years, in 5 years. Unfortunately, I also do not know a single person in the region and beyond, who could give exhaustive answers to the oil and gas questions that we have with you, which would not be politicized and would reflect the energy reality of our region.
REGNUM: Returning to the topic of supplying Russian weapons to Azerbaijan, I would like to ask this: there is such a thing as the Treaty on Conventional Armed Forces in Europe (CFE Treaty). Azerbaijan has joined this treaty, but does not comply with it. Many experts blame Moscow for actually assisting Baku in violating an international treaty that is legally binding.
To begin with, Russia itself has long froze its participation in the CFE Treaty. It does not comply with the provisions of this treaty, and Baku did not observe them even earlier, by the way, partly referring to the fact that Yerevan also does not comply with the CFE Treaty. But here one thing must be taken into account: Armenia fully complies with the provisions of the CFE Treaty, if we talk about its internationally recognized territory. Well, and Nagorno-Karabakh is not Armenia, but, at a minimum, a state entity, the international legal status of which has not yet been definitively determined by the international community. The main problem of the CFE Treaty, therefore, rests on the fact that this document is in fact dead. Even if it is reanimated, it will not happen in the very foreseeable future. The reason is that the CFE Treaty, in fact, is a kind of atavism, a relic of the Cold War. And the attempt to rehabilitate it, the Adapted CFE Treaty, did not enter into force; Russia withdrew from it, based on its own considerations, and proposes a new European Security Treaty, which is not accepted by Western partners. Perhaps after some time Russia, the EU countries and other European countries will return to this issue, but at the moment the CFE Treaty cannot be considered as some kind of guarantor of the non-resumption of hostilities or a mechanism of control over military activities in Transcaucasia.
In reality, peace and stability, at least in the Karabakh conflict zone, are provided exclusively by two elements. The first is the continuing military technical balance, which exists in spite of everything. Russia transfers to Armenia military equipment and armaments not only because it is an ally, both bilateral and within the CSTO, and in this case it has certain obligations towards Armenia, but also because it does not want to be involved in military conflict in Nagorno-Karabakh in the event of its renewal. This is a headache that is not in the sphere of interests of either Russia or any other country in the world, even Azerbaijan. Nevertheless, Russia is doing something that is not very hard for it - on preferential terms, it transfers compensating weapons to Armenia, given the huge reserves that it has inherited since the times of the Soviet Union and were inertly replenished in the following decades.
The second element is one of the few consensus that exists in the international community, the co-chair countries of the Minsk Group and all other actors, including Turkey and Iran, is the position of the international community on maintaining the current status quo. The status quo is so stable largely because the current situation is the lesser of the evils and satisfies all other external players. The latter do not want to make any special efforts and spend their political capital to change this status quo, because it is not clear in what direction the situation may change in case of an imbalance. And these countries, if necessary, can punish the conflicting parties, who unilaterally try to change something, with a nod or finger movement. So these two factors play a role, despite the sometimes tense situation connected with the transfer of weapons to one side or the other.
REGNUM: There is a point of view that no one needs a solution to the Nagorno-Karabakh conflict at all. Its supporters claim that the hot spot in the region is a lever of pressure for external players and a source of dividends for the parties to the conflict. Your opinion?
The problem is in terms. They probably want to decide something, but everyone wants to do it in their own way. No compromise solutions, which are written in textbooks on political science of the first course, for the Karabakh conflict in reality exist. Moreover, such a solution does not exist for any of the serious ethno-political conflicts of this kind, in the development process of which there was a period of hostilities. Look at Northern Cyprus, Kashmir and other similar conflicts. But a solution is possible if one of the parties surrenders. The solution is possible if this is an example of Kosovo or the Serbian Krajina. In part, this kind of solution may be possible if we are talking about Abkhazia and South Ossetia, but even this is on condition that their independence will be recognized by other states, and the Georgian political elite will fully accept the loss of these territories. However, this did not happen, and may not happen at all.
In addition, there may be new factors that will affect the outcome of events. I, as an international historian, unfortunately, cannot give examples of such kind of violent conflicts, which would have been resolved through mutually acceptable compromises accepted by all parties. I can give examples of many dozens of conflicts that did not reach the stage where hundreds of thousands of people lost their homes at home as a result of armed conflict, and tens of thousands lost their lives. It was possible to resolve such conflicts as a result of preventive measures and steps. Such oppositions fit into the schemes of textbooks on political science. But conflicts that have passed through the military stage require much more time for their transformation. In this case, say, after the n-th number of years, the external conditions may change. For example, a change in conditions can be called a real prospect for Armenia and Azerbaijan to enter into some kind of large integration association, if it promises serious social and economic dividends. Then the societies of the two countries themselves without any intermediaries will try to resolve the issue as quickly as possible, taking into account the interests of each other.
REGNUM: At one time, I remember, the idea of ​​some Transcaucasian integration was in the air.
The resources of our region do not allow us to distinguish the Transcaucasian region as a separate geopolitical entity, because these resources do not exist. We need an external economic marker with incomparably large economic resources.
REGNUM: When they talk about external players who are somehow involved in the settlement of the Nagorno-Karabakh conflict, Iran and Turkey are often mentioned. The second periodically touches on this topic for several years, hinting at its possible involvement in the process, and Iran has been active on this front for about a year. Meanwhile, these regional powers both stood apart and stand to this day. Is there a chance that Tehran and Ankara will be involved in the process?
Turkey and Iran stood and stand apart, because neither the strength was not enough, nor the "big uncles" were not allowed. With Turkey, everything is more or less clear: of course, she would like to be involved. The big soap bubble of Turkish foreign policy, which is now bursting with a bang against the background of internal events, occasionally glanced toward the Karabakh process. But the guys did not calculate the strength ...
With Iran, the situation is somewhat different. Even the discussion about the possibility of their involvement in the peaceful settlement of the Nagorno-Karabakh conflict in Tehran was partly viewed as a resource for trying to break out of international isolation. With all this, one should not forget that, unlike Turkey, Iran really has some baggage on the part of peacekeeping activities in the zone of the Nagorno-Karabakh conflict in the 1990-s. Unlike Turkey, Iran is directly geographically in contact with Nagorno-Karabakh, and it does have certain opportunities, if not to be involved, then to influence the situation and the parties to the conflict themselves. However, Iran for obvious reasons, more than all other external actors (and perhaps the conflicting parties themselves) are interested in maintaining the current status quo. Tehran is satisfied, first of all, with the buffer position of Nagorno-Karabakh, which is obvious.
As for Turkey, here, I repeat, it is absolutely clear that this country's foreign policy includes an essential element of rhetoric. Ankara all the time tried to play some role in the settlement, but also all this time it was clear that no one would let her go there. The relief with which Europe sighed, the reaction of the Old World to the recent political events in Turkey in recent weeks suggests that Europe was not very happy about Ankara's attempts to go beyond the framework of its political existence in which it existed, say, during cold war. If Russia's sincere desire not to let Turkey into the settlement of the Nagorno-Karabakh conflict was obvious and completely explicable, and France too, then the EU and the US showed an not so obvious, but also rather cautious attitude to the issue, being not very happy this perspective. I'm not even talking about the fact that two of the three conflicting parties don't really want any involvement of Turkey in the process, having a very specific negative historical experience of contact with it.
REGNUM: Turkey's allies are Azerbaijan and Israel's countries with a sufficiently developed military-industrial complex, from which Azerbaijan can buy weapons. If we assume that Russia refuses to deliver weapons to Azerbaijan, can Baku start to replenish its arsenal with Israeli-made or Western-made products, to buy NATO weapons from Turkey?
The United States with its NATO partners, with the exception of Turkey itself, is supporting an informal embargo on the supply of offensive, serious weapons to the zone of the Nagorno-Karabakh conflict, first of all to Azerbaijan, and there is a lot of evidence for this - this is time. Secondly, Israel sells what it has - weapons, which, in principle, can in part be used against Karabakh, but mainly directed against Iran. Russia supplies Azerbaijan with weapons that are more profitable and necessary for Baku in relation to the conditions of the Karabakh conflict, as it happens. Moreover, even Turkey has no opportunity to supply weapons in such quantities as Russia. By the way, they are simply used to Russian weapons in the post-Soviet space and prefer everything else.
Also, one should not forget about the seemingly hope of politicians in Baku that such a concept may ultimately have a negative effect on Armenian-Russian relations, even if Baku has to be overpaid. At the level of public perception in Armenia, this affected that it was easy to foresee. However, the perception within Armenia of everything connected with the Russian-Azerbaijani theme, and indeed the paranoid perception of any external challenges, including positive ones, is a separate topic for long hours of conversation. For example, information on the supply of Iskander-M operational-tactical missile systems (OTRK) and the Tornado-G volley fire systems to Armenia caused a positive reaction in some of the Armenian public, while the other, strange as it may sound, was negative. But Azerbaijan cannot, and does not particularly want to "break free" from the current situation.
In addition, I am more than sure that even with such arms supplies, Azerbaijan is really ready and intends to start a war. The arms race and bellicose rhetoric are the political resource that they use and will use. The stakes in the Karabakh conflict are so high that the internal and external status quo existing in Azerbaijan, which, God forbid, will continue after October of this year, makes the existing situation more or less satisfactory for Azerbaijan. Still, Azerbaijan in the context of attempts to resolve the ethnopolitical conflict by force is not Georgia of the "golden period" of Saakashvili. The story of how President Mikhail Saakashvili started the war, and after that almost nothing happened to him, he remained in power, because the picture of the conflict was drawn black and white - "West vs Russia", in the case of Azerbaijan it will not happen again. This will not happen, and everybody knows it, including in Baku.
REGNUM: From your words, we can conclude that in the short term the arms race, militaristic rhetoric and other regional initiatives of the current leadership of Azerbaijan will not lead to serious changes?
In general, yes. Although it would probably be more useful for the public to open up the brackets somewhat, explain how, what and why, but it will take too much time. The problem lies in the fact that there is no quick, easy solution to the Nagorno-Karabakh conflict — neither military, political, nor any other. The status quo is the price paid by Armenians, Azerbaijanis and the world community in order to prevent a further deterioration of the situation. All calls for the elimination of the status quo are based either on ignorance of the situation, or attempts to deliberate politicized speculation on this ground (it is worth noting that the presidents of the OSCE Minsk Group's co-chair countries have repeatedly said that the prolongation of the negotiation process including in its latest joint statement on the results of the G8 summit (G8) in Ireland. On the "unacceptability of the status quo" around Nagorno-Karabakh, Russian Foreign Minister Sergey Lavrov (REGNUM) also declared May 21 on May 2013. After all, when someone within or outside the region claims that everything is bad, and something needs to be done about it, it's impossible to argue a priori. But then the question arises of who will guarantee that an attempt to achieve rapid progress will not turn out to be sideways and will not lead to an even worse situation? There are no answers to this, no one wants to take responsibility for it.
REGNUM: Do you agree with the statement that in this case time plays into the hands of the Armenian side?
Yes. This is a textbook case with all de facto state entities.
REGNUM: There are different points of view on this.
Yes, and I know all these points of view, as well as the pros and cons, reflected in them. Talking for long hours ... Well, outwardly everything seems to be supposedly clear - Azerbaijan will sell all the oil in the world that it allegedly has, and it will buy all the weapons in the world for this, and Russia will sooner or later throw us to us - this time. Then - all will leave soon from Armenia, 200 thousand people will remain in the country, who will not stand up to defend their border. And here's another thing: the whole world is against us, everyone wants to quickly resolve this conflict, because, for example, a coup or something else is going to start in Iran and so on and so forth.
There is an opposite point of view: a) both Armenians and Azerbaijanis are getting used to the existing state of affairs, and it will be almost impossible to change it, at least by political means; b) the war is not so easy to start, and especially the war, which in the very first days will take not thousands but tens of thousands of lives on both sides, respectively, military rhetoric is just rhetoric, not a real prospect. Well, and so on ... But, since you ask my opinion, I, taking into account these and many other factors, once again very briefly answer that yes, time is working for the Armenian side. A confirmation of this is the simple fact that this Azerbaijani government and the public are trying in every way to change the current reality. Draw your own conclusions.
REGNUM: It is believed that the rapprochement of Armenia with the European Union alienates Yerevan from Moscow. In particular, experts assert that following the results of the Vilnius Summit of the Eastern Partnership countries planned for November 2013, where the Armenia-EU Association Agreement and the agreement on the creation of an FTA with the EU are likely to be initialed, Yerevan's relations with Moscow will cause damage ....
I have no idea how Yerevan can move away from Moscow politically and politically as long as there is a Russian military base in Armenia, as long as the current bilateral format of military-political cooperation remains and Armenia is a member of the CSTO. I also do not understand and, at a minimum, it seems as a result of ignorance or complexes, the reaction of some Russian circles to the Eastern Partnership and the Association process. Yes, in economic terms, Associate Membership can give certain preferences after some time, calculated not in months, but in years. In the end, we are trying to have the same economic and humanitarian contacts that would be desirable for Russia itself if it had the appropriate opportunity for that. As for the "security umbrella," the European Union is not ready, and does not want to give us what Russia is offering, and I think Armenia will not lose prudence and will not change the iron tanks for some beautiful pieces of paper. Everything has its price.
I told everyone about it two years ago and I have to repeat to this day: I don't see any problem so that Armenia would have the opportunity to cooperate in some format with the Eurasian Union, being at the same time an Associate Member of the EU and joining the European zone free trade. When I talk about "some format of participation in the Eurasian Union", I mean exactly a certain format. Armenia's full participation in the Eurasian Economic Union is not in itself possible for many reasons, based, among other things, on geographical factors and considerations of economic expediency for Russia itself. As if between Armenia and the so-called. The Eurasian Union is not Georgia and Azerbaijan. When, for example, they talk about the possible exclav status of Armenia in the Eurasian Union, as a rule, they cite as an example the Kaliningrad region. Between Russia and the Kaliningrad region are the EU countries, not two countries, one of which is hostile to Armenia, the second to Russia. Let me, let's say, an illiterate person, explain how Russia can have a mutually beneficial Customs Union with Armenia in such conditions?
Although, in principle, this is probably theoretically and possible, but only if Russia undertakes after this to subsidize the entire Armenian economy. But Russia, of course, is not ready for this. No one will do this because of some illusive ideas in the conditions of the existence of much more pragmatic, realistic cooperation formats within the CSTO, bilateral ties in the military-political, humanitarian and cultural spheres, and even the current format of economic cooperation between Armenia and Russia. Nobody has canceled this cooperation, no one is going to reduce it to zero, and you should try to forget about the phobias that exist in this regard in Moscow and Yerevan. People should say that this is possible. Politics, though it happens to be black and white, but very rarely, basically it consists of many shades, components, aspects, nuances and moves. Sometimes real politics translates into forms that contradict formal logic, but that's why it doesn't cease to be real and effective.
For example, the multi-story military balance, when Russia sells weapons to Azerbaijan at market prices, and transfers to Armenia, although a little outdated and sometimes quite fresh equipment, is a thing that, at first glance, contradicts all moral principles and formal logic, but It has been working in different forms for 20 for years. After all, in fact, nothing much happened, and it will not happen.