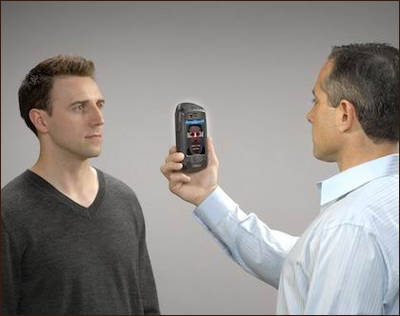 Americans plan to collect all available biometric data from different parts of the world on their military server.
In the near future, all the biometric information collected by the Americans and their allies will be sent to a single cloud service. Thus, with the help of an ordinary smartphone, American soldiers or a CIA agent can identify a person anywhere in the world.
Biometric information is face scan data (facial features and a picture of the iris of the eye), fingerprints and, sometimes, DNA. Biometric scanning is carried out at airports, embassies, upon receipt of passports, etc. In addition, the US Army is actively using biometric scanners to compile databases of residents of occupied countries. In particular, the United States has biometric information for millions of Afghans and Iraqis.
As part of the new Defense Cross-Domain Analytical Capability program, Army Intelligence plans to develop a secure cloud database that will include biometric information storage. Ultimately, the military wants to get a set of systems that take biometric data, save it to a remote server, and then allow them to identify, for example, a terrorist or a merchant
weapons
, anywhere in the world and in any place: from the African desert to the fashionable European restaurant.
The Pentagon plans to create a cloud biometric database next year. Currently being developed and mobile scanners based on conventional smartphones. It remains an open question: is it possible to add the undocumented bioscanner function to ordinary, commercial smartphones? This would allow to collect biometric data even without the knowledge of the owner, because many people take pictures of themselves with the camera of their smartphone, which is connected to the Internet
Currently, the main arrays of biometric data collected by the military are usually stored locally - directly in the combat zone. This makes it possible to identify a Taliban fighter who is trying to get a service in the Afghan army with forged documents, but does not allow identifying a Taliban, for example, caught for disorderly conduct in Pakistan or even the United States. The new program will use cloud data storage, that is, all biometrics will be combined and it will be possible to get remote access from anywhere in the world. At the same time, corresponding mobile devices are being developed, in particular, on the request of the Pentagon, AOptix is ​​developing a technology that allows using smartphones as a biometric identifier. In addition, there are several exotic programs, for example, to identify people by their unique smell and gait. All these systems are planned to be made compact, since the cumbersome 1,5-2,5-kg bioscanners are inconvenient for operational work.
Despite concerns about the security of such an important cloud database against hackers and reasonable concerns about the privacy of people, the Pentagon intends to bring its project to a successful conclusion. In August 2014, the vast array of biometric data collected by the army will begin to flow to the cloud server. Most likely, in a few years the United States will have biometric data on a significant part of the world's population, especially from countries visited by American troops, as well as on people who crossed the border of their country and were subjected to biometric scanning. It is possible that US intelligence agencies will be able to obtain data from biometric passports of other countries.
The creation of such a large-scale database, accessible from anywhere in the world, will dramatically increase the effectiveness of special operations conducted by agents of the US special services and American troops. In addition, the database can serve as a basis for conducting large-scale sociological and other studies, as well as relevant experiments. In general, it becomes obvious that already in the near future it will be very difficult to hide on the globe even to those who can change their appearance, documents, way of life and region of residence.