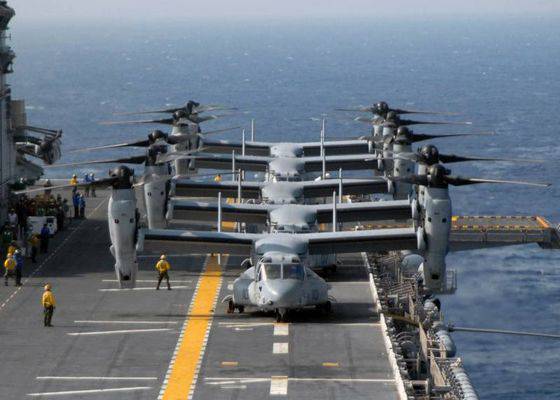 US Department of Defense announced the conclusion of the Command
aviation
systems of the US Navy with the Bell / Boeing consortium of a long-term contract for the supply of V-22 Osprey submarines.
The total cost of the agreement is 4,894 billion dollars.
In accordance with the terms of the contract, the Bell / Boeing consortium should supply the 92 MV-22 PLA for the Marine Corps and 7 the CV-22 PLA for the US Air Force for a five-year period. All work under the agreement must be completed by September 2019. Cost of supply in the interests of the Air Force, Navy and MTR US in 2013 FG will be 326,699 million dollars.
The agreement also includes options to supply 23 additional hinge plans, including 22 MV-22 and one CV-22.
According to the assessment of the US Navy representative James O'Donnell (James O'Donnell), a long-term agreement will allow the Navy to save up to 1 billion dollars compared to annually concluded contracts.
The command of the aviation systems of the US Navy plans to purchase a total of 50 units. CV-22 for the Air Force, 48 MV-22 for the Navy and 360 MV-22 for the USMC.
Currently, Bell / Boeing are implementing the first long-term contract for the supply of V-22 submarines during 2008-2012 FG, which provides for the production of 174 convertiplanes: 143 units. in version MV-22 for KMP and 31 units CV-22 for USAF MTR. The contract initially included the production of X-VUMX converters V-167 Osprey with a total value of 22 billion dollars, but then 10,4 additional submarines were ordered, including 7 units. for Air Force and 5 units for KMP USA.
The possibility of concluding a third long-term contract for the supply of convertiplans to 100 (including 48 units for the Navy) is currently being discussed.
The second long-term agreement provides for the possibility of starting the delivery of the V-22 PLA to foreign customers. In April, Defense Secretary Chuck Hagel announced plans to sell Israel's convertoplanes. In turn, Boeing announced its interest in purchasing the Osprey V-22 PLA from the armed forces of Canada, Germany, Japan, Norway and the UK. According to Bell Helicopter, sales can be realized in 10-12 countries.
V-22 is the first multi-purpose combat aircraft, using the technology of rotating engine nacelles with a rotor. It is capable of performing both horizontal flight at high speed over a long range in an aircraft-like manner, and vertical take-off, landing and hovering, like a helicopter.