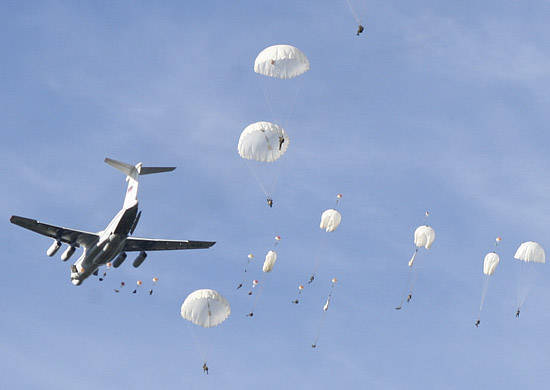 The combat power of the Airborne Forces will be increased due to the formation of airborne assault and paratrooper regiments, new regiments will be formed before 2020, said Commander of the Airborne Forces of the Russian Federation Colonel-General Vladimir Shamanov.
"By the same date, it is planned to equip parts and formations with new weapons and military equipment at 70 percent and fully switch to contract service," Shamanov said at a meeting with military attaches of foreign powers on Tuesday, ITAR-TASS reports.
The headquarters of the Airborne Forces explained that it was a question of including in the current airborne assault and airborne divisions of the two-regiment composition of the third regiment, and each regiment should have an army company
aviation
and a unit for unmanned aerial vehicles.
Speaking about the prospects for the development of the Airborne Forces before 2025, the commander said that it was planned to switch to a mixed manning of airborne divisions, which would have three components - airborne, lightweight airborne, and airborne assault.
"The first of them is planned to be equipped with airborne combat vehicles capable of parachuting from military transport aircraft. It is planned to use such brigades at any continental theater of military operations, "said Shamanov.
According to him, the light airborne component, represented by the relevant brigades, will be equipped with light armored combat vehicles on a wheelbase. This technique can be used in the mountains and urban environments.
The colonel-general emphasized that the brigades would participate in peacekeeping operations and local armed conflicts.
As for the promising airborne assault brigades, then, according to the commander, it is envisaged for them to supply promising airborne assault vehicles and other military equipment, unified with the equipment of the Ground Forces.
"These brigades are intended to carry out air assault operations both as part of a group of troops and independently," Shamanov said.
30 May Shamanov spoke on the development prospects of the Airborne Forces at a meeting of the Defense Ministry board. After that, he told reporters that the Airborne Forces Command considers it necessary to have in the "winged infantry" formations army army units, unmanned aerial vehicles and An-2 aircraft.