The Motor Sich Company, in the framework of the largest European helicopter exhibition which opened in Moscow, presented a helicopter of its own production, MSB-2.
SME-2 is built on the basis of one of the most honored helicopters in the world
stories
- Mi-2. However, it differs from its prototype by a more powerful engine: instead of the traditional GTD-350 power units, a modern, more powerful turboshaft AI-450M turbine engines produced by Motor Sich are installed on the Ukrainian helicopter.
Also on the helicopter is a modern air navigation complex. In addition, MSB-2 is equipped with new fuel tanks on the external sling, which made it possible to increase the useful volume of the cargo compartment, increase the ergonomics of the passenger compartment and increase the flight range.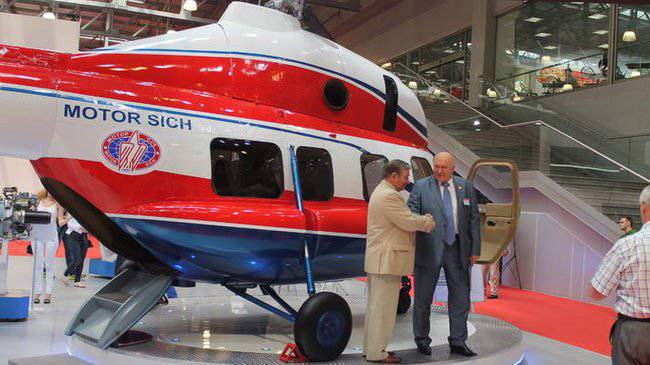 In particular, the range of the machine presented in Moscow is 550 kilometers at a maximum speed of 235 km / h, and cruising - 200 km / h. The maximum take-off weight of the new helicopter is 4 tons. The certificate of the developer of this helicopter, Motor Sich, was obtained in 2011, and in April, 2013 began its testing and preparation for mass production. To certify the helicopter is planned before the end of this year.
The passenger version of the helicopter is presented in Moscow: it is capable of taking on board up to 9 passengers and is controlled by one pilot. Such helicopters are planned to be used to deliver goods and passengers to remote and inaccessible settlements, as an air taxi, for corporate transportation, etc. In addition, Ukrainian engineers developed several other modifications of the MSB-2: machines designed for emergency situations, sanitary
aviation
, fire extinguishing, processing of agricultural crops.
And for military needs, a modification of SME-2MO was created: in addition to the usual equipment, two weapon farms are installed on such helicopters to house blocks of unguided rockets or universal gun containers.
The estimated cost of the SME-2 helicopter is 1,5 million dollars. At the same time, according to Motor Sich, the total need of Ukraine for helicopters of this type is 400-460 machines, of which 300 is for the needs of the national economy, and 100-160 is for the Ministry of Emergency Situations, the Ministry of Internal Affairs, the fire brigade, sanitary and border services.