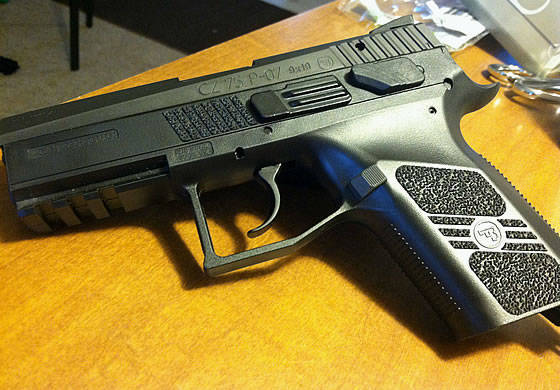 During the IDET-2013 exhibition (22-24 in May, Brno, Czech Republic), representatives of the Česká Zbrojovka defense company (Ceska Zbrojovka - CZUB) announced the conclusion of another contract with Egypt
weapons
.
According to Altair, during the IDET-2013 exhibition, the general director of CZUB (Ukharsky Brod) Lubomir Kovarik (Lubomir Kovarik) confirmed the information on the conclusion of a contract with Egypt for the supply of 50 thousand self-loading CZ 75 P-07 "Duty" pistols (Duty). Delivery must be completed by the end of the year. In addition, L. Kovarik announced the conclusion of a contract for the supply of several hundred 2013-mm submachine guns "Scorpion-EVO 9A3" (Scorpion EVO 1A3) to Egypt.
According to reports, the contract with Egypt for the supply of 50 thousand pistols CZ 75 P-07 "Duty" was concluded in the first quarter of this year.
L. Kovarik also reported on the ongoing negotiations with CZUB on the supply of a large batch of small arms with representatives of Iraqi security forces. Until the end of this year, the Iraqi side should decide on the purchase of a large batch of new assault rifles, sniper rifles, as well as self-loading pistols.
Ceska Zbrojovka has stated its readiness to fulfill Iraq's demand to establish a service center in the country, as well as a training center for training military personnel and law enforcement officers in the combat use of new small arms systems.
The Iraqi Armed Forces and the police use a diverse arsenal of small arms consisting of American, Chinese, Bulgarian, German, Polish, Romanian and Ukrainian samples.
CZUB is one of the largest, but not the only manufacturer of small arms in the Czech Republic.
The annual production volume of CZUB is 180 thousand guns, assault rifles, self-loading rifles, which are mainly exported.