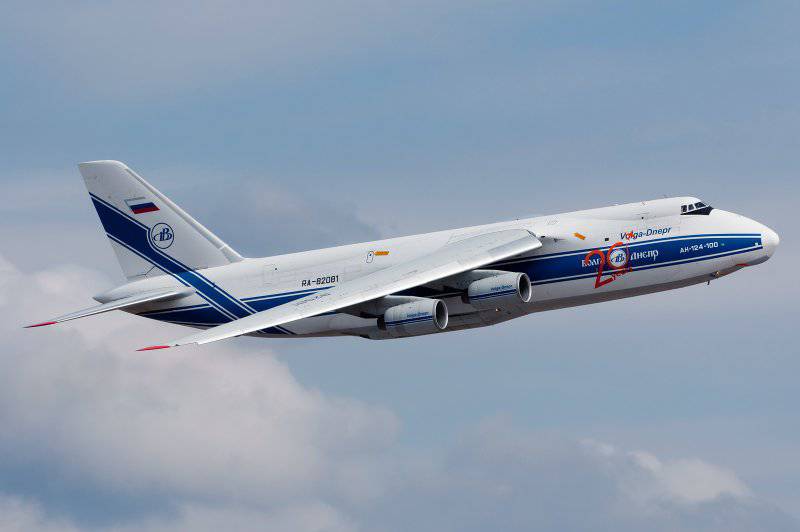 Ukraine and Russia are preparing to implement a pilot project for the joint production of An-124 military transport aircraft. This was announced by the Deputy Prime Minister of the Ukrainian government, Yuriy Boyko.
According to him, the parties also plan to expand cooperation in the implementation of projects for the production of a number of other aircraft models. "Our proposal, supported by Russian colleagues, is to make a pilot project for the production of An-124, show how it works, and then go on to deeper integration with respect to other aircraft, both passenger and specialized," said Boyko.
The An-124 aircraft is attractive to Ukraine's partners in the Russian Federation, the Deputy Prime Minister noted. "This is a very large aircraft, which can lift about 100 tons of cargo, take off from short lanes," - he stressed.
The Deputy Prime Minister noted that a joint venture (JV) could be created for the implementation of the An-124 construction project. "The most realistic project is the construction of an AN-124 aircraft by a joint venture, taking into account the contribution of each party," he said. The Ukrainian side can bring a technological base and an innovative component to such a joint venture, while the Russian side can introduce a financial component and a market for sales. "In this case, the intellectual property of the joint venture should be protected by appropriate documents from the transfer to a third party," the deputy prime minister added.
According to Boyko, the creation of a joint venture by Ukrainian and Russian manufacturers
aviation
technology will allow them to avoid competition among themselves and to promote the promotion of joint venture products in the markets of third countries. "We are interested in the joint venture starting work as soon as possible. Russia has its own achievements, we are our own. If there is a corresponding pool of efforts, this, of course, will have a positive effect," he said.
The Vice Prime Minister also expressed confidence in the successful implementation of projects for the construction of aircraft developed by the Ukrainian state enterprise Antonov. "All Antonov airplanes, and now more than 5000 flies them in the world, are very reliable machines. And the projects for their release will only be developed," added Boyko.