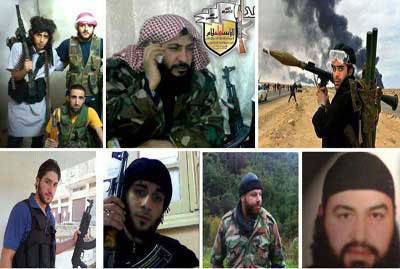 From Yemen and Tunisia, certainly.
The Yemeni newspaper Al-Jumhur reported that some circles hold large-scale recruitment campaigns in the south of the country. They are then sent to Syria for terrorist activities in the ranks of Dzhebhat An-Nusra and other armed groups.
Recruitment is carried out under the patronage of the United States, Qatar and Saudi Arabia. This is part of the dirty plans of the United States, Israel, and the Muslim Brotherhood to destroy Syria as a state by inciting interfaith discord.
The newspaper noted that in the south of Yemen, the Muslim Brotherhood still continues to recruit mercenaries who are sent to Turkey, and from there they get to Syria. This process is funded by Qatar. Each recruited person earns thousands of Qatari pounds per month on 2.
In turn, the newspaper An-Nasr, published in Algeria, reported that in the Algerian city of Annaba there is a group of 8 people - people from Tunisia. They write down young men who want to go to Syria under the slogan "jihad." This group works in coordination with the international network, whose office is located in Tunisia. Recruiters speculate on youth unemployment.
Tunisian teenager told history his recruitment and sending to the SAR
Tunisian teenager Visam al-Ashi, who returned to his homeland from Syria, told the story of his recruitment. According to him, some bearded men taught him and prepared psychologically to participate in hostilities under the slogans of "jihad." First, he was sent to Libya, where he trained in a special camp. Then he was sent to Syria.
The Tunisian newspaper Al-Shuruk noted that Al-Ashi revealed very dangerous facts about the recruitment of young people, of whom they make war criminals.
The newspaper added that youth recruiters often threaten those who refuse to carry out their orders.
It should be noted that 17 March, a Tunisian newspaper Tanit Press, reported the death of an 10-year-old Tunisian boy named Al-Faruk At-Tunisi. Together with his father, he was in the ranks of the Dzhebhat An-Nusra grouping and was killed in one of the clashes with the Syrian army.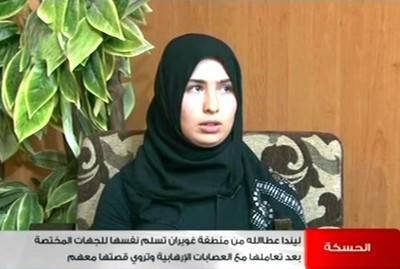 Local, too, of those who managed to get
A girl named Linda Atalla, who had connections with terrorist groups, spoke about the militant crimes in the city of Hasaka. They kidnapped and killed civilians, engaged in theft and looting.
In her confession, which was broadcast by Syrian TV, which surrendered to the authorities, Linda said that she was born in the Gouveiran district of Hasaka and studied at the university's economic department. Repeatedly visited her relatives living in the same area, not far from the house of which was an army checkpoint.
As the girl often passed by the servicemen, sometimes she stopped and talked to them. The terrorists spotted her during such conversations. After that, a certain Nidal Ahmad, known as Abu Qusay, began to threaten her that "Dzhebhat Al-Nusra" would kill her for contacts with military personnel, accusing her of treason.
Linda told the terrorist that she did not give the militants any names of militants. But he replied that she must prove it, otherwise she would be killed.
The terrorists ordered the girl to send a message to the servicemen calling for the army to desert, and under threats she agreed. Moreover, the criminals attacked her father's car, threatened her uncle, and even tried to kidnap him with her daughter while they were in the car.
Militants began to send their messages to the military at a roadblock through Linda. Then they demanded from her assistance in the abduction of one of the officers, whom she had to distract.
The terrorists gave her a document certifying that she is a member of one of the brigades, and said that inside this certificate there is a special microchip that can be used to track her movements. If she tries to go to law enforcement, the militants will know about it. Later, she learned that in this way she was intimidated, and inside the document was a SIM card of a mobile phone.
Under the threat of militants, she carried out what they demanded. After some time, Abu Kusey sent her to the camp for the training of militants, who was on one of the plantations of a certain Hamel. There she was trained along with two other girls - Ruba Dervish and Dima Al-Moused. Together with them, trained two young men - Muhammad Bakr and another, whose name she does not remember. They were trained to handle firearms.
weapons
.
According to Linda, the militants belonged to different groups and organizations. Some of them traveled to Aleppo for ammunition that was delivered to the settlements of Ras al-Ain and Al-Shadadi, Hasakah province.
She said that the terrorists were pursuing employees of state institutions, especially those who have cars. Abu Qusay is a man who threatened the head of the water supply department for refusing to give his car to the militants. Later he was kidnapped and killed, taking the car. They also attacked the transport department in the Gouveiran area and stole several motorcycles.
Terrorists abducted not only military personnel, but also civilians, especially doctors, engineers, financially secure people, in order to receive a ransom from their relatives. For example, the dean of the faculty of economics was abducted along with his car. He was released after paying a large cash ransom. The militants then kidnapped five doctors and demanded millions of Syrian pounds in exchange for their freedom from 5 to 10.
"From my own experience with relations with the militants, I realized that we are not talking about any real revolution. They rob, threaten people, kidnap military and civilians. Hospitals in our area were left without doctors, because, fearing for their lives, they were forced to leave. So we destroy our country, "she said.
Attention! People with weak nerves, impressionable personalities and children cannot watch this video! Syrian militants are teaching children to cut off a captive head.
Materials belong to the Syrian Arab News Agency - SANA. Video - infowars.com