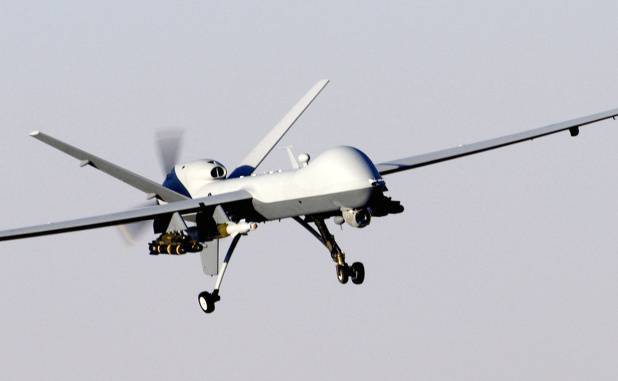 Disappointed by the obvious selectivity of the United States in relation to the Allies to provide the right of integration
weapons
on their drone drone, the Italian Air Force is considering all possible alternatives, including the creation of a black European program armed with an armed European medium-high UAV with a long duration of flight (medium-altitude / long-endurance - MALE), reports aviationweek.com 9 May
Rome asked for permission to integrate weapons on the MQ-9 Reaper (pictured) almost two years ago, but Washington's lack of response to this request is "not very acceptable," said Claudio Debertolis, secretary-general of defense and director of the Ammunition Administration for Italy. reports Aviation Week 8 May.
Italy acquired the General Atomics MQ-1 Predator and MQ-9 Reaper drums from the United States, since they could be quickly sent to strengthen the International Coalition forces in Afghanistan than to wait for the production of similar UAVs in Europe. "At the whim of the US government," Italy cannot modernize these drones, but the weapons for these UAVs are "high priority" for Italian troops, says Alberto Rosso, head of the logistics service for the Italian Air Force. "The US is not the only country that can provide these needs. We can look for an alternative, "said the general.
Italy is in talks with potential European partners to create an armed UAV, which Debertolis called Super MALE. Work on this program has not yet begun, as potential partners have not yet agreed on how to go forward. But the goal is to create such a drone using 2017 on the basis of existing technologies. If the program moves forward, this project may be presented at the Paris Air Show next month.
However, equipping the Italian Predators and Rippers with weapons is still "the preferred option," says Rosso. The general hopes that the United States will take a positive decision on this issue.
This situation occurs against the background of the fact that the United States provided the UK with the opportunity to integrate their weapons into the MQ-9 Reaper. London integrates its MBDA Brimsone rockets on these drones. In terms of its characteristics, these SDs are similar to Hellfire missiles with a millimeter-wave radar HOS equipped with a tandem warhead for engaging armored targets. In addition, the British "Reaper" already equipped with Hellfire missiles and guided bombs (UAB) GBU-12 Paveway II caliber 500 pounds with laser-guided.
Italy is using the MQ-1 Predator BLA in Afghanistan and is preparing to bring them home, sending the MQ-9 Reaper in return. The Italian Air Force was hoping to integrate weapons on the Reaper by the time of the rotation. But a long time waiting for the decision of the United States, even if it is positive, led to the fact that little money is left to integrate weapons, Rosso said.