The onboard technician of the Mi-8MT helicopter Stas was what is called the soul of the company and everyone's favorite. Stas was tall - under two meters tall, athletic physique, with a good sense of humor and a rich inner world.
In our Transcaucasian helicopter squadron, he was transferred from Germany (GDR) to replace. The dull semi-desert landscapes of the new duty station suggested an indescribable longing for Stas. Intolerable summer heat brought him out of himself.
It should be noted here that those regions were considered "a place of work with adverse climatic conditions", for which our caring state provided a benefit in the form of preferential length of service - 1 a month of service in one and a half. Summer began there in April and ended already in June, and somewhere from mid-July to early October some other period of the year began, the name of which is difficult to pick up - it was just hot, when the grass completely burned out under the scorching rays of the sun, and everything around turned into a desert. We conducted training flights during this period either from early morning until dinner or late at night until late at night, because it was impossible to touch the "iron" in the afternoon heat.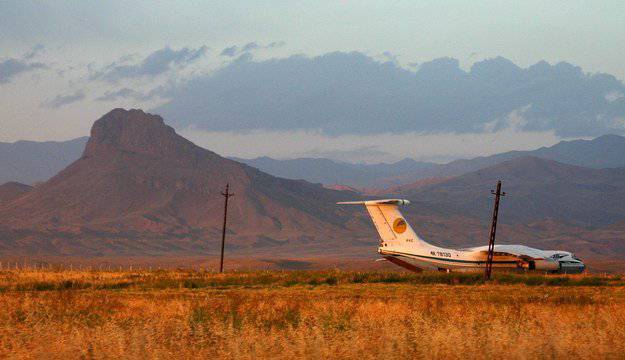 After serving for several months, Stas was firmly determined to transfer from this "God-forgotten hole." I went on vacation home to Nizhny Novgorod and took the attitude to the transfer in the local squadron of the Internal Troops. How long is it short but, in the end, everything worked out for him? Charges were short. Stas, according to established tradition, put down as expected. We wished him a successful service in Russia, of course, they envied him and, of course, accompanied him.
A month has passed. A team arrived urgently to fly to the region of Nagorno-Karabakh. Two units (8 helicopters) of the Mi-24, armed "to the teeth", overcoming a certain distance, landed on the "airfield" of the city of Stepanakert. Looking around the picturesque surroundings of the landing site, the crews could observe a small tent camp, several armored personnel carriers, military trucks, and at the "airfield" - a Mi-8 link with a white stripe on the tail boom. The helicopters were driven by several people, among whom there was one, painfully familiar figure of tall stature. It was Stas. When we were taxiing, he walked towards us with wide-spread arms and a disarming snow-white smile from ear to ear.
As it turned out, immediately after Stas was appointed to his post at the new duty station, they were urgently sent here on a business trip. And Stas has been here for a week, during which he managed to get a few holes in his eight and "sit down on the forced" one time.
"The Caucasus does not let me see," Stas said in response to our welcome pats on his shoulder.
...
We put on board numbers on our twenty-fours with boot wax (we got beautiful card suits) and the "business trip" went on as usual. The outfit eights sent special forces from one mountain to another, and we covered them. In general, nothing special - ordinary
aviation
service…