About the Mozambican trio, I think, heard the majority of readers. And about the "Romanian trio" - not all. I myself found out about this sample a few days ago: thanks to the "Lopatov" user.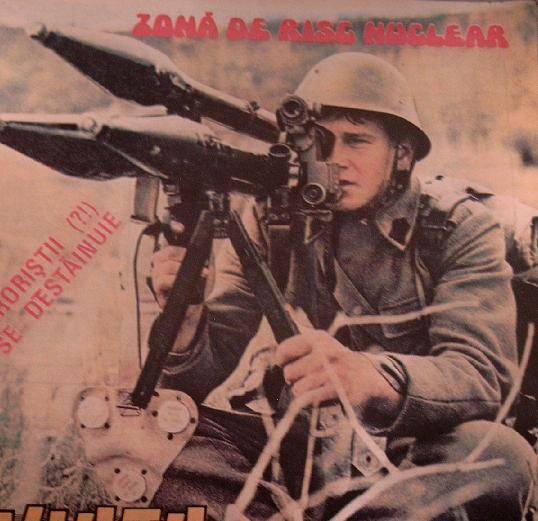 So, get acquainted: a product of the Romanian production AGI 3X40. The abbreviation "AGI" stands for "Aruncator de Grenade incendiare", which literally translates from Romanian as "grenade launcher for firing incendiary grenades". It sounds so-so: like "oil of oil". I propose to translate the name by words and make possible combinations, and then - to summarize the results. Aruncător - throwing device or launcher; Grenada (e) - garnet (s); Incendiar (e / a) - incendiary (e / i); Aruncător de Grenade - grenade launcher; Grenade incendiare - Incendiary grenades. The index "3x" means the number of stems, and the figure "40" - caliber. So, we get some kind of launcher, equipped with 3-my barrel caliber 40 mm, which uses incendiary ammunition for shooting.
Since no other ammunition was supplied for AGI 3X40, I decided to classify it as a rocket flamethrower. The Germans called this product "Brandgranatenwerfer", and in English it is called "Incendiary grenade projector". In the place of a developer, I would call him "Lansator de Proiectile Incendiare".
AGI 3X40 was designed for the destruction of manpower, the creation of fires, the defeat of sheltered firing points, lightly armored and automotive vehicles, as well as for the destruction of aircraft on airfields. Designed to replace the "classic" (jet) light infantry flamethrowers of the Soviet production LPO-50.
AGI 3X40 is a reusable, multi-charge starting device for firing incendiary rockets. Optimal for shooting in the "lying" position: an adjustable bipod was supplied with the kit. Despite a decent weight, shooting is also possible from the shoulder: in the "sitting", "from the knee" and "standing" positions.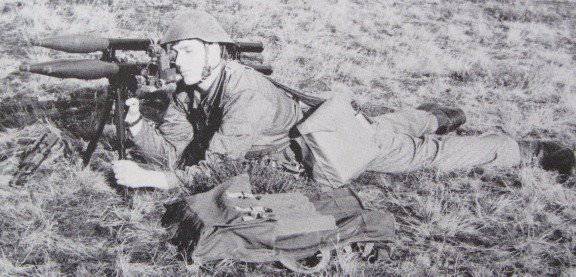 Fighter prepares for salvo from the "lying" position
Thanks to its multilateral design, AGI 3X40 allows to achieve very high fire density. At the test site, under ideal conditions, the time to make a volley from 3's barrels is 2 seconds. Shooting is carried out by successive pressing the trigger: pressed the first time - the first went; pressed the second - the second went; clicked a third time - the third went. And all this in 2 seconds.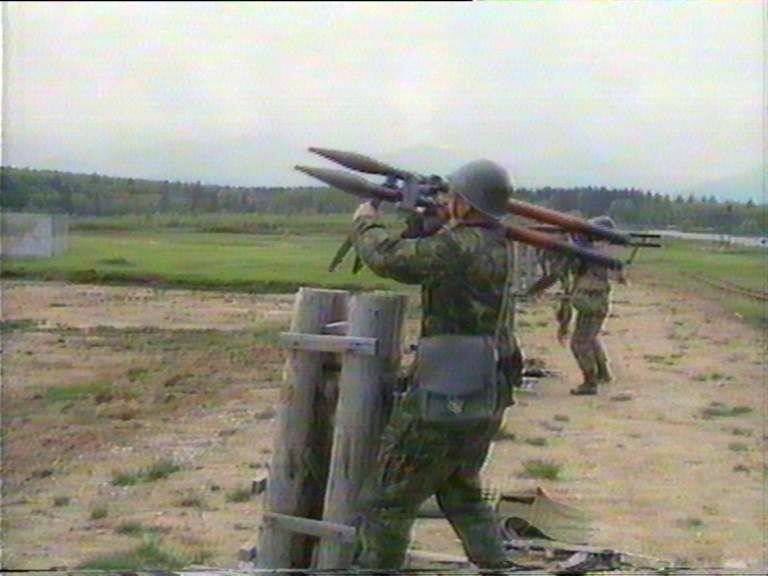 Fighters are preparing for a volley from the "standing" position
The ability to instantly correct the aiming after a miss and make another shot without having to remove the grenade launcher from the aiming line and reload it - very, very good. Here you can even bear weight in 15 kg. and the general relative underexposure and imbalance
weapons
.
General data AGI 3X40
Type: Multiple Jet Flamethrower
Country of Origin: Romania
Developer: Întreprinderea Nr. 2 Brasov, Sectia Mascare si Mijloace Exploziv-Incendiare
Adopted: 1974
Decommissioned: end of 1990's
Operators: Romania, GDR, Hungary
Mass-dimensional characteristics:
Curb weight: 15 kg.
Barrel length: 958 mm. (without projectile)
Number of shafts: 3
Calculation: 1 man
The flamethrower is a block of interconnected 3-x smooth barrels of caliber 40 mm, open on both sides. AGI 3X40 consists of: a barrel group with a folding bipod, a telescopic sight and an electric trigger mechanism with a fuse. The launch of the projectile is produced from an electrical impulse (5V, 1A), formed when an electrical mechanism is triggered, located in the pistol grip.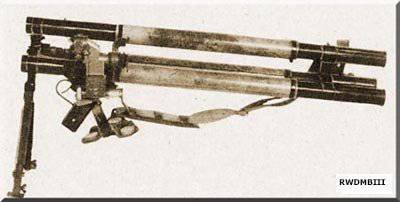 General appearance AGI 3X40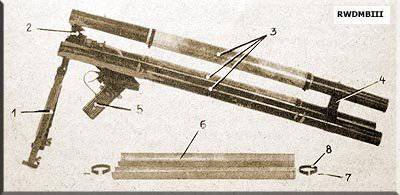 Parts and mechanisms of AGI 3X40
1) Pony (bipod)
2) Front fastener-clamp and bipod contact pad
3) Barrel (3 pcs)
4) Rear Fastener
5) Electro-trigger with fuse
6) Heat insulating jacket for the barrel (2 halves / barrel)
7) Bolt for clamp
8) Metal Clamp (for linings)
Optical sight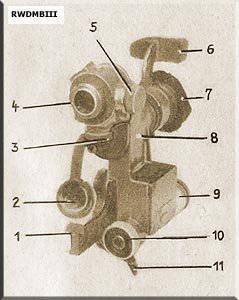 The upper part and mount reminds PGO-7.
I translated all the inscriptions from German.
Sorry if you notice any errors.
1) Halterung (Bracket)
2) Objektivschutz (Cap)
3) Temperaturkorrektur (Temperature Adjustment Handwheel)
4) Obejektivfilter (Optical design)
5) Justiereinrichtung (Alignment Mechanism)
6) Stirnstütze (Headrest)
7) Augenschutz (Eyecup)
8) Gehäuse (body?)
9) Aufsatzskala (rangefinder?)
10) Aufsatztrieb (elevation angle mechanism?)
11) Klemmvorrichtung (Bracket)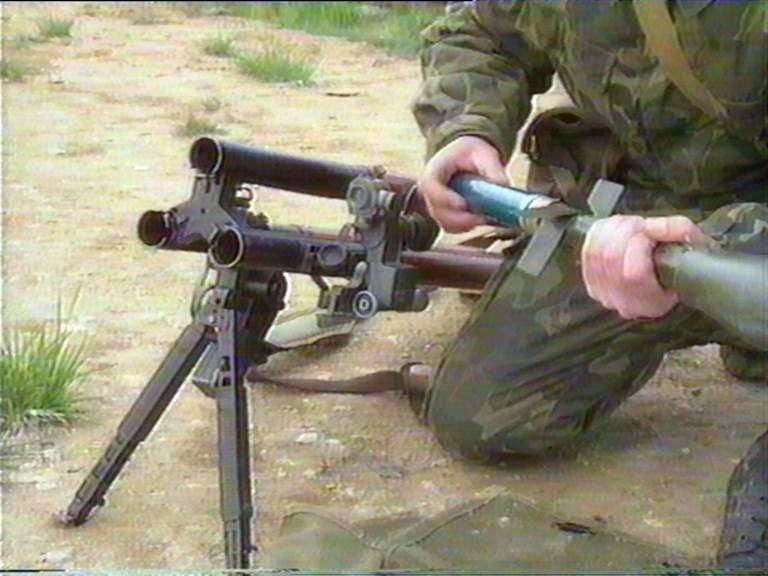 Preparation of the projectile to the shot.
As the saying goes, "screw the jet engine tube all the way." It was not possible to find out how it was supposed to fold the stabilizer feathers. Most likely they wore a ring. Or maybe they were simply folded around the stabilizer tube and squeezing the plumage in their fist inserted into the muzzle of the barrel.
Shot for a flamethrower
Caliber (mm): 40
Warhead Caliber (mm): 72
Length (without jet engine) (mm): 603
Total projectile mass (kg.): 2,25
Warhead weight (kg.): 1,63
Jet engine (kg.): 0,22
Stabilizer (kg.): 0,4
Initial speed: 90 m / s
Shooting Range (m): 200
Range (m): 500-550
Incendiary burning temperature: 1500-2000 ° C
Ammunition: 12 shots

1) Granatkopf (Warhead)
2) Mundlochverschlussschraube (Stub)
3) Bodenzünder (Fuse) CG-1
4) Pappscheiben (cardboard ring gasket
)
5) Stabilisator (Stabilizer)
6) Schutzkappe für Gewindestutzen (Protective cap with thread)
7) Treibladung (Jet)
Here is such a curious perdemonocle developed, produced and even exported by our Romanian partners in the Warsaw Pact. A curious fact: AGI 3X40 was put into service a year before the appearance of the RPO "Lynx". I saw a more lethal thing only by Arnold Schwarzenegger in the movie "Commando".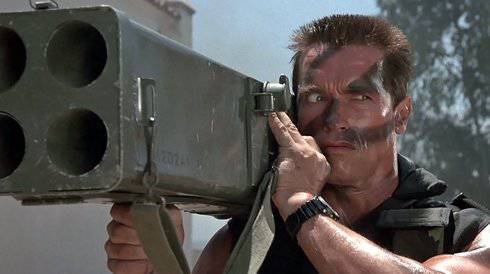 M202A1 FLASH was adopted in 1978.
A lot of useful information on the topic was found in the magazine "Waffen Arsenal".
http://ro.wikipedia.org,
http://www.rwd-mb3.de,
http://www.nva-forum.de,
http://strangernn.livejournal.com