The commander of the Syrian Free Army, Salim Idris, said he was ready "right now" to meet with Russian officials to discuss ways to end the armed conflict in his country.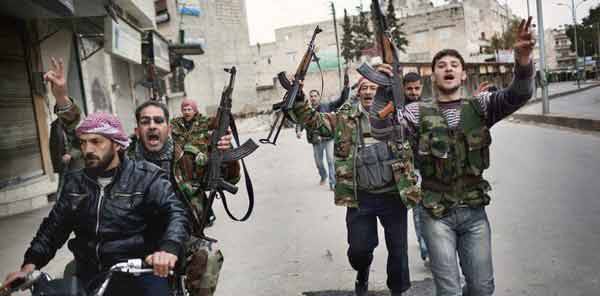 "If they have any interests, then we will discuss the future role of Russia (in Syria). We will be very positive, "he said in a published interview with The Washington Post.
As the newspaper notes, "the willingness to work with Russia" and the fairly moderate views of Idris explain, in particular, why he managed to gain support from the administration of Barack Obama.
The United States makes it the main stake among the leaders of the Syrian opposition and recently began direct deliveries of military equipment and humanitarian aid to the Syrian free army he heads.
This week, Idris sent a letter to the White House with a request to expand support for the Syrian rebels who are fighting with President Bashar Assad, and the United States has assured them that they will step up these efforts. At the same time, Washington continues to refrain from supplying combat weapons systems to the rebels, although it does not exclude that it may reconsider its approach to this problem.
In an interview with the publication, Idris also said that he gave orders to his units to distance themselves from the Dzhebhat al-Nusra (Front of Victory) group, linked to the Al-Qaida terrorist network.
"We do not work with An-Nusra, we have nothing to do with them," said Idris, who had the rank of general in the Syrian government forces and switched to the rebels last year.
According to the American newspaper, "the most difficult thing for him will be to establish control over the Islamist militants, who have been the backbone of the Syrian Free Army for almost two years," ITAR-TASS reports.
On the eve of the White House spokesman Jay Carney said that the US authorities will increase support for the Syrian opposition, but have not planned to supply it with weapons.
He said these words, commenting on the publication in The Washington Post that President Barack Obama is preparing to order supplies
weapons
Syrian rebels.
The US authorities have previously made it clear that they can use military force in response to the use of chemical weapons by the Syrian authorities.
Last Tuesday, the media issued a statement by the Syrian authorities, who accused opposition militants of using chemical weapons against civilians in the city of Sarakeb in the province of Idlib in the north-west of the country, in order to later blame the government forces.
The Syrian government has announced that on March 19, the opposition used chemical weapons in the province of Aleppo. The opposition, in turn, claims that government forces used it in Homs in December.
However, the UN asks the Syrian authorities to allow an investigation into the possible use of chemical weapons. Damascus is asking to join the investigation of Russian representatives.