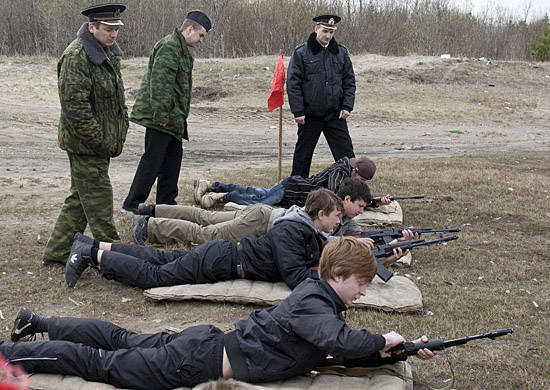 In the Krasnodar Territory, the first stage of the military field gathering with young men - students of vocational schools and senior classes of schools in a number of districts of the Krasnodar Territory began on the basis of a military unit of the Southern Military District (YuVO).
At 80, students for five days, under the guidance of experienced officers and sergeants, will have to learn the basics of military skills and learn the basics of combat and fire training, study the All-Military Charters of the Russian Armed Forces, and during radiation, chemical and biological protection classes, work out the standards for donning a gas mask and general arms. protective suit.
As part of the fire training, young people will perform an accuracy of the initial Kalashnikov shooting exercises on targets located at a distance of 100 m.
For the whole time of the gathering, the military routine is introduced for the young men. They will live in barracks and eat in the soldiers' canteen.
As part of the collection activities, an excursion to the army airbase is also planned.
aviation
Southern Military District, where they can get acquainted with the latest Mi-28N Night Hunter, Mi-35M, Mi-8AMTSH Terminator and Ka-52 Alligator helicopters, which entered service in 2012-2013.