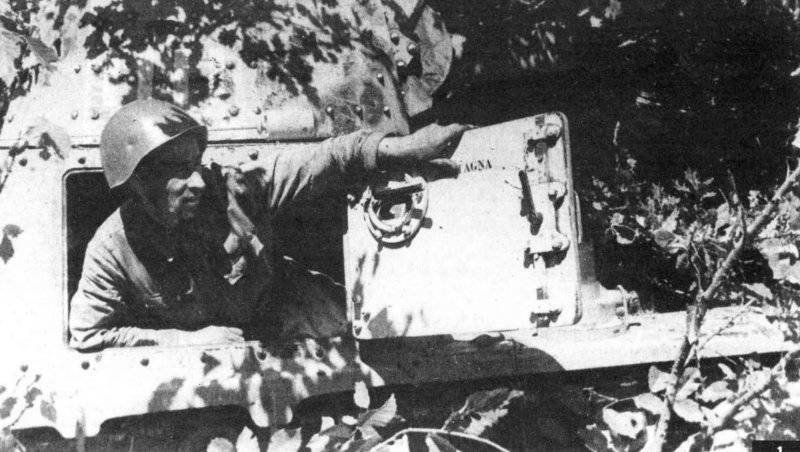 "The brave guardsman armor-piercer I.S. Gorbunov in the German captured by him tank. Stalingrad direction 1942 " (Pictured is an Italian-made L6 / 40 tank)
In those years, when I actively communicated with veterans of the past war, for some reason I really wanted to introduce them to our circle - people, which, in theory, should have listened to the stories of the "old men" with reverence. But it was surprising that these attempts were mostly in vain. Even those veterans who rather briskly answered my simple questions about their past, either completely refused to attend such meetings, or still being on it, often closed in on themselves, making it all their appearance that they felt they were superfluous here.
That time everything happened almost the same. Ivan Stepanovich Gorbunov, having heard from me that in Moscow there is some kind of club where amateurs gather
stories
the warriors once expressed a timid desire to visit him, and I naturally volunteered to conduct it. But, arriving at the club, after half an hour, he became thoughtfully, silent, refused to participate in all the conversations where I tried to engage him, and after another half an hour he decided to bow out. I also bowed.
On the way home, he looked into the commercial tent and bought an inexpensive bottle of vodka there, inviting me to join him in the company for tea. I realized that an elderly person wants to share his impressions of what he saw, and I accepted his invitation with pleasure.
As expected, after coming home and taking "for warm weather," Ivan Stepanovich started a conversation about what he had seen at the club.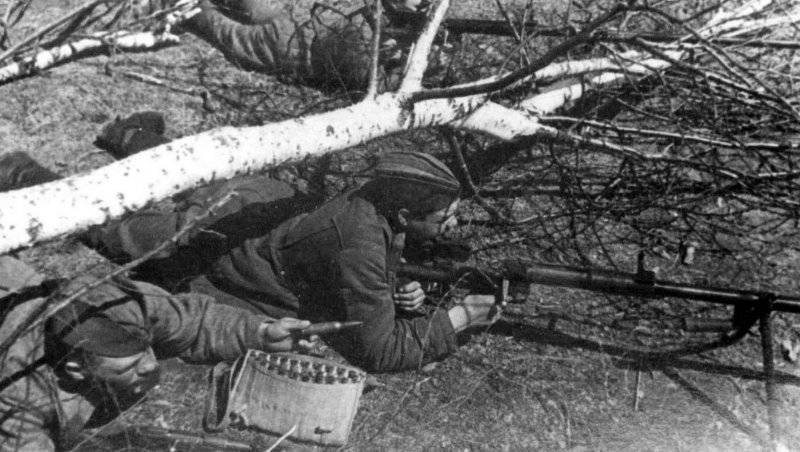 Armor plate platoon Comrade. Krasnov in ambush. District Zheleznovodsk. (Typical staged frame)
"Forgive me for breaking your plans for today." But I could no longer push on this bunch. What? Did I say that there is bad? Just somehow it was not in itself ... - he snapped out the pack of "crush" from the pack, stretched it with his fingers, lit it from the gas stove and continued:
- I didn't even go to school for children when they were invited to the holidays. I don't like it when I have to tell some trite things that don't correspond at all to what it really was, but also to invent some feats. Special. And war is a difficult thing. Rather, it looks like a long and tedious job, and not on the raids of the ataman Platov with his sabers bald. I myself did not commit feats of war, but I do not like to retell everything that was written in the newspapers, and the stories told by the political politicians, and I don't know how. It turns out that I have nothing to do at such meetings. And you have a club too. They were waiting for me there any kind of pieces of iron, as if the war was between tanks, airplanes and other machines. And among themselves it was more and more discussed which tank was better, but which aircraft had a stronger gun and a bigger bomb. And the people that these planes fought, in their language, it seems like instead of lice with technology. Even a shame, by golly!
"Remember that mustache in a tweed jacket?" When you told him that I was an armored armor at the front, he already soared up with joy and let me ask, but not about the war, but about what PTR I liked the most? Ugh!
- And I'll take it and tell him that a normal person cannot like any PTR. Well, he was taken aback, and then let me water the numbers, just what an encyclopedia. And I knew from the numbers where he was going. He himself suggested to me the answer to the question he asked. He wanted me to confirm that our PTRs were the strongest in the world. The boy he, though, in sight, and exchanged the fourth dozen. He still didn't understand that the Germans didn't fire up the PTRs themselves! So that!
- Well, I ask him why he compares our PTR with German, which they only had at the very beginning of the war? Unfair it is. We at the beginning of the war, then the PTR did not exist! Copies from the Germans of the same caliber 7,92, or chambered for DShK, appeared by the Moscow battle. And in 1942, when fourteen-and-a-half went into battle, the Germans had a heavy two-centimeter "buchs" that our tanks were full of holes. And their old 39 of the year has also changed. The caliber remained the same, and the length was reduced, and instead of tiny little bullets, he began armor-piercing bullets on our tanks with grenades. And more fragmentation too. Very useful against machine guns and infantry grenades. Here are the benefits. The gun is lighter, shorter than ours, and God forbid armor! And the fire inside the tank carries. All thirty-three fun. And what is the PTDD fragmentation? No!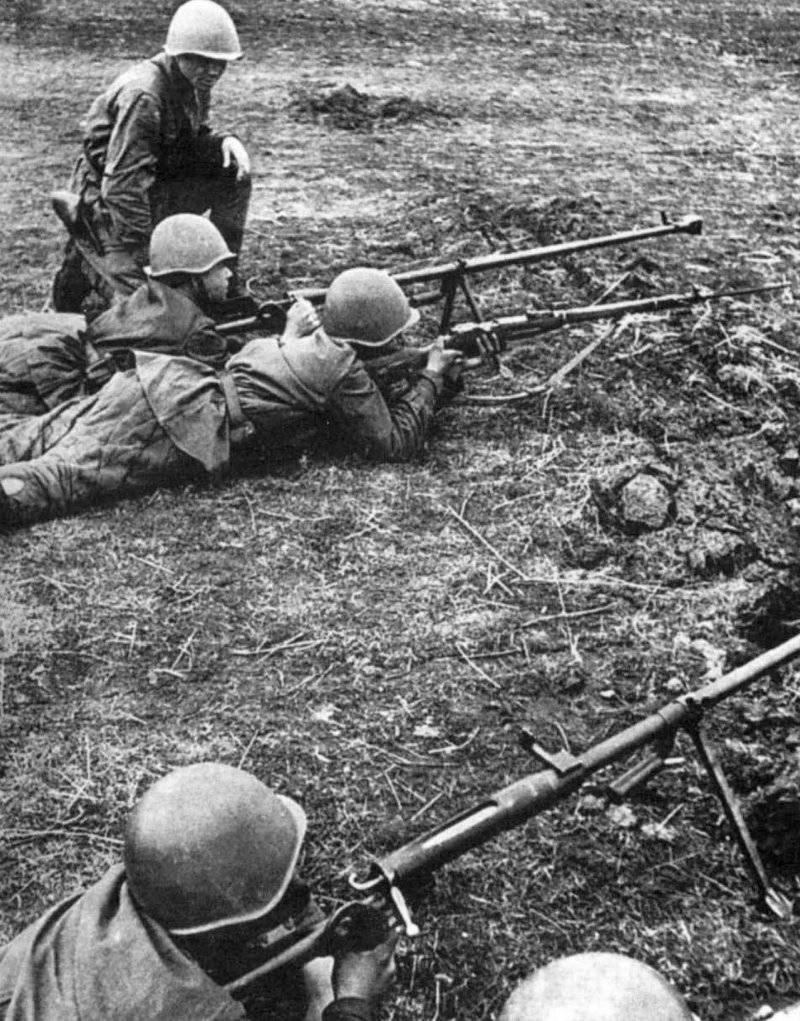 Armored workers during classes. Spring 1943
"So if we figure out, our Germans did not outperform our PTRs." And they made them because in the summer of forty-first we had all our guns, while we had dragged from the border, abandoned. So we had to our women, but the old men with boys were hastily guns with a long barrel, which we called "fishing rods", to master. They are easier and cheaper than guns. But the German PTR against ours were much more than bad, as long as the multiply-charged "Faustpatron" did not work out for them. So it turns out that fools are all your "strawberries", that they are trying to decide which piece of hardware is better than which. Verily they say that woe is of the mind. Excessive. I would add that crazy, idleness multiplied.
Ivan Stepanovich drank the second one, and, following his gaze as I dealt with my dose, pushed open a can of "kilka in tomato" and a piece of bread with a half onion on it. Then he shook the last "priminu" out of the crumpled pack, stretched it with his fingers and lit it, with his back to the wall of the refrigerator.
"I don't remember if I told you; How did I get to the front? Not? Well listen! I started the war in years. Still, twenty-six was. But I did not get to the front in the autumn of forty-first. We bombed our train somewhere near Smolensk. Got to the hospital, which was evacuated to Kazan. It was already in the winter. And by the spring some commanders came to us and let's agitate the convalescents to go to the commanders to learn. Well, I succumbed. It is better to command! In my years, I didn't want to go under the direction of the "green letehi". Well, I got on the platoon commander of the battalion artillery.
- They taught in the same place near Kazan. Of the hardware "Bobby" (76-mm - "shelves") and "goodbye, homeland" ("sorokapyatki") there are dead horses with elderly riders. Shells - only training, wooden in an iron sleeve, and shoot real oh how hunting! In general, it is hungry, cold, but tolerable. In the fall, we had to become junior lieutenants, but here in May the Fritz lupanul us for the first number near Kharkov and flooded to Stalingrad, as if by notes. Well, the Supreme order issued all cadets to the front as commanders of guns and gunners, not platoon commanders.
- Got to the front in June. The division is in full readiness, but there is no artillery! Just battalion and regimental. True, there are even a little more mortars than it should be, but there are no guns! We mocked like that for a week, and then the order came to receive the materiel! Well, let's go and get it ... Only not two guns, but six anti-tank rifles - two self-loading and four one-shot guns. They organized two armor-piercing offices. Mine and Sergeant Akimov. And as there were no guns, no. This is how I became, according to the documents, the gun commander, and in fact the "chest of drawers" ​​and the first number of ATGM at the same time. Just that buttonholes with guns.
- However, we did not grieve too much. In the neighboring battalion there was the same story, and indeed in the division, God forbid, a third of the cannons of the required number were available. The country is all in the evacuation! What other guns! And thanks for the PTR.
- It is clear that we were thrown on the study of the new materiel. Well, we read some kind of bespectacled worn piece of paper on a long lecture that the PTR is strong
weapons
in the fight against German tanks. That it pierces the armor in such a way that the Forty-Five was never dreamed of. What to mask it is simple, that it is easier and a whole bunch of other amenities. Then they told about the exploits of armor-raisers near Moscow ... What am I saying to you about this? I suppose I read such propaganda ravings more than once! But then we believed in all this.
- And then there were firing. And trial, and test together. They gave us four rounds on our nose and to the ravine, where our burnt T-26 was standing, it was unclear from what. According to him and the bullet. Measured out 300 meters. The fire! Got it? It fits! Struck? Well done! Chalk out your hits and pass the gun to the next one! But not all fell and not all punched. It turns out that even the old T-26 had to be able to pierce from the "strong weapon"! Doubt here has disassembled me, whether this "fishing rod" is so good, as we called the PTR between us, as it is written about in the admonition, and all leaflets. And then there is still foreman Eremenko mumbles like a spell: "In battle, son, you let the German loblizhe into the rest! Do not hurry!
- Do not hurry !!! This is when you bespectacled already buzzed all the ears that it is better to destroy their tanks from a long distance. What tank near crush you!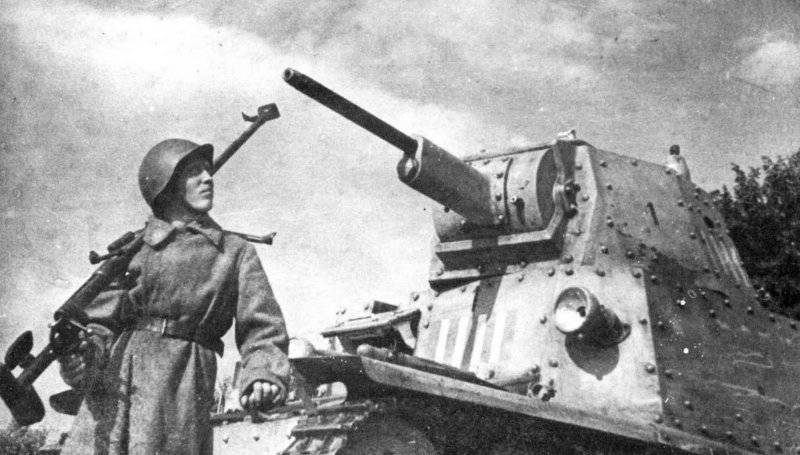 Guardsman armored soldier P. Makarenko in a wounded German tank. Stalingrad, for example, summer 1942 (in the photo - Italian tank L-6 / 40)
- At first, there was little work in the battles. We are not even involved. On manpower from us proku - zero without sticks! Then the advance of the battalion. Here and we found work - the suppression of machine guns instead of artillery. As the "samovars" were played, the "maxims" were sticking, the Slavs "Urya-I" were sucked in, so let us grandly and nobly let us fart through the flashes of their machine guns, praying the god that this pulsating flame would go out. But miracles do not happen. At dusk from half a kilometer to get into lobeshnik machine gunner from PTR with an open sight it is impossible. That continued the lead rain for the brothers-Slavs.
- In short, they came like a day or something, then, of course, they exhausted themselves and buried in the ground! Waiting for reinforcements for the development of the offensive. Only the Germans arrived ahead. In the evening, there was a buzz and clang at their side, like deaf thunder, and with a whine. "Tanks," the "grandfathers" explained to us, "tomorrow you guys will have work!" And we already knew that it would be hot the next day.
- So it happened. First came the "birds" who bombarded us with bombs, then the "Hans" played. Zahavkali tears howitzers. All war did not like this music. Yes!
"And then their tanks flooded us." Little. Six pieces in total. The thing on "angler" - nonsense! We will cope! We drive our "rods", choosing the moment for the shot. The goals are divided as agreed. Left chose Vitka-Tatar, neighbor - Romka-Permyak, right I got by lot. Another three tanks for the share of armored Akimov. Yes!
- Only one tank for a gun and it was something. And not some "tigers", but ordinary T-3 and "Prague". Your "experts" laugh, go! In their opinion, the T-3 should have been pierced through and through from any distance from the first shot. Yes, and we also thought so at first. They shot from three hundred, as they taught us, and after each shot they were sure that the tank was kaput. An, he walked as well as the feathers himself and did not guess that he was kaput to him, only he swept the terrain with machine guns.
"After the tenth shot, I even began to pray to myself, so that at least one of them would catch fire, and they seemed to be conspirators." What is there? Then they cut us up under the nut. And the whole battalion kaput would come, we shoots. But then the help came, they were waiting. They threw the Fritz back to the original ones.
- How many of their tanks we burnt, you ask? One and burned. Few? Yes, then he showed me for happiness. His first "Courage" for him and received. Only if I knocked him something? Who knows now, maybe I am. I shot him too. Only to receive a medal all one except me was nobody. Other; armored rifles are either killed or seriously injured.
- So was my first fight. And the battalion to redevelop. And you say - PTR!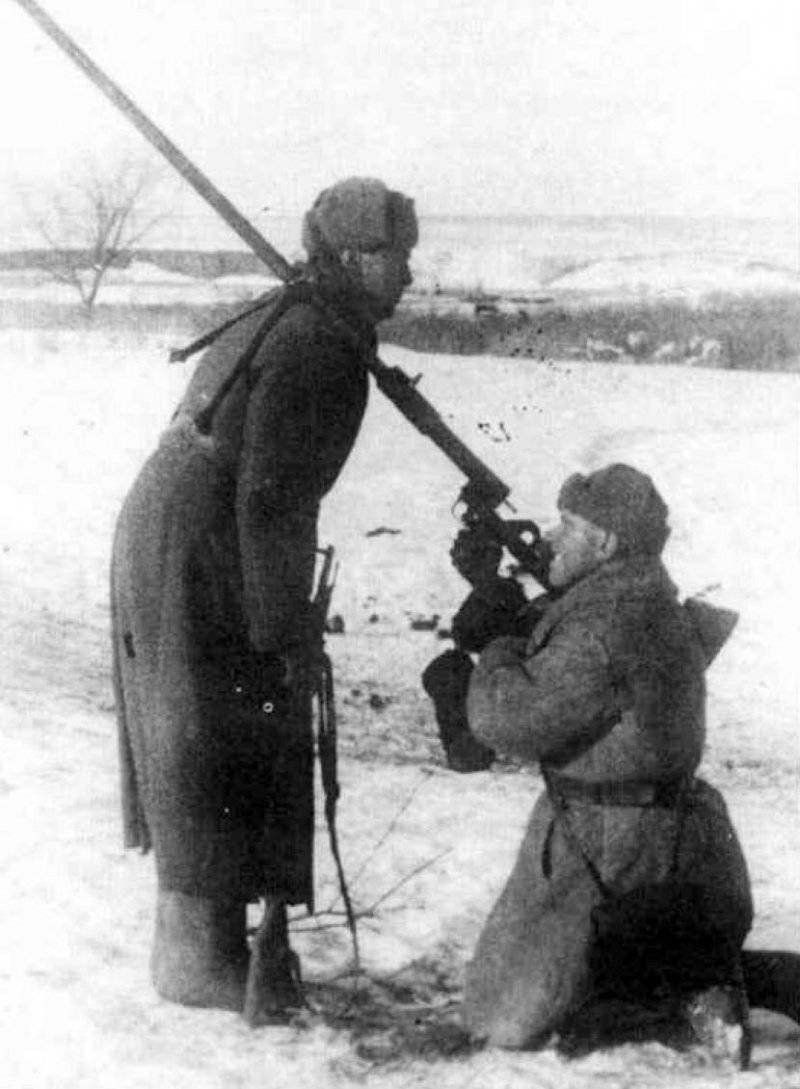 The commander of the platoon A. Krasikov firing at the plane. North West of Stalingrad, January 1943
Ivan Stepanovich with one sip finished the last glass and forged the remnants of kilka on the fork. Then he lit up the extinct "Accept" and continued in thought:
- And then we studied. Yes ... While stomping to Stalingrad - they studied all the time. Eight defensive battles, and after each battle - armor-raisers to write off. And God pardoned me. Three tanks recorded in my account. Yes, two tanks captured we Makarenko and almost serviceable. Italian tanks something. And macaroni - fighters are weak. We then for the "Red Star" correspondent from Moscow clicked against the background of the tank. Vaughn and a photo for you to prove. So somewhere in the winter we also learned how to beat them from the "fishing rods". Not only us. And the infantry units also learned. Grenades. But it was more difficult for them than for us.
- But so far I did not get into the fighter brigade in the forty-third, where there was a lot of PTR, and even with artillery, there was little sense from the fishermen.
- Why I do not like PTR? And why should you love him? Long, heavy, with an open sight and even on a bipod. Fights at shots so that the shoulder after the fight sometimes completely fell off. And what's the point? Aim as it should - get the hell. Snuggling - only with his hands, though not on weight.
- armor penetration? Do you know what it is? Or do you, like your theoretical friends, think that it is enough to turn a hole in his side in order to destroy a tank? So what if he had a hole? He is not a ship, and he will not go to the bottom. As without a hole the battle was fought, so it will continue with the hole. Does anybody from the crew get a runny nose from a draft ... Yes ... You need to break a tank or a mechanism to break the armor, or to injure the crew, or it is best to set it on fire for the pigs! Here you are from the "fishing rod" and bite him time after time. Sometimes after a fight with a dozen holes in it you count, but he crawls to himself, as if nothing had happened, and does not think to burn. And then some reporter gives these holes for the triumph of our weapon, and fairy tales appear for the kids that our weapon is so powerful that it easily makes a sneak from the German. And if he had caught fire after the first, how many lives would have been saved? That is why I say that the best anti-tank rifle tank is an anti-tank gun. Or "farewell, Motherland", and even better "fifty seven" or "seven seven". Snaryadik something they have more solid. Strikes armor and brings with it a cloud of fragments, or gases of rupture. That breaks or ignites something.
- And from the PTR only point-blank and beat on the selected places ... On the tanks, for example. So they let them those who have stronger nerves. Then they got to the right place. We had in the forty-third armored striker Maxim Malov. Pieces of ten, not twelve tanks were written on it. He was even introduced to the Hero, but he got drunk on some face, he was eliminated from all victories, and was deprived of awards and into the penalty company. Yes ... There, you see, and he disappeared. Why am I talking about him? And besides, he never opened fire on tanks further than 100 meters. And only in the side of the gas tank; or on the rims of the drive wheel. And not on the caterpillar, as your "club" teach. Carrying with me a whole pack of leaflets of all kinds, how to destroy German tanks, the shemki himself drew. Practiced on the padded. Oh, it's not so easy - to get to the right place of a moving tank from an open sight, and not even from a hard carriage, but from a bipod!
- Somehow it is customary to talk about the small size of the MFR as advantages. Yes, not at all - the same "goodbye, motherland" size in a combat situation is no more, because no self-respecting artilleryman puts a cannon on a tank-hazard without digging it properly. Yes, and the calculations of the PTR only in the movies on the tank-dangerous will fall on a flat place under a bush, without entrenching. So it turns out that in battle everything is not the same as in a museum.
"And the gun has another huge trump card." Do not guess what I mean? Yes about the shield! Exactly what about the shield. Behind the shield you feel calmer. You can direct slowly. Machine gun bullets, fragments, clods of earth takes on a shield, and this is very important. From the MTR, how did you have to shoot? You will emerge from the trench, quickly take aim, you will fire, you throw the gun and to the bottom of the trench, while the tanker from the machine gun shoots you down, or the sniper turns on. Then you will wake up, again quickly you will fire and again to the bottom, if still alive. Heroes are not enough for you? So I say that not heroic prevailed in the war. Before heroic days, when your poppy is open to all the winds, and you only have a helmet on it, the sense with which is that with a goat of milk. The Germans won on their heavy BTR "Buchs" - they put a shield. Even I remember the faustpatrons, they had them with a shield and on wheels.
- And when we flooded to the west, the PTR was almost helpless. Therefore, in the autumn of 1943, our fighter brigade was transformed into an IPTAP and armed us with "goodbye, homelands", with a long barrel. Here I loved this mechanic. What? Is weak? Yes, not at all! In comparison with what is rather weak? Before the MTR - just a beast, not a gun. The armor-piercing is very good, yes, plus a fragmentation shell, a shield, but the tip is smooth, but the shoulder does not hurt, but the mehtyag is a noble - "Fords" and "Bantams" with "Jeeps". It's not our service here, but a genuine sanatorium ...
We talked about the war for a long time. The bottle on the table was empty for a long time, a can of rubies was wiped dry with bread crusts, but the conversation did not end. But he no longer affected PTR.