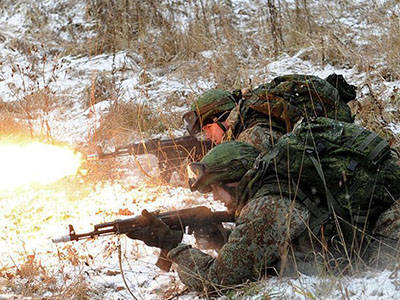 On the basis of the reconnaissance unit of the Pskov airborne assault formation of the Airborne Forces (Airborne Forces), military tests of the prospective combat equipment "Warrior" are conducted.
The approbation of the perspective airborne airborne equipment segment has been carried out under military conditions since March 2013, and aims to study the effectiveness of its elements in relation to the specific actions of parachute assault, reconnaissance and special units of the "winged infantry".
Paratroopers test the "Warrior" in the field (at field exits), during the conduct of company tactical exercises, including the practical landing of personnel with elements of new equipment from aircraft and helicopters of military transport
aviation
.
In relation to the main combat specialties of the Airborne Forces, various sets of equipment are being tested, designed for the mechanic-driver, the gunner-operator of an airborne assault vehicle, reconnaissance, sniper, gunner, etc. in tactical level.
"Warrior" is a new Russian military outfit of military personnel that combines modern small arms, effective protection kits against various damaging factors on the battlefield, reconnaissance, communication and navigation equipment, all in all about 10 of various subsystems.